News
May/June 2011 Newsletter
Thanks to all who turned up for our tour! We enjoyed it - especially the last two shows in Moscow and St. Petersburg. Strange to think that we've now visited Russia five times since the year 2000 when it would have been virtually impossible in the not so distant past.
Anyhow, time to look ahead and some special events are on the horizon. First is the Nijmegen Underground Festival at The Lux theatre on May 18. For this show The Dots will perform the psychedelic audio plays "Katrina" (as can be found on the '30 Year Itch' release) and a new work, 'The Creature that tasted sound". Also on the bill are long term Dots' friends and favourites, The Use of Ashes and Beequeen. It really is worth traveling for.
On June 10, The Dots play at Queen Elizabeth Hall on The South Bank in London on the first day of The Meltdown Festival, curated by Ray Davies. On a spectacular night, the mighty Crazy World of Arthur Brown also appear.
To conclude a momentous month, LPDs go to Leipzig for the Wave Gothik Treffen  Festival on Monday, 13 June.
Shows planned for 2011 so far....
* MAY 18 - Nijmegen Underground Festival (LPDs + Beequeen + The Use of Ashes) at The Lux Theatre
* MAY 19 - Edward Ka-Spel will be presenting a dj set at the MAXIM Club, Tel Aviv
* JUNE 10 - London @ QEH on the South Bank (Meltdown Festival ) 
* JUNE 13 - Wave Gothik Treffen Festival, Leipzig
Keep your eye on the Tour page for all updates.
---
NEW RELEASES
Ordering Instructions: (scroll to bottom of page)
THE LEGENDARY PINK DOTS - All the King's Sessions
Latest and possibly the best Trademark of Quantity CDR so far. A trawl through the archive produced many treasures....unheard demos of songs and colourful psychedelic excursions. Expect by the last day of May. Pre-order possible.... it costs 13,50 euros plus postage.
THE LEGENDARY PINK DOTS - Atomic Roses
A cornerstone in LPDs history, this release is available on vinyl for the first time (timely as all other formats disappeared a while back). An edition of 300 only on Beta Lactam Ring records. PRE-ORDER possible...it costs 20 euros plus postage.
THE LEGENDARY PINK DOTS - Seconds Late for the Brighton Line
Now available on CD - from ROIR and we're fiercely proud of it. All CD copies now in digipaks rather than just the first 500. Also available is a very limited double vinyl edition with a bonus side.
CD: 15 Euros
DLP: 25 Euros (check for availability... down to 2 copies at the last count)
THE LEGENDARY PINK DOTS - Paris 09 DVD
Spectacular and exciting DVD release from Paris in The fall 2009. Imagine a club packed like sardines in a can and three cameras hovering over the throng. Possibly LPDs finest, and most intense, visual document. On Soleilmoon.
Still available only as a PRE-ORDER: 15 Euros (But it's truly IMMINENT - We can accept orders orders for this once more and expect it before the coming tour.)
THE LEGENDARY PINK DOTS - The French Collection
On BLRR, could this be The Legendary Pink Dots' finest Live document? Collected from shows during a seriously spectacular tour of France back in 1994, Raymond has remastered hours of material previously unheard. There are chestnuts here which were never repeated. It's a wild ride, but there are moments when you can hear a glass tear hit the floor.
DOUBLE CD: 20 Euros
4 x LP VINYL BOX SET: 65 Euros (check for availability - just 350 made in a beautiful black and silver box).
THE SILVERMAN - Time on thin Ice
A mysterious, spiritual voyage from The Silverman, featuring a guest appearance from Edward Ka-Spel on vocals.
EDWARD KA-SPEL - The Minus Touch
In Purgatory you have a choice of doors. New CD just released on BLRR.
EDWARD KA-SPEL/THE SILVERMAN - The 30 Year Itch
Special limited vinyl release celebrating 30 years of life in the Dots together for Edward and Phil.
Limited Tour CD: 15 Euros
Vinyl: 20 Euros (Check for availability!)
EDWARD KA-SPEL - Armchair Migraine Theatre
Special ltd vinyl release on BLRR. A dark epic journey to a place that's just beyond the corner of of your Third Eye... 200 ONLY!!
VINYL ONLY: 30 Euros (1 copy left)
LEGENDARY PINK DOTS - The Crushed velvet Apocalypse (remaster)
PRE ORDER special edition CD in velvet bag: 20 Euros (Please note, this version has experienced an unexpected delay).
Regular edition: 15 Euros (out now)
EDWARD KA-SPEL - Chyekk China Doll (remastered CD with new bonus tracks). A marvelous spring clean for the sound on this album originally released back in 1986. Musically a collaboration between Edward and Patrick Paganini who played violin for the Dots at that time. Steve Stapleton edited and made his inimitable mark.
First edition CD with deluxe cover: 15 Euros
THE NEW T-SHIRTS
The Angel (various sizes): To celebrate 30 years we reproduce the design from LPD's first vinyl album "Brighter Now". A popular number on the tour which just concluded - check for availability. Note: "mediums" are VERY thin on the ground. Price: 20 Euros

Seconds Late (various sizes): The shirt of the tour and the Dots' latest album designed by The Silverman himself. Very few in "medium" size - very popular on the US tour. Price: 20 Euros
BIG CITY ORCHESTRA - Sound Effects Library Volume 22
Old and dear friends of the Dots who also celebrate their 30th anniversary this year. This CDR release features The Silverman on keys and devices. Just a handful in stock. Price: 13,50 Euros
Ordering Instructions: (scroll to bottom of page)
---
INTRODUCING: The TEKA hand-made series....
The Terminal Kaleidoscope mail order service is happy to announce a series of hand-made items brought to you by members of the band.
The Tower: A picture disc with original artwork by the Silverman hailing back to the original live presentation of songs from this album back in the 80s. Price: 40 Euros plus postage.
Trapped in Amber... Edward Ka-Spel: A hyper limited edition of this album with handmade covers by  by EK and an exclusive CDR included as an extra. Price: 45 euros plus postage.
Brighter Now as a picture disc with a handmade cover by The Silverman and New Orleans artist Alan Jaeger. If you don't know Alan's work, prepare to be STUNNED! Copies of this long unavailable picture disc were recently unearthed by Soleilmoon just in time for LPDs 30th Anniversary. We have 12 of them and we promise an object of great beauty. Price: 40 Euros (2 copies left)
Faces in the Fire as a picture disc with a handmade cover by The Silverman and New Orleans artist, Alan Jaeger. A handful, lovingly created. This is perhaps the cover this release should always have had. Price: 40 Euros (2 copies left)
Please note: the "Devascapes" CDR is no longer available. The long promised bonus download is now finished and notification will be sent around in the next 2 weeks.
Ordering Instructions: (scroll to bottom of page)
---
BACK IN STOCK!!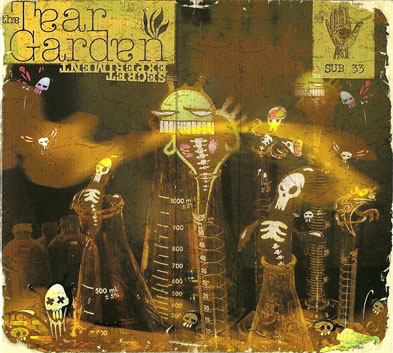 THE TEAR GARDEN - The Secret Experiment (CD)
Just 1 left in the cupboard and it's now sold out at source. 20 Euros plus postage. Check for availability.
THE TEAR GARDEN - Eye Spy with my little Eye (CD)
20 Euros plus postage.
THE LEGENDARY PINK DOTS/ATTRITION - The Terminal Kaleidoscope (CD)
Astonishing presentation of this live collection documenting a tour for the 2 bands back in 1984. Last copies! - 20 Euros
---
LINKS
LOVE AND LOUD COLOURS - The lyrics of Edward Ka-Spel
We'd like to bring your attention to www.loveandloudcolours.com... this is a website dedicated to Edward Ka-Spel's book of lyrics which was released a few years ago. The site has been updated and visitors will find a section where Edward reveals the origins for many of his outpourings.
TAPAJAWA - Critical Magic
Barry Gray (aka Stret majest Alarme), Legendary Pink Dots' guitar player from all of the first albums, has just released a fine and utterly spacey cassette on Beam Ends Records. Now operating under the name of TAPAJAWA, it can be ordered via our old friend Freek of BeeQueen for 15 Euros. Order directly from Freek: info - at - beequeen - dot - nl.
---
BEAUTIFUL THINGS THAT CAME OUR WAY
Watch this space for new entries in months to come. Meanwhile we direct you to previous newsletters for precious pearls in this series.