Thank you for supporting The Legendary Pink Dots!
Over their expansive career, they have released music on many different labels. Here are some sources where you can find their albums.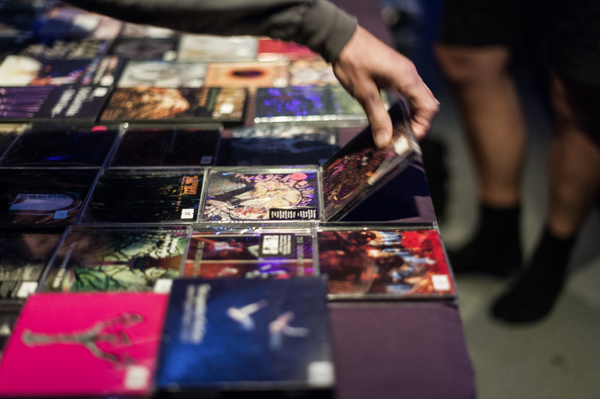 Mail order / download directly from the band
Bandcamp
Many of their earlier releases have been recently remastered and made available for download on their bandcamp pages. Here, you can find The Tear Garden albums, solo releases by Edward Ka-Spel and the Silverman, previously unreleased concert and session recordings.  If you click on individual songs, you will often find little gems of information about that particular song by Edward.  In addition, the Dots sell physical format music and other merchandise.
http://legendarypinkdots1.bandcamp.com/
http://edwardka-spel.bandcamp.com/
TEKA
You can mail order CDs, CDRs, LPs, DVD, T-shirts and other unique items directly from the Legendary Pink Dots.  Their TEKA catalogue can be found here.
The merchandise table at their shows
Where ever they play, they always bring with them a wide array of goods to choose from.
Mail order / download directly from the music label
• Metropolis mailorder– The Gethsemane Option, Pages Of Aquarius CD, Vinyl, Digital
•  Vinyl On Demand- Premonition LP with 7″ limited edition
•  Noise Noise Noise- factoryrecords /email: facrecshop@gmail.com
•  Rustblade-  www.rustblade.com
•  Beta-lactam Ring Records- www.blrrecords.com
• Tourette Records- www.touretterecords.com  (800 Saints in a Day and The Bowles Given)
•  Soleilmoon Recordings- www.soleilmoon.com
•  Roir- www.roir-usa.com
•  Love and Loud Colours-  there is also a beautiful illustrated book that is a collection of lyrics by Edward Ka-Spel. www.loveandloudcolours.com
Independent music stores and other sources
Below is a list of some music sellers that carry The Legendary Pink Dots' music.  If you know of a source in your part of the world that carries their music, please email lpd.website@yahoo.com to have it added to this list. Please put 'LPD-Where to buy' in the subject line.  Thank you!
The Americas
Canada
Storming the Base
http://www.stormingthebase.com
Musical Obsessions
http://musicalobsessions.com
Ontario
CD Warehouse
Ottawa, Ontario Canada
http://www.mymusic.ca
Encore Records
206 – 301 King Street East
Kitchener, ON
N2H 2V5, Canada
519.744.1370
www.encorerecords.ca
United States
FYE mailorder
www.fye.com
California
Amoeba Records- San Francisco, Berkely and Los Angeles
1855 Haight St.
San Francisco, CA 94117
415.831.1200
***
2455 Telegraph Ave.
Berkeley, CA 94704
510.549.1125
***
6400 Sunset Blvd.
Los Angeles, CA 90028
(323) 245-6400
www.amoeba.com
Aquarius Records
1055 Valencia Street
San Francisco, CA 94110
415.647.2272
store(at)aquariusrecords.org
www.aquariusrecords.org
Midheaven Mailorder
https://midheaven.com
Georgia
Criminal Records
1154 Euclid Ave N. E.
Atlanta, GA 30307
404.215.9511
criminalatl.com/Home
Wax N Facts
432 Moreland Avenue N. E.
Atlanta, GA 30307
404.525.2275
mail(at)waxnfacts.com
www.waxnfacts.com
Wuxtry Records
2096 N. Decatur Rd.
Decatur, GA 30033
404.329.0020
www.wuxtry-records.com
Michigan
Encore Records
417 E Liberty St.
Ann Arbor, MI 48104
734.662.6776
http://encorerecordsa2.com
New York
Earwax
167 North 9th St.
Brooklyn, NY 11211
718.486.3771
Rough Trade
64 North 9th St.
Brooklyn, NY 11249
718.388.4111
M – Sa: 11am – 11pm
Su: 11am – 9pm
website coming soon
Oregon
Speaker Fire
P.O. Box 86585
Portland, OR 97286 USA
503.895.7325
Email: help@Speakerfire.com
http://www.speakerfire.com
Asia
China
Skeleton Distribution/Execution Paradise
Taobao.com
Japan
Tokyo
Artecnico Online Shop
#209 Kousha-heim Sangenjaya,
33-1 Taishidou 3, Setagaya-ku, Tokyo 154-0004
Tel 03-3412-8472
Fax 03-3412-8450
http://www.artecnico.com/index.html
Disk Union
SHINJUKU MAIN STORE
6F: INDIE/ALTERNATIVE ROCK
6F, Yamada Bldg.
3-31-4 Shinjuku, Shinjuku-ku, Tokyo 160-0022
E-mail ds1_6f@diskunion.co.jp
Tel +81-(0)3-3352-2691
OPEN 11:00-21:00 (Sunday/Holiday -20:00)
http://diskunion.net
Europe
France
Paris
Gilbert Joseph
34, Boulevard Sain-Michel
75006 Paris
01 44 41 88 88
xavier.rock(at)gibertjoseph.com
www.gilbertjoseph.com/cd
Souffle Continu
20-22 Rue Gerbier
75011 Paris
01 40 24 17 21
http://soufflecontinu.com
Toolbox Shop
30 Rue Ambroise
75011 Paris
01 48 05 81 16
www.toolboxrecords.com/fr
Germany
Drone Records
http://www.dronerecords.de
Going Underground Mailorder
http://www.going-underground.de
InfraRot
www.infrarot.de
Italy
Audioglobe
http://www.audioglobe.it
Old Europa Cafe
PO Box 116
33170 Pordenone
Italy
+39 0434 247568
mailorder(@)oldeuropacafe(.)com
http://www.oldeuropacafe.com
Netherlands
Clear Spot International BV
Hermelijnkoog 21
1822CA Alkmaar
The Netherlands
T. + 31 (0)72 567 9990
F. + 31 (0)84 229 8862
E. info@clearspot.nl
http://www.clearspot.nl
Spain
Madrid
Diskpol
Calle Jesús del Valle n° 8
28004 – Madrid (Spain)
Vox / Fax:  91 522 63 90
e-mail:info@diskpol.com
http://www.diskpol.com
Sweden
Bengans Skivbutik
Gothenburg, Sweden
multiple locations
http://www.bengans.se
Ginsa Mailorder
www.ginza.se

Hot Stuff Mailorder
www.hotstuff.se