Interview by Bertrand Hamonou
Photos by Frederic Loridant
May 2004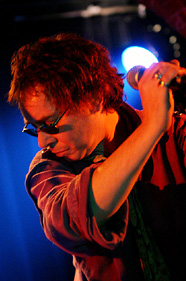 Just before flying to the USA for an American tour with his band, the generous and charismatic Legendary Pink Dots' frontman Edward Ka-Spel agreed to answer our questions about the two brand new albums, "The Whispering Wall" and "The Poppy Variations". It's also a chance to talk about his obsession about his own music, and to evoke with him the trail-game-like discography of a very unusual band.
Since the year 2001, you've been more prolific than ever. Can you tell us where you find all that motivation, twenty years after your debut?
The longer we are around, the shorter the time left to say exactly what we have to say. And, there is still so much to deliver. I still feel so passionate about it all, and this feeling never diminishes. I love making music, and by now I cannot do anything else. I'd be a pitiful failure in the 'real' world, believe me. 2004 has been particularly intense, especially when you consider that another almost completed album sits in the vaults unreleased as well.
How would you describe these brand new albums, compared to the previous "All the king's men" and "All the king's horses", both released in 2002?
"The Whispering Wall " is much looser conceptually, it's an album very much belonging to it's time. I don't think that it is quite as sad as either "All the King's Horses" or "All the King's Men", but perhaps the feeling of being utterly powerless still runs through it. To be honest, that is how I feel right now. The Legendary Pink Dots will never change the world as much as I'd like to. It has taken me until now to realise this… "Poppy Variations" is much more conceptual, built around a simple recollection of where I was when I heard the sad news about Princess Diana's death. There are incidents which are so big that you always can pinpoint where you were, how you felt when you heard the news for the first time.
These two new albums are released along with a new Edward Ka-Spel solo album. According to you, what's the main musical difference between a Legendary Pink Dots album and an Edward Ka-Spel solo album?
With a solo album I make all the rules, and all the conflicts and arguments take place inside my own confused mind. Sometimes I need complete control, but I don't think that it's fair to inflict this disturbing side of my character upon others.
Among all the records you've made with the Legendary Pink Dots, The Tear Garden and your solo Edward Ka-Spel albums, it's pretty hard to imagine that you sometimes manage to take some days off. Do you work on your music all the time?
I tend to have intense bursts of activity. For sure I worked daily for the first four months of this year. I had no day off, and I sometimes worked 16 hours straight like an obsessed man. I can't help it.
Do you have any idea of how many albums you've done so far?
I have no idea at all. It seems to me like a waste of energy to start counting.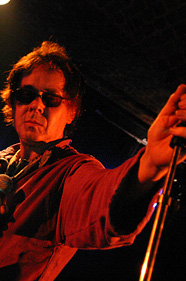 Your solo albums have always had some pretty enigmatic titles. By the way, what's the official title of this one? "Pieces of?" or "Pieces of 8"?
It is "Pieces of Infinity", and it's the third part of a trilogy which began with "Caste o'Graye Skreeens", and then was "O'er a Shalabast'r Tyde Strolt Ay". I'm very fond of this little trio, I do feel like I actually broke into some new territory with these.
There's not so much noise nor drums on the new Legendary Pink Dots albums, but you seem to concentrate more on the melodies and the singing, like on the almost a capella bit on "Rising Pleasure". Is it what you're interested in these days?
The psychedelic voyage on the "Chemical playschool 11, 12,13" Box set went about as far as it is possible to go in that direction. I worked on it every day for a year, and it left me quite exhausted. I love it, but confess I haven't been able to go through the three and a half hour voyage since it came out. It's still far too close. Recording succinct songs seemed like the logical next step, though the floor is melting a little once more on "Poppy Variations".
It seems like you had achieved a cycle with the "Nemesis Online" album, and now you've gone pretty much towards the musical opposite of that?
Sadly, I think we rushed "Nemesis Online". It could have been so much better.
You write a lot, and you improvise during concerts. You've never been tempted to write a novel at some point?
I will try and discipline myself for this one day, but not yet.
About the "Chemical Playschool" series, which now has come to Vol.13, when did you start it all, and why did you do so in parallel of the official releases?
It was way back in 1980. It's not widely documented, but there was actually a cassette entitled the "Chemical Playschool" one week after our first cassette release, "Only Dreaming". We made a few of them, and then we withdrew it, as I wanted to develop it into what became "Chemical Playschool 1-2". I love this little parallel project, and there will be more volumes to come.
Are there still dozens of tracks that were written during the 80s and 90s, and which never saw the light of day?
There aren't so many left now, but there is quite a bit of material still in the can from "Shadow Weaver" and "Malachai". We also somehow lost the extra tapes from "A Perfect Mystery": hours of improvisation I could weep.
There's also that "Trademark Of Quantity" thing? How did that idea come out? 
I always loved those old "Trademark of Quality" vinyl bootlegs from the 70s, like those rare old Pink Floyd albums, handmade, hand held microphones under the coat recorded. Our releases are a tribute to that wonderful illegal label.
Which albums would you recommend to someone who never heard of the Legendary Pink Dots nor Edward Ka-Spel, in order to make him/her listen to the best you can do? 
Strangely, I would say "Chemical Playschool 11,12, 13", "9 Lives to Wonder" and maybe "The Poppy Variations". To me, they've all got a certain timeless quality.
You've used French titles for your songs several times (Nouveaux Modes exotiques, Encore une fois) and it's the case once again with L'oiseau rare on "The Whispering Wall". Why is that? 
Well, because it's a beautiful language, and I wish I could master it.
The band line up has been changing almost all the time. Can you tell us more about who's in the band these days, and what's their contribution to the new records? 
That's not really true, even though Ryan Moore left the band in 2001, which still saddens me.. But he remains a great friend, and same goes for Martyn who left last year to make his own music, because he loves folk music. But Phil, Niels and myself have been together in this line-up since 1988. Raymond first came into the Legendary Pink Dots back in 1992. And speaking of ex-LPDs, we actually had a six piece in Italy last year as Patrick Q rejoined us for three shows on violin!
You've been going to the US a lot lately. Europe isn't enough anymore or is there a lot of die hard fans over there too? 
We do have a good following over there, and I do enjoy being there as we meet a lot of good people when we go.
Are you going to tour Europe once you're back from the US? 
Certainly. We hope for an even longer tour.
You release your albums on different record labels (ROIR, Beta Lactam Ring, Teka), how is it to deal with all of them? How do you decide which record is going to be released on which label? 
That's an hard one to answer. Normally it's personal, when I like a person running a label, then I enjoy the prospect of working with him or her. But there is no master plan in this respect.
source: http://www.premonition.org/premor.php3?lien=actu/actu.php3X1Xactuid=227002&ta=10