These are from Edward's Facebook tour diaries:
The United States
May 16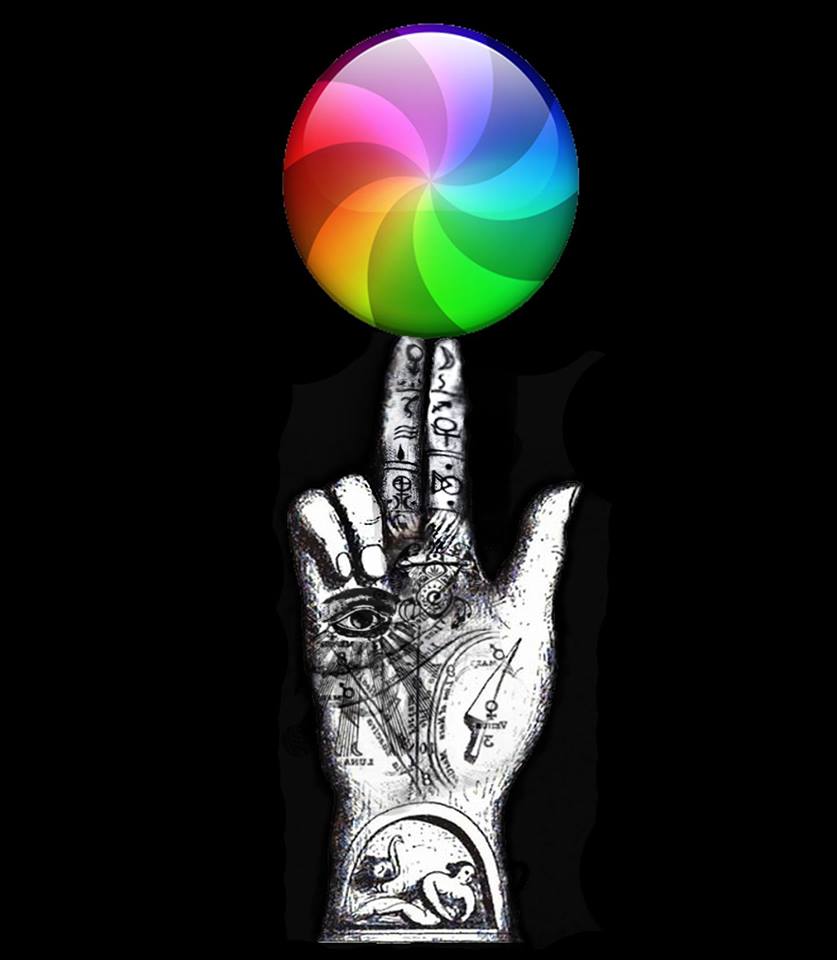 I'm starting this tour diary a few days late as we landed in the States last Thursday.  Even so every day here in this wonderful corner of the World has been about constructing a set of music that will expand as we go along.8 hours a day,  every day…and an actual show will fly by as a result.  Now I can poke a hole in my oxygen tent when I'm about 180 years old and tell the rest of the hospital ward that I PLAYED at Woodstock …I just will not say when.
---
May 17
First show imminent on (gulp) the 17th.  Impossible to avoid the number this year.  We reached the Middle East club early and I'm typing this missive in the Green Room.  In fact, this is where Amanda first saw the Dots all those years ago and it has changed little in that time.I confess I'm rather nervous.  Do wish us luck!
---
May 18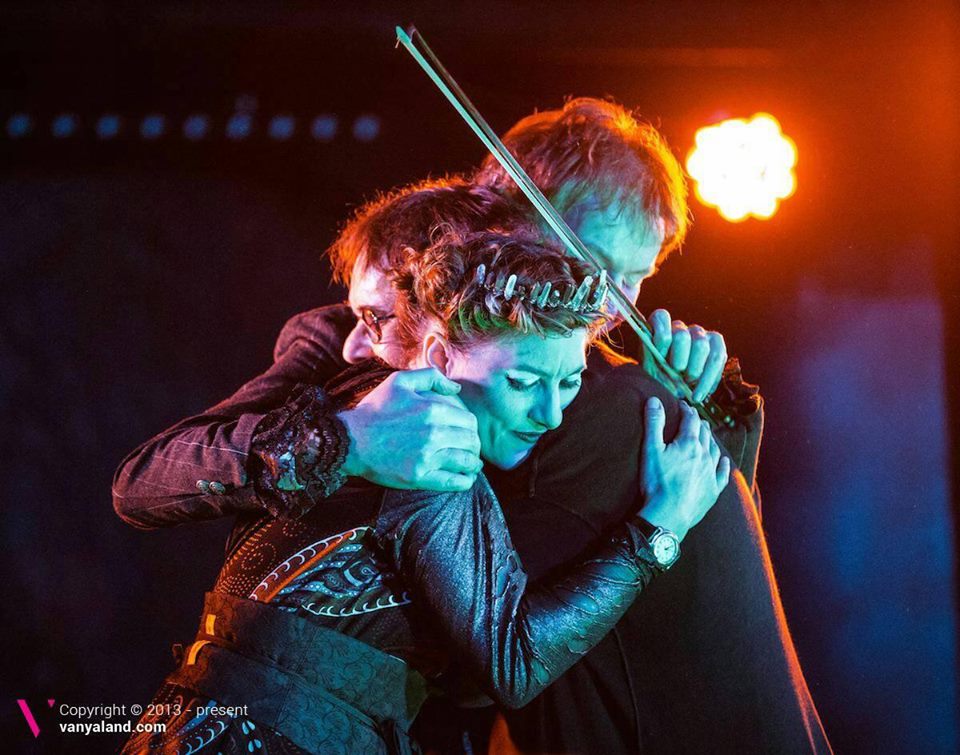 Phew. That was intense…a few nail biting moments and surprises at every turn but we nailed the first show …and big love from me to Amanda, Patrick and Randall.  Id say we pulled it off and now I will drink coffee…
---
May 19
Back at Woodstock…Temperature reached the mid thousands as we drove yesterday, and the ultimate result was a spectacular storm in the evening.  A fine evening too, lots of fun and laughter .. and Patrick's margaritas were highly effective.  Tomorrow, we're off to New York!
***
Happy!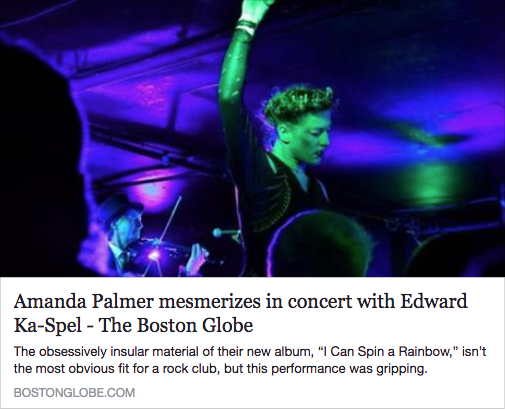 ***
Real horrorshow droogie…I like the shirt…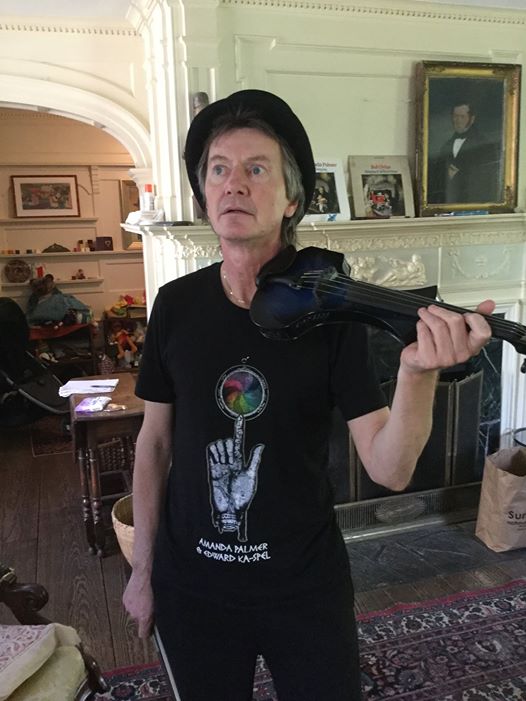 ---
May 20
Show number 2 looms at The Bowery Ballroom in New York tonight.  I reckon I'm just about ready for it, but the way to really feel focussed is to turn the volume on the car stereo to 11 and put Tomorrow Never Knows by The Beatles on repeat.  Clears the mind in a thoroughly enjoyable manner.
---
May 21
It was magical last night.  The Bowery Ballroom is a beautiful venue with an astonishing sound quality and a caring, warm welcome is assured for all who play there.  I felt like we stretched for the stars last night and actually managed to catch a few In the process. Thank you Amanda, Patrick, Randall and Elisa for being so central to a night I'll always cherish. Over the bridge to Brooklyn tonight.
---
May 22
AKKK…..The Gods were out to get us last night in Brooklyn.  We were just getting into our stride when the computer in the mixing board had a seizure and the sound well…stopped.  Randall and the house engineer gallantly rescued us and, in the big picture, we had to laugh..Nice to bring a new song onboard too. Today we fly as long as we can battle through the traffic to the airport!
---
May 23
No words adequate to express how all of us in this touring party feel about what happened in Manchester yesterday.We're in San Francisco right now and heard the news a few minutes before taking the stage for a live Webcast for Amanda's followers on Patreon ( which I believe is there for all to see).All I have to say is …don't let the darkness win, whether from the twisted perpetrators or those who will use this tragedy to divide us.Today we'll mourn and unite in sadness and love , not vengeance and hate.
---
May 24
Hell of a night in San Francisco …maybe the best of the tour so far but now it's back to the grim reality of an airport..The security guys profiled Patrick's violin as "a bit suspicious". Thankfully they ignored the hat.  Los Angeles tonight…
---
May 26
Au revoir America…It was brief but beautiful this time.  After an emotional show at the Troubadour, we spent a wonderful day with cEvin and Reanna yesterday before the listening party for the new Tear Garden album.  I so enjoyed hearing it with the volume turned up to 11!  Another plane to catch this afternoon, a day off with my lovely ones at home, then the voyage starts once more!
---
May 28
duhhhhh….what day is it? At the crossroads where my biological clock is about to simply surrender ,but I'm home and happy. Tomorrow the adventure starts again at Hay On Wye and the first festival of the tour….
Europe
May 29
Today is Hay Day and the beginning of the Spinning Rainbows' European adventure.There's a lot of flying involved which makes me a little nervous considering the recent horror of Heathrow , but I will try to remain optimistic.
---
June 1
Thank you Warsaw for my favourite show of the tour so far.  Is there a kinder, more appreciactive audience anywhere than in Poland?  We need to play more in this special country.
---
June 2
I'm ashamed to admit the need to reach for half a can of Red Bull before shows right now. An utterly disgusting but effective way of kicking away the jet lag for 2 hours on stage.  Last night was thrilling in Munich…a beautiful venue (Muffathalle) and a warm reception from the audience.  Now we'll head for WGT in Leipzig where we'll hit the stage at ( gasp) 1 am.
---
June 3
It felt like Floxifer, the little known demon of chaos, was out to get us last night in Leipzig.  After a stressful day of multiple traffic jams, logistical nightmares and a perilous quest for a holy blue wristband, it was a miracle that we hit the stage on time.  Sadly the programmes on Amanda's rented keyboard seemed to be stuck in security.  In fact the keyboard itself turned out to be broken.  Patrick gave the audience a small solo performance while we desperately tried to find a replacement (a big big thank you to the wonderful souls of Devilment who lent us their Korg Trident!), and after what seemed to be an eternity, we began our abridged set.  And we got there in the end…so UP YOURS FLOXIFER!
---
June 5
My love for the city of Prague became even stronger last night following the reception we received at the wonderful Palac Akropolis.  The hospitality was fantastic ( thank you Petra!) and the audience was deeply appreciative.  My favourite show of the whole tour so far.  Now we face a challenging crack of dawn start in order to make it to Hamburg for tonight's show at The Fabriek.
---
June 6
Long long ago the city of Hamburg was at the top of the Pink Dotted list as a place we HAD to go to when a tour was planned.  Reminiscing with Patrick yesterday, he was alarmed to hear how our fortunes had waned, with the last attendance being around 50 people a few years back.  Last night was a wonderful reminder of those glory days thanks to Amanda's considerable, gracious, warm following in Hamburg.  A deeply emotional night for us all in the best possible way.  THANK YOU!!
---
June 11
I so enjoyed my return to Amsterdam's Melkweg last night.  It had been a whole 23 years, but a big big thank you to the large crowd that came and listened so intently and showed us such wonderful support.  Next ….La Cigale in Paris tonight – we'll take the train.
---
June 12
On the Eurostar right now and just out of the Tunnel.  Had a great time at the beautiful La Cigale last night.  Next stop is Heaven …there's a song in there somewhere.  And a live webcast tomorrow evening….the link is to come…
---
June 13
Backstage at Heaven as I type…sounds like a special show commemorating Judgement Day.And you can even watch it live tonight from 2030 onwards ( uk time) as there is a live webcast.  Go to live.  amandapalmer.net.  Make bloody damn sure you come back as a dolphin…..
---
June 18
An emotional last day of the tour is about to unfurl as we prepare to head to Mannheim for the Maifeld Derby Festival.  It's been one hell of a ride and, even as someone who is terrified of roller coasters, I loved every twist, turn, dip and rise.   A big love to all who have taken part in this Rainbow Spin.
---
June 20
A day of goodbyes to conclude one of the best tours I have ever been part of.  A huge thank you and a virtual hug to add to the recent real ones for Joep, Patrick, Amanda, Randall, Elisa, Jordan and all the other good souls who played their parts.  We'll meet again.