<< back to the Combined Discography
---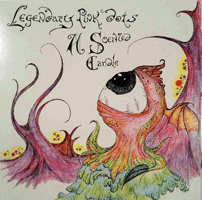 Release date and tracklist
April 16, 2016
US LP Noise Noise Noise 002
Side A
A Scented Candle
Divine Resignation, Chapter 6
Side B
Cover Version (unabridged)
A Quiet Night In
October 28, 2016
NL MP3 self-released on Bandcamp
A Scented Candle
Divine Resignation, Chapter 6
Cover Version (unabridged)
A Quiet Night In
Collecting Seashells
---
Credits
The Silverman
Edward Ka-Spel
Erik Drost
Raymond Steeg
Artwork by Sarada
---
Notes
Four brooding, emotional, quiet, and lovely tracks make this 12 inch mini-LP.  It is the first release of the "Noise Noise Noise " label in California run by long term Dots' family member Lisa Amend and her partner Dave James.  This is a limited edition of 400 copies plus 100 numbered and signed artists' copies.
Available through Lisa and Dave through Facebook at www.factoryrecordsshop.com (email:facrecshop@gmail.com) and Soleilmoon Records.
Edward Ka-Spel writes It was created after Lisa Amend, who has literally been part of the LPD family for many years, announced that she was starting a new label with her partner Dave James. Happily the approach came shortly after a string of intense recording sessions, so the pool of material to dive into was deep. I spent some days with the sessions and "A Scented Candle" cast a little light into the room. I guess it deals with a slight addiction to the internet…reflecting on a sleepless hour or two in the middle of the night when you just HAVE to open the computer to make sure the World is still functioning. The second song expands upon this theme. Side two revisits our past with a 21st Century remake of the old LPDs favourite "Premmonition 5".
Vinyl etchings:
Side A: Dave loves Lisa
Side B: For Tigger, Goblin and Mulder
Bandcamp release:
With the delightful vinyl edition of "A Scented Candle" on NoiseNoiseNoise records becoming rarer by the day, and a second LPDs release for the label in the pipeline, it felt like the opportune moment to post the web edition. This also contains the bonus song, "Collecting Seashells" which was created in the same timeframe as "A Scented Candle" and s featured in the "Tribute To Fellini" compilation.
---
Lyrics
A Scented Candle
While the Big Wide World lies sleeping
and my piano's gently weeping
And seeping through that crack across this wall that divides us…
And I know you'll twist and turn
and in your dream you'll surely burn
But I bring water…
And you will climb and you will fly.
.you'll spin the stars across the moonless sky..
And all that's sick and all who died
will rise and fix a World divided,
broken….
Wake up…Wake up. wake up..
cos It's morning