THE LEGENDARY PINK DOTS
<< back to the Combined Discography
---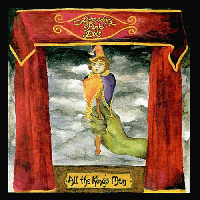 Release date and tracklist
2002
US CD/2xLP Roir RUS8278
Cross Of Fire – [MP3]
The Warden – [MP3]
Touched By The Midnight Sun – [MP3]
Rash – [MP3]
The Day Before It Happened
Brighter Now – [MP3]
Marz Attacks – [MP3]
Sabres At Dawn – [MP3]
All The King's Men – [MP3]
The Brightest Star – [MP3]
20 May 2013
NL  Remastered MP3 self-released on Bandcamp
Cross Of Fire
The Warden / Touched By The Midnight Sun
Rash
The Day Before It Happened
Brighter Now / Marz Attacks / Sabres At Dawn
All The King's Men / The Brightest Star
The Brightest Star Over Bremen
---
Credits
Edward Ka-Spel – Voice, Keyboards
The Silverman – Keyboards, Electronics
Martijn de Kleer – Guitars, Violin
Niels van Hoorn – electric horns
Raymond Steeg – sound wizardry
---
Notes
from Bandcamp: Way way back when The Pink Dots were still wet behind the ears I sent a cassette around to a few labels hoping to spark a little interest.
One label manager responded really positively to the material, singling out the song "Brighter Now". He phoned me to tell me how much he he'd laughed and how he loved the irony of the song. I didn't have the guts to blurt it out that there was absolutely not even a hint of irony there- this was actually how I felt.
And, in fact, STILL feel.
Here is the remake of a song that needed to be revisited.
"All the King's Men" is the sister album of "All the King's Horses". Remastering this provoked a few tears as it has been a while since I last listened, but it still resonates.
EK
Beautiful cover art is a painting by Monadiki.
---
Press Release
Can we put Humpty Dumpty back together again? Early in 2001, Edward Ka-Spel imagined the following scenario: "a plane is about to crash & one of the unfortunate passengers feels the need to phone his wife on his mobile phone, only to receive her voicemail." All the King's Men (ROIR) and its sister release, All the King's Horses (Soleilmoon), are albums that were not only affected and inspired by the events of September 11th, but also eerily hinted at them. The body of work comprising these two releases was begun early in 2001 and was completed just three months ago. Thematically, the albums' connections aren't explicit or intended, but are related by the fact that both were created during a time when the world really did change. What you will find is a unique expression of awe, sorrow, and hopeNa paradox & a provocation. The world falls apart, yet affords us the opportunity to put it back together again. What should we do?
Formed in 1980 in the UK, and shortly thereafter transplanted to Amsterdam, The Legendary Pink Dots are more together today than ever before. Constantly touring for 20 years on the Continent and USA, they have produced over 25 records on labels such as Play It Again Sam, Wax Trax, Staalplaat, Caroline, and Soleilmoon USA. Their leader, Edward Ka-Spel, a frequent collaborator with Skinny Puppy, has released albums of his own material and with Tear Garden (members of Skinny Puppy) on Nettwerk Capitol USA. Legions of adoring fans virtually assure a sellout crowd for the band's gigs. Their unusual mixture of electronic psychedelic whimsy and Alice In Wonderland playful, lush textural madness have kept them constantly on the top of the underground cult musical scene.
allzheman geszthonze – sing while you may
---
Reviews
Ka-Spel has obviously been affected by the events of September 11th and their dismaying shockwaves throughout the globe. His visions are even more apocalyptic than usual, with songs about war being waged by fools, abandoning the earth for happier worlds, and even a jaunty number about being cryogenically frozen. What always impresses me about Ka-Spel is his ability to endlessly recycle his many familiar lyrical obsessions over the course of his work, but always juxtapose them in a way that add fresh new insight. For those who are well versed in Ka-Spel's symbolic language, these albums will be a catharsis, as the themes are explored in more painstaking detail than ever before. 'All the King's Men' is the quieter of the two albums, with many of the songs only consisting of minimal keyboard melodies and Edward's deep intonations. The dizzying psychedelic studio effects usually present on LPD albums has been toned down to some very subtle flourishes that are all the more affecting for their subtlety. Over the course of the first eight tracks, this minimalism begins to wear a tad thin, but then we are rescued by the last two songs–the title track and "The Brightest Star", by far the highlights of 'Men', where Niels and Martijn reappear for two lengthy instrumentals. "The Brightest Star" is a masterpiece, representing the most awe-inspiring epic track by the Dots since "Evolution". Clocking in at 13 minutes, this last track is an ecstatic, house-influenced psychedelic jam that succeeds in lifting me into orbit every time I hear it. Silverman's trance-inducing beat programming merges with Ka-Spel's swirling synths, Martijn's breathtaking violin swells, and Hoornblower's mindbending electronic saxophone blasts. This track alone (the Pink Dots' current "grand finale" song on their US tour), is worth the price of the album. 'Horses' doesn't have any one song approaching the genius of "The Brightest Star" on it, but overall is a much more consistent listen than 'Men'. Guitars and horns are present throughout the album, and the songs are more fully fleshed-out and produced. It's also a tad less cynical and dark than its sister album, with more of Ka-Spel's trademark humor coming through. "Lisa Goes Surfing" is an amusing track, with it's pleading refrain of "freeze me" as Ka-Spel reveals his desire for cryogenic freezing upon his death. These creepy, funny lyrics are set against a whimsical pastiche on medieval court music. No Pink Dots album would be complete without at least one lovely, plaintive ballad. "Our Dominion" fills the bill quite nicely, with its melancholy lyrics and lovely, acoustic arrangements. The album closes with "Wax and Feathers", a lengthy song with a breathtaking vocal by Ka-Spel, and a wonderful solo by Hoornblower. The song eventually culminates in an ambient, spacey excursion that beautifully concludes the album. 'All the King's Horses' and 'All the King's Men' are an impressive pair of albums by the greatest band that no one's ever heard of. – Jonathan Dean, Brainwashed
---
Lyrics
CROSS OF FIRE
Cross of fire pushed through my mailbox,
Cross of fire drips down the door.
Now cross the street to keep away, but
Steer the street inside the law.
Guest or not from this location
Then be brazen,
Thence be brave.
My silence shall be your salvation
Just a trickle
Not the wave.
???
See torches…
See the forces that protect
Control the wrong streets
In their white sheets
In a circle
In a haze
It's all a haze
It's all the rage
It's just my rage
That makes me act this way
I'm sorry…sorry…sorry…
Please don't let those shadows search…
My name in lights shall pose no threat.
I'll walk the line,
I'll hug the curve,
And look away with blind respect.
Cross of fire
Splashed on the courthouse…
Cross of fire
Waved from a truck…
That old judge just hurled the black book…
Silly me forgot to duck!
THE WARDEN
Your house from here is maintained…
The fear of my return
Is smeared across the portals
Stings the wine, it contaminates the mortals…
Coiled up, caged and clandestine
A head crack in the back yard…
Cross of air, in line!
Now tell me…
Do you see three golden calves?
Your prize shall be a doormat
With a prayer…
A fortune cookie dares:
"Now down boy!
Turn to Mecca!
Keep those eyes fixed to the floor!"
"See sores collect…
Let's see you sweat!
Turn left!
Yes, I can see you channeling…"
"Ahoy there!
Cast the net!
Up here is not the place for you!"
I channel too…
But I direct…
There's time to kill…
These arms are stretched!
But I shall move these fingers!
Stay in line…can you hear me?
Heard me…
Herd you…
Stole your souls…
And sold you blinkers…
Chains wrapped 'round your feet…
You're obsolete!
But eternally, you'll linger…
Way down there…
Beneath my feet…
Way down there…
Beneath my feet!
TOUCHED BY THE MIDNIGHT SUN
Falling stars,
Crossed fingers,
And a penny in the well…
A solitary man
Looked in the mirror, whispered:
"It is hell…
To always be alone…
To hide in shadows,
Yet that spiteful sun
Should turn me yellow…
Drive me mad…"
Cue tympanies,
A fanfare…
We wore black bands on our arms…
The army fired once
The Queen was looking very, very sad.
But now our corridors…
They're haunted.
And we're ducking pots and pans
We wish to God he'd found the answer…
But no, no flowers ever can
Placate anomalies
Outsiders-ever desperate to connect…
Yes, we are all but islands…
But on some,
The sun…
It never sets…
RASH
(Instrumental)
THE DAY BEFORE IT HAPPENED
The day before it happened,
Nothing mattered.
Well, at least that's what you said…
I tried to catch your words
But managed ten percent…
I ??? against the wall
Close my eyes…
I try a little less.
You let me use my intuition,
You would not let me rest…
The day before
The day before it happened,
Missiles flattened this poor village
By mistake…
They pulled a baby from the flakes…
Undamaged, smiling, wide awake…
A general cried;
Admitted: "Oh the lord, he moves in such mysterious ways."
They docked his pay and shipped him to Antartica…
Now wasn't that a shame?
The day before it happens,
We shall all be unprepared…
Heard him shouting from the pulpit,
Saw it splattered on the stairs…
Wondered if the time was right
To fix my teeth…
Dye my hair…
Next year…
Maybe next year…
Oh, the day it should have happened,
Nothing happened.
Next year.
Next year.
BRIGHTER NOW
Sitting on the beach,
We watch the sun dance on the ocean.
Turns the waves to liquid fire,
But we know that they can't touch us.
Hear a scream from far away,
Flames dance across the horizon.
Guns are barking out a symphony;
We know that they can't hear us.
For our love's higher than the mountain,
Brighter than the stars above.
I bought the book, I read the label,
Wrote the script down in my cradle.
Waited all my life for this moment…
Make it real for now, make it for eternity…
Eternity…
Don't turn against me.
Don't turn against me.
Eternity…
MARZ ATTACKS
(Instrumental)
SABRES AT DAWN
Monsters are stalking
With liquid depravity…
Seeping through cracks,
They are flashing their cavities…
Spitting out crumbs
As they numb me with pungent profanity…
Sing to me.
Sing of your cauldron of woe.
So explicit…
You lick, then you blow.
See a target…
So was it my body?
Or is it my mind?
A cackling crow
At a wake for a dead friend…
A loose end,
A U-bend,
A space to be filled.
For the silence is damning
And here in my seat…
With my fingertips dancing
I'm trying to sleep…
Through the bleeping,
The bleating of suffering sheep…
Tap a key.
Tell the world that the world loves a Cola.
A key.
Play a tune in a Singapore street…
And they pile into bus stops,
Swerve into ravines.
Call a doctor, I've split at the seams…
At the seams…
At the seams…
Call a doctor, I've split at the seams…
At the seams…
Do it now!
ALL THE KING'S MEN
With marbled eyes,
A heart of stone…
Collosus thighs,
Gorilla bones…
We can rebuild you
As our wounded ???
In our trembling hands,
We read your fate…
So…be a man.
Lie there on the table.
The world is yours, son.
Take a stroll…
No conscience bared,
No troubled soul!
No fingers tap without control!
Behold…behold!
The new man!
Set us free, new man!
This rich and varied tapestry
On your fingers…
No sleep awaits
The ??? man
??? the dreams…
So go out there!
Pluck from the garden!
???
Our man!
Our superman!
Our superman! Show us the way, Superman!
THE BRIGHTEST STAR
(Instrumental)