THE LEGENDARY PINK DOTS
<< back to the Combined Discography
---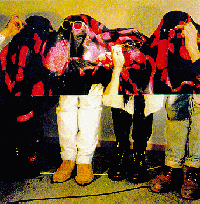 Release date and tracklist
1997
NL CD-R Terminal Kaleidoscope TEKA01
2007
US CD Beta-Lactam Ring MT120a (alternate cover image)
Violence – [MD01]
Thursday Night Fever – [MD01]
O(ri)fice – [MD01]
The Chemical Playschool – [MD01]
Voices – [MD01]
Break Day – [MD01]
Only Dreaming – [MD01]
It Rots Your Liver – [MD01]
Black Highway – [MD01]
Phallus Dei – [MD01]
Game – [MD01]
Guess The Politician – [MD01]
Dolls' House – [MD02-03]
Louder After 6 – [MD02-03]
Spaced Out
Amphitheatre – [MD02-03]
***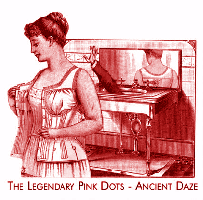 2007
US LPx2 Beta-Lactam Ring MT120b
side a
side b
side c
Dolls' House – [MD02-03]
Louder After 6 – [MD02-03]
Spaced Out
side d
Amphitheatre – [MD02-03]
Candlelight Or Fullbeam
West Side Story (Forgotten Version)
Odd
***
06 June 2013
NL MP3 self-released on Bandcamp
Violence 

06:04

Thursday Night Fever 

04:46

O(ri)fice 

02:36

Voices 

03:29

The Chemical Playschool 

02:57

Break Day 

03:04

Only Dreaming 

01:16

It Rots Your Liver 

03:11

Black Highway 

04:33

Game 

00:48

Phallus Dei 

03:14

Guess The Politician 

03:38

Louder After 6 

04:21

Dolls' House 

06:55

Spaced Out 

04:27

Candlelight Or Fullbeam? 

02:10

Odd 

06:16

West Side Story (The Forgotten Version) 

06:00

Amphitheatre 

05:00
---
Credits
Rolls Anotherone – bass
Rik Chevrolet – guitar
April Iliffe – vocals, piano
Edward Ka-Spel – vocals, keyboards
Phil Harmonix – synthesizer
Mick Marshall
Raymond Steeg – vinyl mastering (2007)
Doug Krebs – sound restoration (2007)
---
Notes
2007 edition LP: Edition of 200 hand-numbered copies in a hand printed gatefold sleeve and 220 gram vinyl.  This edition is remastered and some of the tracks have been edited. Indexing problems with the original version have been corrected.
Tracks 1-12 taken from the cassette album "Only Dreaming" released in 1981.
Tracks 13, 14 and 16 taken from the double cassette album Chemical Playschool 1+2 released in 1981.
Track 15 previously unreleased until the 1997 CDR edition of Ancient Daze.
Tracks 17-19 are previously unreleased.
---
Description
A collection of some of the earliest material recorded by the Legendary Pink Dots including three unreleased tracks. In 1980, the formation of The Legendary Pink Dots with Phil Knight & Edward Ka-Spel (together they have been the only immutable core of the band throughout its many lineup shifts) burst onto the British underground scene with a handful of private cassette releases appearing in their first couple years. Even early on it was clear that LPD's electro-psychedelia, though in step with the zeitgeist of the era, was never fully in phase with any given trend or genre.  EKS' spare, somewhat mournful vocal delivery, paired with surreal, poignant lyrics, rich with imagery, driven home by a band that frequently sounded like acid on mushrooms, made LPD a truly acquired taste.