THE LEGENDARY PINK DOTS
<< back to the Combined Discography
---
Release date and tracklist
1983
UK C60 Third Mind Records TMT 08
1984
CH C60 Calypso Now Records TMD28
DE C60 235 Tapes bootleg (198?)
1985
NL C60 Terminal Kaleidoscope TKK7/5
1989
NL C60 Mirrordot no number
NL C60 Jarmusic no number
Side A
Stigmata Part One (Freiheit)
Klazh
Love Is…
No Reason
834
Wall Purges Night (Version)
Basilisk 1
Methods
Side 2
Clean Up
Basilisk 2
***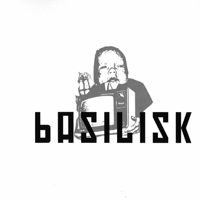 2002
NL/US CD Beta-lactam Ring Records/TEKA TEKA09/B-LRR
Basilisk Part One

– Stigmata Part One (Freiheit) / Klazh / Love Is… / No Reason / 834 / Wall Purges Night (Version) / Basilisk 1 / Methods

Basilisk Part Two

– Clean Up

Basilisk Part Three

– Basilisk 2
The Ocean Cried 'Blue Murder' On A Ferry In A Storm On A Walkman
Ideal Home
The Glory, The Glory
***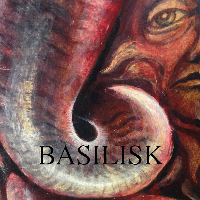 04 March 2013
NL Remastered MP3 self-released on Bandcamp
May 31, 2015
NL CDR self-released and sold through Bandcamp
Stigmata Part 1 (Freiheit) / Klazh*
Love Is… (Parts 1 & 2)
No Reason
834 / Wall Purges Night (version) / Basilisk 1*
Methods (version)
Clean Up
Basilisk 2
* songs are combined into one track to preserve cross fade between songs.
---
Credits
Barry Gray- Guitars
Rolls Anotherone (Roland Calloway)- Bass, Keyboard
Edward Ka-Spel– Vocals, Keyboards
Phil Harmonix (Phil Knight)– Keyboards
April Iliffe- Vocals
Keith Thompson- Drums, Percussion
Patrick Paganini (Patrick Wright)- Violin, Keyboards:
---
Notes
Third Mind Cassette: Limited to 1000 copies. Mastered at Ding Dong, Arnhem, Holland.
Some copies were distributed by 235 in Cologne (Köln), Germany in different cover. (At least one TMT copy was blank (no audio) … .)
Thanx to Keith Thompson and Patrick Paganini for their help.
Calypso Now cassette: Licensed to Calypso Now by Third Mind Records in a distribution deal.
Cataloge number may not appear on the item, but there's the Calypso Now logo on the cover.
Considered as "Unofficial release" by LPD on their official website in 1996; Calypso Now has correspondance with Gary Levermore/3rd Mind of 1984 to prove the contrary.
235 Tapes edition is a bootleg of the Third Mind edition with a different cover.
The Ding Dong edition was announced, with a cat. number of DDC 013, but never materialised.
All official editions have different covers.  Some of the cassettes were packaged in plastic bags with color copies of artwork.  This one is from a cassette bought during the US tour 1993.
BLRR CD:
Edition of 1,000 copies.
Tracks 1 to 3 were recorded in 1981/1982. Sadly, the master for Basilisk was never returned to the LPDs, so the source tape was from the original (rather poorly produced) cassette release. Enhancement has taken place, but only so much was possible in the circumstances.
Track 4 recorded in 1990 on a ferry in a storm on a walkman.
Tracks 5 and 6 are unreleased versions recorded in 1981
The track "A Ferry In A Storm On A Walkman" was recorded in 1990 on a ferry in a storm directly into the microphone of a walkman.
The version of "Ideal Home" on the CD release was recorded in 1981 and features lead vocals by Keith Thompson.
The version of "The Glory, The Glory" on the CD is a different version than on the cassette release, it was also recorded in 1981.
CD edition has been mastered from a tape, as the poriginal masters were never returned to the band, it has however bee enhanced by LPD sound wizard Raymond Steeg.
Bandcamp notes:
Memories flood back when listening again to this cassette album from way way back.  Some of the earliest roots of what would become "curse" are there; there are remnants of the abandoned "Stigmata" project.
This was intended as a concept album about a sculptor who went mad while trying to sculpt his perfect lover.  An arm fell off and he ran riot with his chisel, hacking and destroying everything in sight.  The planet fell to pieces, heaven fell to pieces and he was brought before God who bore a plaster over his left eye, but was sympathetic to those who acted in the name of love. The sculptor's "punishment?
You guessed, he had to re-sculpt the universe.
Sadly abandoned, but fragments are plentiful. Then there's Basilisk 2 with those ominous field recordings from Notre dame cathedral in Paris.
Basilisk has it's own flavour, and this remaster admittedly leaves off the bonus tracks which adorned the reissue cd, and hopefully respects the atmosphere of the original. less a remaster, more a clarification.
2015 CDR: Lovingly home made CDR edition in card cover with full colour artwork by Jesse Pepper. Insert included. Edition of 199.
---
Review
Basilisk first came out as a Third Mind Records cassette in 1983. It was reissued (both legitimately and bootlegged) a few times in the same format during the '80s by small European labels, including the Legendary Pink Dots' own favorite Dutch imprint, TeKa. The album finally received wider circulation in 2002 when TeKa reissued it on CD in collaboration with the U.S. label Beta-Lactam Ring Records. The album ranks among the Dots' experimental releases. It features a few songs typically dominated by repetitive keyboard chords and Edward Ka-Spel's murmur beyond the grave. But for each song included, there's a disquieting instrumental piece. They provide a suitable soundtrack for walks through the local cemetery on a foggy night, especially "Basilisk 2," which used to conclude the original album. In keeping with the cassette esthetics, the CD reissue lumps the material from each side into two 30-minute tracks. Beside the usual suspects (Ka-Spel and Phil Knight), the lineup includes guitarist Barry Gray, violinist/keyboardist Patrick Paganini, drummer Keith G. Thompson, and singer April Iliffe, although these musicians seem to appear only on the bonus tracks. The sound of the main album is dominated by keyboards. "The Ocean Cried Blue Murder a Ferry in a Storm on a Walkman" is a dark folk song recorded direct-to-Walkman. "Ideal Home" (which first appeared on Atomic Roses, 1982) is presented in a previously unreleased version from 1981. The bonus tracks have a shaky sound quality, but Basilisk itself sounds quite good considering that the master tapes have been lost. – François Couture
---
Lyrics
STIGMATA PART 1 (Freiheit)
(Freiheit: freedom. In German, possibly connected to the fact the lyrics « working makes you free » also paraphrase a 19th century German motto (from the title of a novel in which deviants find salvation through hard work) the Nazis later made infamous by placing it at the entrance of death camps. « Arbeit Macht Frei »/work sets you free.)
Intro loop: April (?) reciting « Sing While You May »
Pictures (?) across a wall, they talk among themselves. The shelves are empty except for eyes that (?) in silence, while he's working (?…less?), working on a slab of stone, working fingers 'til the bones are (working? worked?) through his skin. Can't feel a thing, the pain stays in, 'cause working makes you free.
(He'd) dreamed to see the world, the others' works, the older works. (?) cried out as they crumbled, yes they crying out to him. (?) moaned about the ?, and Venus wanted hands, and Bonaparte a brand new hat 'cause the other (old one?) looked so silly. But he really couldn't help – much too busy working on his own, on his own. And now the crowds applauded and threw him coins and roses. Rows and queues on corners, curious for a glimpse. The critics said his statues breathed – they whispered back « you're stone », and no one heard their mocking. No one heard the jokes at their expense, and (ghost torments?). There's nobody listening. Nobody listening, nobody listening. No one listens.
KLAZH (instrumental)
LOVE IS… (Part 1 – instrumental version of Love Puppets)
LOVE IS… (part 2)
(a proper name?) just ate the margarine, he's writhing on the floor. (He) snatched it when my back was turned – he won't steal anymore. (Sores?) are spreading oddly now, they're glowing in the dark. I stroke him with my gloves on and I'll bury him in the park. I swear I heard a sound last night, footsteps on the stairs. I cried out and I dashed outside – wasn't anybody there. (And I was?) the only boy in the world, and you were the only girl. We'd (…..?)
NO REASON
I got my tapes, I got my headphones, (phone is?) off the hook. I got a book I wrote myself. I'm healthy, happy on my own. You don't figure in my plans, never (did? this), never can. Sure, you got to understand I don't always mean the words I say. It's nothing that you did, the problem's in myself (is myself?). (Emotional paralysis?), still want you as a friend. But on any other level, I'm sad to say, it's the end. It's the end. I didn't want to hurt you. Honestly. Believe me. (For I ?) gave you cause. Believe Me. No reason. No reason.
834 (mostly unintelligible vocals through vocoder)
WALL PURGES NIGHT
The right hand raised, the left plants stickers – picking out the deviants, the choice of colours, inclinations, factions that see only red. He wants them dead. He kills them in his mirror when it's dark… And when he thinks that no-one's watching, spreads his spray paint, leaves his mark.
As swastikas shout out from walls, they're tattooed on a million fists. Clenched together, safe in numbers, waving from the precipice. Fodder! Plod on down your icy path… A cannon's waiting for the fodder. Enlightenment comes with a blast. A bang. A bang, a bang, a bang…
Another place, a different story. Fingers play with stale cigars. Business creeks (creaks? creeps?), the warehouse leaks, the chairman sold his daughter's car. He's reading charts, sharpening knives for cutting when the time seems right – for him alone. No pause for mercy, if the victim's out of sight. Equality is a word for cranks to shout out as the batons swing. It's beautiful in theory… he knows it's not for him. He's got his fodder – they plod on down their icy path. Enlightenment comes with a blast.
In higher places, clocks chime for a meeting of the Lords – discreet as guilty secrets cause no shame behind closed doors. A portion for the mega bomb, a portion for the Queen… can't forget the Army or the Law – we got to keep our cities clean. And sure they know they'll get their way, though protests echo from the streets. There's hired guns and sheets of armour – (it) gives them shelter through the heat. And the fodder who plod on down their icy path. Enlightenment comes with a blast.
But there's other bullets, other walls, where justice cries in shiny red. Where passion burns and reason dies, persuasion's just a hole in the head. Purges after midnight, no discretion in the mass. A volley, a silence, as they cover up the mess. Don't kid yourself you're civilized – it could happen anywhere. In choking cities, steaming jungles… maybe even here.
Come here fodder!
(sample: « We may allow ourselves a brief period of rejoicing. » Bit of the song "Tico Tico no Fubá").
BASILISK 1 (instrumental/sounscapes)
METHODS
Dive like a swan in a pond as the train rolls in. Close your eyes, hold your breath – you'll be holding it forever. There are methods, many methods. Take pills, swallow one by one. It's easy, it's so easy – you can drift away to heaven.
Many methods, there are methods – with a blade on the wrist you can carve your initials. It's messy, but it's effective, and a method, another method.
Another method … select and slip away. Tightropes, and nightshades and shady streets where knives are swinging (other methods!) Swing, swing away on a rope – it's a method, another method. Airports, motorways – take a dive, take a dive… It's another method. Methods. Select and slip away. Methods. Take a life, take a pill, take a dive….
CLEAN UP
The world would be so nice without people but oh so bad without me. I'm applying for the job to sit behind The Button, and watch my knee. And when i'm bored you won't ignore the goodies i've got in store. Just hang around, it will all be over in seconds. Maybe you think I'm joking, that it's all just a fabulous wheeze ; and when the time's right i'll just (?) and scramble on my back. Freeze. I'm paranoid, i've got adenoids. They shot me. I like the noise. I'm going to crack some revenge. And i can talk to the animals – talk to the animals. And maybe they'll talk back – talk back. I've drafted out a real persuasive letter – it will get the early post. Don't be surprised – it's kind of nice when you're a ghost. I'm a scorpio. I'll start the show with a farewell song on the radio. Hold your nose, hold you nose.
BASILISK 2 (soundscape with field recordings made at Notre-Dame by Silverman)
transcribed by Dominic