THE LEGENDARY PINK DOTS
<< back to the Combined Discography  
---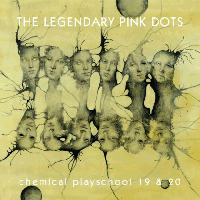 Release date and tracklist
September 15, 2016
US 2xCD MT294 Beta Lactam Ring Records
Disc 1
Volume 19 Part 1
(a) Real World
(b) El Cid
(c) So Gallantly Screaming Anno 30
(d) Sunset Strip
Volume 19 Part 2
(a) Impeccable Machine
(b) How Many Fingers?
(c) Dust
Disc 2
Volume 20 Part 1
(a) Hysterical
(b) Metamorphosis
(c) iTranslate
(d) A Moonlight Walk through Water
(e) Amy in The Underworld
Volume 20 Part 2
(a) Miss August
(b) Carnival Cracker
(c) The Answer (at least for today)
---
Credits
The Silverman
Erik Drost
Ray Steeg
Edward Ka-Spel
Mastering by Ray Steeg and Peter Van Vliet.
All artwork by Jesse Peper from the 12″ x 12″ Art/Fact series.
---
Notes
An edition of 500 copies
Packaged in a book bound gatefold sleeve with artwork by Jesse Peper.
The Silverman, Erik Drost, Raymond Steeg and Edward Ka-Spel bring you once more into the Chemical Playschool, a concept almost as old as band itself that's so unmistakably their own it's almost become a musical genre unto itself, one that proves with each consecutive return that it's as mesmerizing as it is timeless. Collages, samples, voices from above, beyond and every known and unknown directions, intricately detailed layers of electronics and guitar riffs that form mind-binding enveloping textures, relentless, intense and beautiful, mysterious, dramatic or hypnotic in turn – and at times even utterly funny.
The soundscapes can erupt at any moment into songs that refuse any boundary, complete with the lyrics of Edward Ka-Spel at the top of his storytelling game, bringing to life a gallery of characters old and new into his unique twisted and strange little tales. An uninterrupted 92 minute foray in four parts into the unmapped territories and the odd forbidden zone. Don't call it experimental, these master craftsmen of psychedelia are in full control of their Art. It's the perfect companion to its celebrated 2014 predecessor Chemical Playschool 16 & 18, picking up where it left off and pushing the envelope yet again. Book a ticket, lock the doors, kill the lights, feed the cat and stock well on biological yogurt – this journey starts on Sept. 10, 2016
---
Lyrics
EL CID
Faster than a speeding bullet
Nothing living matched his pace..
No strategy to speak of – just a need to win the race.
he crossed the line in five short seconds, raised his arms for our acclaim.
Took a small step to the left, the bullet drilled right through his brain.
And there he goes, another hero.
Here we go , a good man's done.
But way up there on that high hill some fool is
advertising guns.
Guns for good guys shouts the cowboy.
Guns for good guys screams the priest.
There ain't no superhero that can match this li'l baby's reach.
And fuck you Charlton Heston.
Should be mouldering in your grave,
but cold dead hands cannot be idle
with battalions of slaves to drive through those black catacombs of hell.
And when you rise again on that last day,
you'll see we listened well…
15000 years still firing .
15000 years not down.
And the newsguy says we're winning…
So Im proud.
Oh so proud to have played my part in human happiness..
IMPECCABLE MACHINE
FOCUS ON THE FINER POINTS
DON'T LOOK UNDER THE HOOD
THE RULES ARE UNAMBIGUOUS
LET THIS BE UNDERSTOOD
ITS HERESY TO QUESTION
IT IS MADNESS TO REBEL
AND IT TAKES A CLICK TO SECTION YOU
AND LOSE YOU IN OUR CELLS
DONT CRITICISE THE SYSTEM YOU CREATED FOR YOURSELF
THE VOTE YOU CAST'S INVALUABLE
ESSENTIAL FOR THE HEALTH
OF THIS IMPECCABLE SOCIETY
THIS IMMACULATE MACHINE
WE TAKE YOUR COMMENTS
SERIOUSLY
AND ACT ACCORDINGLY
TAKE GOOD CARE NOW
THE ANSWER (AT LEAST FOR TODAY)
ITS BEEN SAID BY SOMEONE MUCH WISER THAN YOUR HUMBLE NARRATOR THAT NOTHING CAN BE CREATED OR DESTROYED.
IF THIS IS THE CASE,THEN THE CONCEPT OF AN EXPANDING UNIVERSE IS FUNDAMENTALLY FLAWED.
IT IMPLIES THAT TAT WE MERELY INHABIT A PITIFUL PATCH IN A SPACE THAT STRETCHES IN ALL DIRECTIONS…FOREVER…
WE'RE DRIFTING
THAT'S HOW IT HAS ALWAYS BEEN, AND THAT'S HOW IT ALWAYS WILL BE.
FOR THE SENTIENT BEING THIS SCENARIO IS UTTERLY DISTURBING , AND ITS [ROBABLY BEST NOT TO DWELL UPON IT.
THE ONLY THING WE NEED TO BE CONCERNED WITH IS EFFICIENT DISTRIBUTION OF THE PARTICLES THAT ARE THE VERY BUILDING BLOCKS OF WHAT WE ARE AND THE ENVIRONMENT WE OCCUPY.
IF THE DISTRIBUTION IS TOO EVEN, THEN WE WILL CEASE TO EXIST. SHOULD IT BE TOO UNEVEN,THEN THE BALANCE IS DESTROYED AND WE WILL CEASE TO EXIST- THOUGH WE MAY WELL LEAVE OUR UNSIGHTLY BAGGAGE BEHIND TO FLOAT IN WHAT WOULD EFFECTIVELY BE A FORBIDDEN ZONE.AT LEAST WITHIN THE LIMITLESS BOUNDARIES OF THIS UNIQUE PLAIN OF EXISTENCE.
HOWEVER,THERE APPEAR TO BE INFINITE PLAINS OF EXISTENCE.
EVERY SECOND OF EVERY DAY WE ARE PRESENTED WITH THE NEED TO MAKE DECISIONS.
THE ALARM RINGS AT 6AM OR 8AM OR 9AM OR NOT AT ALL AND YOU, MY FRIEND, TURN OVER AND CONTINUE SLEEPING.OR THROW THE ALARM CLOCK AT THE WALL.OR EAT THE ALARM CLOCK BECAUSE IT TASTES LIKE BLUEBERRIES.OR SLOW DOWN THE TIMELINE UNTIL THE CLOCKS IRRITATING ,SHRILL RING IS TRANSFORMED INTO THE BELLS OF HELL ITSELF-IF ,INDEED, IT EXISTS.
IN FACT YOU DO ALL OF THESE THINGS AND INSTANTLY WANDER OFF ON VARIOUS- NO,INFINITE -TIMELINES CONVINCED THAT THERE'S ONLY YOU IN A BIG SCARY WORLD.
INDEED, THERE'S YOU,IN THE SPINNING HANDS OF INFINITE DESTINY MOVING IN INFINITE DIRECTIONS.
ALL THE EMOTIONS, ALL THE TASTES, ALL THE PAIN , ALL THE PLEASURE.ITS YOURS.
YET STILL YOU FEAR THAT THERE'S AN END IN A SPACE WHICH HAS KNOWS NO END OR BEGINNING.
SILLY YOU.
TRULY, THERE IS ONE BORN EVERY MINUTE.