THE LEGENDARY PINK DOTS
<< back to the Combined Discography  
---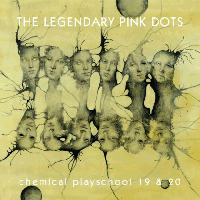 Release date and tracklist
September 15, 2016
US 2xCD MT294 Beta Lactam Ring Records
Disc 1
Volume 19 Part 1
(a) Real World
(b) El Cid
(c) So Gallantly Screaming Anno 30
(d) Sunset Strip
Volume 19 Part 2
(a) Impeccable Machine
(b) How Many Fingers?
(c) Dust
Disc 2
Volume 20 Part 1
(a) Hysterical
(b) Metamorphosis
(c) iTranslate
(d) A Moonlight Walk through Water
(e) Amy in The Underworld
Volume 20 Part 2
(a) Miss August
(b) Carnival Cracker
(c) The Answer (at least for today)
---
Credits
The Silverman
Erik Drost
Ray Steeg
Edward Ka-Spel
Mastering by Ray Steeg and Peter Van Vliet.
All artwork by Jesse Peper from the 12″ x 12″ Art/Fact series.
---
Notes
An edition of 500 copies
Packaged in a book bound gatefold sleeve with artwork by Jesse Peper.
The Silverman, Erik Drost, Raymond Steeg and Edward Ka-Spel bring you once more into the Chemical Playschool, a concept almost as old as band itself that's so unmistakably their own it's almost become a musical genre unto itself, one that proves with each consecutive return that it's as mesmerizing as it is timeless. Collages, samples, voices from above, beyond and every known and unknown directions, intricately detailed layers of electronics and guitar riffs that form mind-binding enveloping textures, relentless, intense and beautiful, mysterious, dramatic or hypnotic in turn – and at times even utterly funny.
The soundscapes can erupt at any moment into songs that refuse any boundary, complete with the lyrics of Edward Ka-Spel at the top of his storytelling game, bringing to life a gallery of characters old and new into his unique twisted and strange little tales. An uninterrupted 92 minute foray in four parts into the unmapped territories and the odd forbidden zone. Don't call it experimental, these master craftsmen of psychedelia are in full control of their Art. It's the perfect companion to its celebrated 2014 predecessor Chemical Playschool 16 & 18, picking up where it left off and pushing the envelope yet again. Book a ticket, lock the doors, kill the lights, feed the cat and stock well on biological yogurt – this journey starts on Sept. 10, 2016