THE LEGENDARY PINK DOTS
<< back to the Combined Discography
---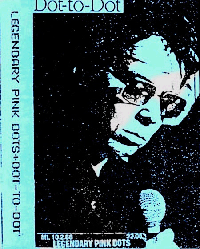 Release date and tracklist
1988
DE CS Teddy Bear Music TBM001
DE CS Jarmusic
side a
Intro
True Love
A Strychnine Kiss
Neon Mariners
A Lust For Powder
MMMmmmmmmmmmmmmmm
The Gallery
The Light In My Little Girl's Eyes
Echo Police
side b
Under Glass
Curious Guy
I Am The Way, The Truth, The Light
Flowers For The Silverman
The Diary
Love In A Plain Brown Envelope
***
22 January 2014
NL MP3 self-released on Bandcamp
Dot to Dot Part 1 (Regression / True Love / A Strychnine Kiss / Neon Mariners) 

17:28

Dot to Dot Part 2 (A Lust for Powder / Mmmmmmmmmmmmmm……/The Gallery) 

15:50

Dot to Dot Part 3 (The Light in My Little Girl's Eyes/Echo Police) 

10:27

Dot to Dot Part 4 (Under Glass/ Curious Guy / I am The Way ,The Truth , The Light / Flowers For The Silverman) 

31:32

Dot to Dot Part 5 (The Dairy /Love in a Plain Brown Envelope) 

11:43
---
Credits
Stret Majest Alarme-guitar
EK-vox
Graham Whitehead-keys,trumpet
Patrick Q.-violin
The Silverman-keys
Jason Salmon-bass
Hans Meier-sound.
Thanks to Reinhard Nicolai who recorded ths one.
---
Notes
Recorded live in Hanover, Germany, 10 February 1988.
Teddy Bear Music edition intially limited to 177 numbered copies.
Jarmusic edition has been re-issued in several different numbered editions.
From Bandcamp:
A cold Wednesday night (10 February 1988) at The Bad in Hannover was captured by a friend (Reinhard) on tape and made available on an impossibly obscure cassette release way back in the day. Here it is once more, a little cleaned up…