THE LEGENDARY PINK DOTS
<< back to the Combined Discography
---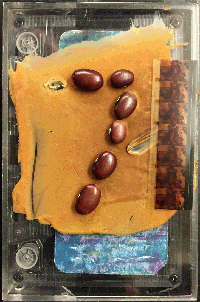 Release date and tracklist
03 December 2014
NL MP3 self-released on Bandcamp
Curse Mix 

09:49

The Politics Of Excess 

28:49
---
Credits
track 1:
Pat Bermingham
April White
Barry Gray
The Silverman
Keith Thompson
Roland Callaway
Edward Ka-Spel
Sally Graves
Freek Kinkelaar who digitised the tape.

track 2:
Edward Ka-Spel
The Silverman
---
Notes
For the serious Dots connoisseur, we include here The Dots' part in the infamous "Shed Sounds Sampler", which was a promotional cassette issued by In-Phaze Records back in 1983. Essentially this was a fabulous cut-up of "Curse" created by label boss (and engineer extraordinaire) Pat Bermingham. Pat owned an 8-track console (bought from Pink Floyd's Nick Mason) and he was simply a master of the controls. This was incidentally Cevin Key's introduction to the Pink Dots and it intrigued him enough to seek contact with EK- we all know what happened next…
Also here is the bizarre and epic LPDs' side of "Tryst 7" (or at least one of the mixes…I believe there were two). This beast saw a frightening meeting of minds with Big City Orchestra and LPDs creating the' collage to end ALL collages.  Every copy of this cassette which emerged was unique, but all spewed out a mountain of chaos on the carpet once the unwary purchaser dared to open that plastic bag.
Yes we now live in the digital age…a TIDIER age…but somewhere I miss that sheer chaos..  -EK
On Shedsounds: Pat Bermingham, April White, Barry Gray,The Silverman,Keith Thompson, Roland Callaway,Edward Ka-Spel,Sally Graves.Big thanks to Freek Kinkelaar who digised the tape.
On Tryst: LPDs decorated one side with EK/The Silverman at the controls while BCO presented a magical mystery tour on the other side.
Big THANK YOU to Chris Macbeth, Ty Hodson, Das & Nina