THE LEGENDARY PINK DOTS
<< back to the Combined Discography
---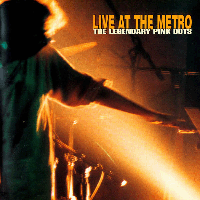 Release date and tracklist
Spike
Aarzhklahh Olgevezh
Green Gang '98
Zoo
Saucers Over Chicago
Fate's Faithful Punchline
Pain Bubbles
Grain Kings '98
Andromeda
26 November 2013
NL enhanced MP3 self-released on Bandcamp
Spike / Aarzhklahh Olgevezh
Green Gang '98
Zoo
Saucers Over Chicago
Fate's Faithful Punchline / Pain Bubbles / Grain Kings '98
Andromeda Suite
---
Credits
Edward Ka-Spel – Voice, Keyboards
The Silver Man – Keyboards, Electronics
Edwin von Trippenhof – guitar, occasional bass
Ryan Moore – drums, occasional bass
Niels van Hoornblower – horns, flute
Frank Verschuuren – live sound
Paul Newman – drums on "Aarzhklahh Olgevezh"
---
Notes
Recorded live at the Cabaret Metro, Chicago on November 11, 1998.
SING WHILE YOU MAY DAZHTANII
From Bandcamp: 1998.The intention was THE definitive live album and everything was prepared for the recording to be made in Poznan, Poland. In fact a mobile 24 track studio captured everything perfectly and the band's Polish label, Big Blue intended to release it exclusively. The trouble is, when the band heard the mixed results, a cloud of disappointment hung in the air. It was just, well, too clean. In the meantime a tape landed at Chez Dots of their show at Cabaret Metro in Chicago, and if the sound quality wasn't the greatest, the spirit of the performance was excellent. It made for a curious cd release. The sound of Chicago, the sights of Poznan, the occasional typo from Warsaw. It's now out-of-print, but here for your delectation, AND the sound has been a little enhanced.
Do listen out for some spectacular guitar playing from Edwin.
---
Reviews
Recorded live at The Metro in Chicago, on November 11, 1998, this album captures the Legendary Pink Dots in very fine form, if not in very good sound. The set list features a nice cross-section of the band's '90s output, with songs taken from the albums Hallway of the Gods, Crushed Velvet Apocalypse, andThe Maria Dimension, among others, plus a song ("Pain Bubbles") that would end up on their next studio album, the superb A Perfect Mystery.
The lineup for this tour consisted of Edward Ka-Spel, Phil Knight, Edwin van Trippenhof, Ryan Moore, and Niels van Hoornblower. Highlights abound, such as Van Trippenhof's raging guitar solo in "Grain Kings '98," but the real treat is the ten-minute "Saucers Over Chicago," a version of "The Saucers Are Coming" adapted for the occasion, a reverse take of sorts on Welles' War of the Worlds. "Andromeda" also gets a powerful treatment, bringing the album to a close on a bombastic note.
In terms of material performed and performance quality, Live at the Metrobeats Farewell, Milky Way, released a year later though recorded four years earlier. However, sound quality-wise, the situation is inverted, as Live at the Metro sounds rather hollow, with too much echo. Despite this shortcoming, it makes for a very fine live document that fans will appreciate. But newcomers are better off trying some of the group's highest-rated studio efforts before dipping their ears into this release. -François Couture, allmusic.com
***
Overall impression: good.  Finally … a live record from the '90s!  I believe the Pink Dots are one of those bands you have to see live to fully appreciate.  As brilliant as they are on record, they're an even more fulfulling experience to take in live. Every band member is an essential part of the music and each flawlessly and effortlessly play their part to perfection.  They have a unique sound that borrows in varying degrees from psychedelic, ambient, progressive rock, experimental, electronic and folk musics … blend it all together and add Ka-Spel's *very* unique voice and you have LPD.
I was fortunate enough to be at two shows about a week before this show (11/11/98 Chicago) so this cd helps bring back some fond memories.  The tracklisting is a good assortment of songs spanning the various styles and history of the Dots:  a new song ("Pain Bubbles"), a few from 1998's "Nemesis Online", a few from 1997's "Hallway of the Gods", and four updated classics.  The real treats here for me are Aarzhklahh Olgevezh, Green Gang 98 (with extended guitar intro and chaotic "freakout" section), Saucers Over Chicago (with an always amusing spoken story from Edward, different each night), Fates Faithful Punchline (achingly beautiful horn work by Niels) and Andromeda (which is similar to the updated version on 1998's "The Pre-Millennial Single" and is what I figure will be the closest I'll ever come to seeing 60's Pink Floyd). I love this stuff.
Some minor quibles that keep this disc from being perfect:  "Green Gang 98" and "Zoo" have some sound issues, a clipping/skipping sort of sound that may be due to how the cd was mastered.  It's annoyingly noticeable on headphones, not so much on a home stereo though.  "Grain Kings 98" isn't quite as tight as it should be and Edward's vocals are muffled through much of it.  And, then there's the missing songs from the set:  "Princess Coldheart", Dissonance", "Cheating the Shadow", "Blacklist", "Casting the Runes" and "Hellsville" … understandable since it would have required two discs for the entire set.  The booklet is nicely done with 14 pages of color live shots of the band. "Live at the Metro" isn't perfect, but I'm pretty happy with it.  Sing while you may … –Brainwashed.com