THE LEGENDARY PINK DOTS
<< back to the Combined Discography
---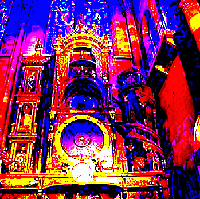 Release date and tracklist
July 4, 2013
MP3  self released on Bandcamp
Part One
Part Two
Part Three
---
Credits
Edward Ka-Spel
The Silverman
Patrick Q. Wright
Stret Majest Alarme
Jason Salmon
Graham Whitehead
Hans Meyer
---
Notes 
Part one includes: Intro (Message from our Sponsor), The Heretic, Jewel in the Crown, Premonition 16, I'm the Way, the Truth, the Light
Part two includes:  The Hill, This Could be the End, Echo Police, Poppy Day, The Dairy, Curious Guy, (tower instrumental interlude), Neon Gladiators,
Part three includes: The Plague, Flowers for the Silverman
***
A magical night at Le Bandit….a club with a big heart. Many thanks to Jean-Luc and Serge who made this'll happen. -E. K-S.