THE LEGENDARY PINK DOTS
<< back to the Combined Discography
---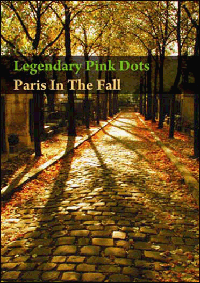 Release date and tracklist
April 14, 2011
DVD (NTSC) Soleilmoon Recordings SDVD 8
Unlikely Event
Peace of Mind
Rainbows too
A World with no Missions
Cubic Caesar
No Matter what you do
Choke
Torchsong
Grain Kings
Isis veiled
Just a Lifetime
Hellsville
---
Credits
Edward Ka-Spel- Voice, Keyboards
The Silverman- Keyboards
Niels Van Hoorn- Wind instruments
Martijn De Kleer- Guitars
Raymond Steeg- Sound Engineer
---
Notes
The first 200 copies included a limited edition set of five postcards.
***
Imagine a club packed like sardines in a can and three cameras hovering over the throng.  Possibly LPD's finest, and most intense, visual document so far.
The show was recorded during the band's November 13, 2009 passage at the Paris venue Le Klub. The Legendary Pink Dots played a two-night residency at Le Klub. It was this second night that was filmed by Johanna Barda and her camera team. The release of the DVD coincides with The Legendary Pink Dots' 2011 European tour (which includes a night in Paris).