THE LEGENDARY PINK DOTS
<< back to the Combined Discography
---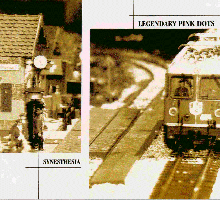 Release date and tracklist
2002
IT CD SPKR THUK VIII
2009
PL CD Big Blue Records ‎– 8483488 (alternate cover)
***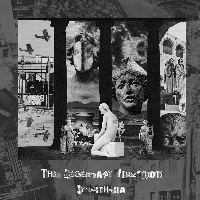 10 February 2013
NL remastered MP3 self-released on Bandcamp
Shining Path / Rome
Kami Kai / Premonition 26 / Premonition 28
The More it Stays the Same
Flashback
Kalos Melas
***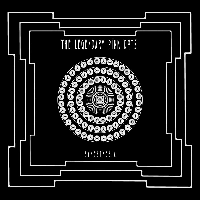 pending early 2015
US 2xLP reissue Soleilmoon 11864
US 2xLP reissue Soleilmoon 11865
US 2xLP box set reissue Soleilmoon 11866
---
 Credits
Edward Ka-Spel – voice, keyboards, electronics
The Silverman – keyboards, processes
Martijn de Kleer – guitars, violin
Niels van Hoornblower – horns
Raymond Steeg – sound wizardry
Produced by EK.  Polish reissue with new cover art by Zdzisław Beksiński.
---
Press Release (LP reissue)
Once described by Edward Ka-Spel as a companion to Chemical Playschool: Vols. 11, 12 & 13, Synesthesia is finally pressing in Deluxe Double Vinyl Edition. It is a great Esoteric and Experiemntal album totally original in comparison to All the King's Horses and All the King's Men, the two "song" albums released later that same year. Brilliant excursion into ambient abstraction in the "Premonition 26″/"Premonition 28″ sequence, in matters of experimental music, "Flashback" is much successful with its creaking sounds and ghostly, ectoplasmic aural reminiscences. Song-wise, "Shining Path" and "The More It Stays the Same" are great efforts, and put Synesthesia being an essential LPD title. Historically, it is noteworthy for being the first album featuring the quartet lineup of Ka-Spel, the Silverman, Niels van Hoorn, and Martijn de Kleer, with Raymond Steeg in the control room.
---
Notes
from Bandcamp: Unofficially "Synesthesia" is "Chemical Playschool 14" comprising of parts that didn't make it to the CP 11-13 box set. Even so, "Shining Path" was a brand new piece which just didn't seem to fit anywhere….except here.
First release was for Italian label SPKR Records in an edition of 1,000; it has since been reissued on Big Blue, Poland.
LP reissues:
11864- Gatefold Cover: 600 copies, Black Vinyl
11865- Gatefold Cover: 100 copies, White Vinyl
11866- Gatefold Cover: 100 copies Deluxe Box-Set, black vinyl, including T-Shirt, Poster and a Special Bonus CDR.
---
Reviews
Synesthesia serves as a companion to Chemical Playschool Volumes 11, 12 and 13, with eight indexed tracks, 57 minutes total, and 28 minutes worth of Premonitions smack dab in the middle. Niels and Martijn are credited with horns, guitars and violin but there's certainly an absence of evidence to prove it. Like Ka-Spel and The Silverman's solo efforts, the dominating sound is electronic via synths, samples and programmed drums and the majority of the album is instrumental sound pieces. 'Shining Path' and 'The More It Stays the Same' are the two lyrical songs, delightful ones at that, but even they dissolve into audio experimentation. The Premonitions are, as always, fantastic escapes. Numbers 26 and 28 range from the faintest stirrings of mist and found sound to angry resonance and rhythmic clickety-clack. The closer, 'Kalos Melas', features the cutest marching melody you'll likely hear this year. To my ears "Synesthesia" sounds very polished, much more so than the CP set, possibly negating the theory that these were the outtakes. It's just further proof, as though more were even needed, of two things: the Dots are both song crafters and sonic sculptors and they're as creatively sound as ever. – Mark Weddle, Brainwashed
***
Synesthesia is a low-key release for the Amsterdam based modern psychedelic outfit the Legendary Pink Dots, lead by the enigmatic Edward Ka-Spel. The Dots material herein is a companion release to Chemical Playschool volumes 11, 12 and 13, and is perhaps more electronic oriented than the usual Dots fare. There's little evidence of saxophone or acoustic guitar but there are a number of good tracks including 'Shining Path' and 'The More It Stays The Same' which captures the Dots musical craftsmanship while providing an insight into the peculiar poetic vision of Ka-Spel, delivered in his customary nasal Syd Barrett-esque tones. Synesthesia also features some more overtly experimental sound pieces. A low-key release but the fact that the Dots continuously make available this type of quality material frankly warms my heart. This isn't by any means a new release, and I believe it is limited to a couple of thousand copies but we recently received a copy for review so there must be some left somewhere, track it down if you're interested in the Dots more electronic escapades. –compulsiononline.com