THE LEGENDARY PINK DOTS
<< back to the Combined Discography
---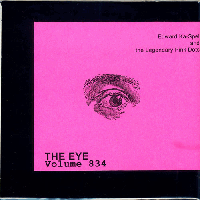 Release date and tracklist
August 20, 2004
US DVD-R Brainwashed EYE834
Edward Ka-Spel live: September 2003
Introduction
Our Captain's Eyes
Interview
Behind Fishnet Curtains
Interview
Atomic Roses
This Fragile Love
Defeated
The Legendary Pink Dots live: June 2004
The More it Stays the Same
Interview
In Sickness and in Health
Interview
Soft Toy
Interview
Third Secret
Interview
We Bring the Day
---
Credits
Edward Ka-Spel – Voice, Keyboards
The Silverman – Keyboards, Electronics
Nicoletta Stephanz – Synth, theremin
Erik Drost – Guitar
Niels van Hoorn – Saxophone, Clarineta
Raymond Steeg – Engineer, effects
Recorded in and around Boston by Jon Whitney.
---
Notes
Contains features originally available for download as part of The Eye, a weekly series of QuickTime videos available for download at Brainwashed.com. Each segment features a live performance interspersed with interview footage. Interviews are with Edward and Phil.
The DVD only contains two track indexes, and contains no tracklisting on the sleeve.
---
ReviewsBrainwashed, web host of prestigious artists' websites such as The Legendary Pink Dots, Damanda Galas, Tortoise, Coil and many others, keeps on releasing its "The Eye" DVD-R series. "The Eye 834", their new production, is exclusively all about the Legendary Pink Dots and Edward Ka-Spel, and gathers on one disc, two shows filmed in Boston. This is an 'official' bootleg, quite like the video version of the "Trademark of Quantity" CD-R the band's been releasing since last year to go with its newsletters. The first show on the DVD is an Edward Ka-Spel set captured on September 28th, 2003, with the help of the Silverman on keyboards, and Nicoletta Spantz on Theremin. Beware, though, as these aren't the full shows, but about 45 minutes of each of them, along with interviews on stairs or at the radio station. With amusement and passion, Edward and Philip remember the first time they met, then talk about the beginning of the band until the release of "The Whispering Wall" and "The Poppy Variations". There's still some magical moments with Close your Eyes, You could be Space Captain, Atomic Roses and particularly Defeated, one of the earliest Legendary Pink Dots' tracks dusted in order to surprise the audience, and played with an intact passion that's been the same for almost a quarter of century.
Then The Legendary Pink Dots play the same venue on June 6th, 2004. The unconventional Niels Von Hoornblower causes a great hilarity on We Bring the Day, while most of the tracks kept for this DVD release are from "The Whispering Wall", since the band was promoting it in the US at that time. Both shows have a poor light show in common, along with a static shot, as a maximum of two video cameras are involved. Small scale and hand made (be careful with your DVD players compatibility), these DVD-R will have your name on, so that they can all be traced, in order to avoid speculation on well-known internet sites. Collectors: for less than 20 euros, you'll own a LPD product with your name on. Nevertheless, this object remains dispensable. For hard core fans only (info and order at www.brainwashed.com). Bertrand Hamonou, premonition.org