THE LEGENDARY PINK DOTS
<< back to the Combined Discography
---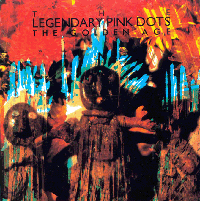 Release date and tracklist
1989
BE/US LP/CS Play It Again Sam BIAS103
side a
side b
Maniac
The Talent Contest
The More It Changes
Hotel Noir
Stille Nacht
The Month After
Lisa's Separation
The Golden Age?
Black Castles
And Even The Vegetables Screamed
Regression
Blacklist – [MP3]
Methods – [MP3]
Our Lady In Cervetori – [MP3]
***
29 May 2012
NL Remastered MP3 self-released on Bandcamp
Maniac 4:09
The Talent Contest 4:04
The More It Changes 3:32
Hotel Noir 6:47
Stille Nacht 3:38
The Month After 4:59
Lisa's Separation / The Golden Age? 7:45*
Black Castles 5:28
And Even The Vegetables Screamed / Regression 3:28*
Blacklist 6:46
Methods 4:16
Our Lady In Cervetori 4:42
29 August 2016
NL Remastered MP3 self-released on Bandcamp
Maniac 4:07
The Talent Contest 4:00
The More It Changes 3:31
Hotel Noir 6:45
Stille Nacht 3:35
The Month After 4:57
Lisa's Separation / The Golden Age? 7:43*
Black Castles 5:24
And Even The Vegetables Screamed / Regression 3:23*
Blacklist 6:43
Methods 4:13
Our Lady In Cervetori 4:43
* tracks have been combined to preserve cross-fade.
---
Credits
The Silverman – keyboards, samples and loops
Patrick Q Wright – violins, viola, keyboards, drum prgramming, percussion
Edward Ka-Spel – vox and keyboards
Hans Meyer – saxophones, flute and electronix
Bob Pistoor – guitar
---
Notes
Produced by Hans Myer and the LPDs, engineered by Hans Myer.
The track "Black Castles" is titled "Shiny, Shiny Black Castles" on the label of the LP editions and on the SPV cassette.
Early in 1988, Legendary Pink Dots' sound technician Hans Meyer scrawled the message "Grow or Disappear" in big black letters on the wall of the barn where we recorded at this time. It was prophetic, for this was the year when the band had to make that decision and it would have been simpler and easier to simply vanish because life could not have been harder. After a 40-odd show tour the Dots literally fell apart in the early months of '88. Guitarist Barry Gray decided that he'd had enough on the last day of that tour, Graham Whitehead (keys) missed England and also stepped out while Jason Salmon (bass) found the life simply too much and became the third member to quit. It left a line-up of 3 people…Edward Ka-Spel, The Silverman and Patrick Q. Paganini to embark on the recording of a new album. That barn, which belonged to Niels, actually became "home" for Edward and Phil as the squat they inhabited in Amsterdam was reclaimed by the city in '88 and was subsequently converted to a restaurant for yuppies. When recording began the two moved into Niels's caravan and long evenings were spent by candlelight discussing dissolving relationships and crumbling bands with Patrick who also moved in for a month. It IS a sad album. It reflects absolutely the mood of that time. "The Golden Age" is a most ironic title. On a more positive note, The Dots were introduced to Bob Pistoor who basically joined for a few sessions on guitar. He was phenomenal, but over a year would pass before he became a Pink Dot. "The Golden Age" was also Patrick's last full album as a fully fledged Pink Dot. Again the circuit of playing toilets for peanuts and worrying about affording the rent proved to be too much. The Dots became a duo. Niels Van Hoorn joined three days before the first mini-tour promoting the "Golden Age" and has remained in the Dots ever since. Grow or disappear….ultimately it wasn't a choice at all. – Edward Ka-Spel
From Bandcamp:
1988. Half of the 6 piece Pink Dots had quit after a long tour. EK and The Silverman were living in a caravan.  It was never going to be a happy album…yet it remains a persnal favourite for the 2 survivors of LPDs class of '88. –Edward Ka-Spel
---
Review
Legendary Pink Dots builds mystical sound castles, staining their composed dreamscapes with nightmarish surrealism, as beautifully harsh as the tides washing away innocent sand dominions. Following a slew of releases (mostly imports), the Holland-based troupe continues knitting synthetic fibers into organic opiates with The Golden Age, slicing through their ghostly frail weave with cynical razors. "The Talent Contest" ebbs and rises with atmospheric elegance, sweetening the acid-bitter lyrical liquid with soothing instrumentation. Flowing in unconscious streams, the violin and synth wizardry in "The More It Changes" smoothes the bed of pebbles, as an eerie organ rises from the depths to poison the water and occasionally gush over with frightening subtlety. The Dots worm through "And Even The Vegetables Screamed," a fever-dream that cross-breeds the Beatles' eggman with the vegetable man stalking Syd Barrett's stir-fried world, manipulating sounds and creating their own depth and texture instead of simply copying their mentors. "Lisa's Separation" uses fairytale symphonics, tunneling through noise chambers and oozing into the title track, while "Hotel Noir" "The Month After" and "Regression" offer more psychotropic fungus to color any collecting cobwebs in an apathetic era. – CMJ
---
Lyrics
Maniac
She's on his mind, she's on his wall. She's in the corner of his eye. She whispers sweet delerium. He climbs inside and blushes as the crimson tide flows and flushes him away . . . The sheets are stained; alone again and unfulfilled. A cleaning bill. The dream was killed before he kissed her–now he's cursing the alarm. But she teases from the T.V.– spreas her legs in magazines. She steams his collar, she dusts his shelf, she cuts his hair. She's never there . . . There's just the letter one-way while the ansaphone says "No way!" But he'll search and he'll find her even if he has to tie her down . . . (He'd kiss the ground she walks on . . .)
The Talent Contest
she sit before the mirror, hanging mirrors on her ears and spreads the spraypaint on the haystack that she calls her hair. She fills a crack, prepares her nails like blood-dipped spears (they're dripping!) Smears the lipstick, licks her lips and slips inside her leopard skin–a plunging 'v' from neck to knees, but nothing's seen, it's just suggested. Tonight she'll make a plea for starving whales and heart disease in trees. She's on T.V., she's longing for a 10 from presentation, application, lubrication; she'd do any- thing . . . anything to win. And Yang and Yin, the juggling twins, come spinning past her door to mild applause and 5.4s and cleaning floors 'til lights out. Funny Murray taps his worry beads and reads the Tarot. She looks around and sneers. No com- petition, superstition. Blind ambition. She'd do any- thing to win. And 834's her lucky number . . .
The More It Changes
Fifteen storeys high, the black curtains drawn, and the sun is just a brat that spits and the goes away. The T.V. chatters, there's a pile of letters scattered on the mat. Reminders, bills–they smell of cats. Three starving cats who chase each others' shadows. They curl up on him overnight and scratch him, and bite him . . . But he lost the will to fight, and he lost the will to move . . . It's been a month, will be another, until the busting down the door. They'll carry him away; they'll strip him clean. They'll lock him in a padded box some fifteen storeys high where the sun is just a brat that spits then goes away.
Hotel Noir
Two glasses on a glass-top table. Lights are low, the ashtray's full. he talks of all his conquests–letters ringed with hearts and crosses. He left them in the drawer (at Hotel Noir)–unanswered, yet he read them for her time and time again . . . She looked clean through him and told him how she loved white horses, riding on a swing and laying in a cornfield on a warm summer's night. She'd watch the dancing lights. Alone but never lonely–until now. He ordered whisky but the waiter walked clean through him. He sadly shook his head, and lit his fifteenth cigarette . . . and slowly, surely pictures for- med he never could forget . . . Loretta sent him sea shells, Henrietta sent a rose, and Margaretta said they'd marry in a letter that he'd never answered (left it in the drawer at Hotel Noir . . .) And she said how she loved the sea at full moon. Running down a silver beach with silver ribbons trailing from her hands. She found a doorway in the sand where she'd store away her stones. Precious stones that could be diamonds, just because they sparkled in rain. And there she'd sleep, and there she'd dream. And there she died. The tide rolled backwards and it dried and left a headstone made of salt. The warm breeze turned to steam. And even the vegetables screamed and screamed and screamed . . . He stretched his hand out just to touch her–but she said she had to leave . . .
The Month After
Under the table and down in the pit with out plastic potatoes and Joe-Joe the dove on the spit. On the spoons you made rhythm; I whistled the blues cos my throats been misused and my voice is a crack in the tar. In the jar is a tablet they sent in the post, with a pamphlet. With an order; "Take this when the pain gets too much!" I confess I feel nothing at all . . . I'm bored and you're bald, but I laughed when you called me the snail. My red trail runs behind me. I'm guilty, no secrets. You're not such a picture yourself–but your brown eyes I know so very well. They're sadder and wiser; We've finally been through it all. Now our time's slowly ticking away. Do you think there's a heaven? [ Backwards: I feel nothing at all ]
Lisa's Separation
She covered up the mirror, hid his photo in the drawer. The sketches that he made for her were rip- ped and rolling across the floor. All memories and promises and plans they'd made were scratched or burned as Lisa laid her head down for the night. Still the pictures flowed day and night. There's no escape, there's no remission . . . This one's us in Paris, and this one's us in Rome. That mess was him in plasticene, those rocks were him in stone. And still she found no explanation why he left without a word. It seemed like such an ordinary night. Still the pictures flowed throuhg the night. No escape, no remission . . . They burned his few possessions and they buried him in sand. They spent his coins in cof- fee bars and calmly washed their hands. The only hint of retribution was a lack of intuition–left with dirty hands without a fight. How the curses flowed through the night. Made their escape, a fruitless mission . . . His ghost peeps through the curtains gently whispering her name. It hovers over crushed mementos trying to explain. And maybe it takes 40 years of patience, swimming through the tears. He'll guard her each and every lonely night. Still the pic- tures flow through the night. No escape, no separation.
The Golden Age
The dragon slips into the water. And the tiger bites its claws. And we'll sing only as angels sing. The floor will clear, we'll walk with eyes fixed forward and fists raised high. The world is our shining oyster and we're its precious pearls. And nothing, no one will stand in our way! Ladies and gentlemen . . . The Golden Age . . .
Black Castles
In the street, they're digging holes and in the sinks they're swilling coal-tar, baby. Feathers stuck on poles. They're waiting for the gas man (Goo-goo- ga-chew!) Tube train claims its fifteenth victim of an average week. He tripped. A family man with no ambition, meek as plastic tulips. He made it to page 53, they wrapped him round a fish and threw him in the stew (Goo-goo-ga-chew.) Tuesday, it rained glue balls; Wednesday morning was the smog. They moved in on the West Side–rubber masks on. They torched the whole damn lot. The people died; they fenced it off. But still te peepos watch from the top floor of the Euro Tower. Round and round, 12 hours. Fountains. Fillet steak, a waiter with a bow-tie. Press it, squeeze it, and it spits. Oh Cologne! We smell OK, the O-Zone's safe, we keep things underground. The sound we hear is sweet soul music to the tannoy. Chew your gum and close your eyes and nothing can annoy you.
Regression
Go back eight years; you're sixteen… What do you see? What do you feel? A classroom..Yes..and what are they whispering? They're whispering about you? Why? Laughing, no, no, go back eight years. You're eight, where are you? In your bedroom? Yes, in your bedroom. Shadows? Shadows touching you, your head forced to one side. Tell me about the black dog and tell me … no, no, go back eight years. What do you see? What do you feel? And you don't want the white light, why? Why? No, no, go back a hundred, two hundred…FIVE hundred years. What do you see? What do you feel? Your hands are tied, yes, and they're throwing things. Fire, you're burning, you're burning. No, go back a thousand…A million years. What do you see? What do you feel? Nothing, nothing at all. Tell me, is it better that way? Blacklist (transcribed by Alan Ezust and other members of cloud-zero)
Blacklist
They scorched the earth; they petrified the forest – painted windows black. Pumped cyanide in rivers, roamed around in packs ; screamed "STAND, DELIVER!" they always took it all. Resistance cracked, we'd hide, but sure they'd find us curled up on the floorboards of our shack. Five on the blacklist! Five on the blacklist! We were bubbling under, now we're in there, with a bullet (through the brain) Frightened on the floorboards of our shack, quite naked, once we'd fight them – now we take it all. They have our names, they have our numbers. the print-out says we take it all again and again untill we pay… Five on the blacklist! Five on the blacklist! We were bubbling under, now we're in there, with a bullet. FIVE ! Five on the blacklist! FOUR! Five on the blacklist! THREE! Five on the blacklist! TWO! Five on the blacklist! ONE ! Five on the blacklist!
Methods (transcribed by Alan Ezust and other members of cloud-zero)
Dive like a swan in a pond, as the train rolls in. Close your eyes, hold your breath – , you'll be holding it forever. There are methods, many methods – take a pill. Swallow one by one. It's easy, it's so easy – you can drift away to heaven. Many methods, there are methods – like a blade on the wrist you can carve your initials. It's messy, but it's effective – and a method. Another method … select and slip away. Tightropes, and nightshades and shady streets where knives are swinging (methods!) swing, swing away on a rope – it's a method. another method….Airports, motorways – take a dive, take a dive…Methods. Methods. .Just select and slip away (x3) Methods. Just select and slip away…Methods. Methods…. Just select and slip away. Take alive, take a life, take a dive….
Our Lady in Cervetori (transcribed by Alan Ezust and other members of cloud-zero)
Sounding the bell in the corridor. Sweeping the floor with her hair. She sprinkles hot ashes and salt on the stairs as she walks. We all walk behind her. The city sleeps restless below ; one thousand dark stars flashing random. We swing on the wires, we lie in the road but the cars just fly by us – they dodge and drive on. We slide down the gutters. We hide with the rats in the catacombs. We swim through the eggshells and matchsticks and toothpicks – We retreat to the underworld, down where it's warm. Wherever our lady will lead us, wherever our lady will need us…It's heaven in hell and nothing will scare us, no nothing will scare me again. Wherever our lady will lead us, wherever our lady will need us…It's heaven in hell and nothing will scare us, no nothing will scare me again.