THE LEGENDARY PINK DOTS
<< back to the Combined Discography
---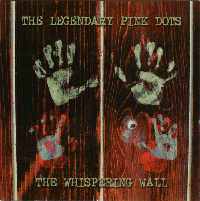 Release date and tracklist
May 11, 2004
US CD Roir RUS8286
07 September 2013
NL MP3 self-released on Bandcamp
---
Credits
Edward Ka-Spel – Voice, Keyboards
The Silverman – Keyboards, Electronics
Erik Drost – Guitar
Niels van Hoorn – Saxophone, Clarineta
Raymond Steeg – Engineer, effects
---
Notes
Recorded at Studio Lent and Studio Klaverland, January-March 2004.
Klymyzh Plazhda… Sing While You May
From Bandcamp: 2004.The first album featuring Erik on guitar and an absolutely blistering
introduction on the first track . Even so, it was an album plagued with problems including a computer crash , an endless battle to find the right mix for a lot of the songs and a writer's block for EK at an awkward moment. Oddly the result is a decent album, although with the benefit of hindsight it could have been slimmed down a little to create a more coherent journey. Do note this has NOT been remastered.
---
Press Release
The Whispering Wall is the Legendary Pink Dots' latest album & third release on ROIR. The album will coincide with a 35-date North American tour. The Pink Dots know that the future, our man-made future is coming. And it is coming to get us. Whereas 2002's All The King's Men relied heavily on lush weighty soundscapes, The Whispering Wall provides Ka-Spel's poetry more room to flourish. Prophetic lyrics & haunting vocals envelope the listener; each song a continuation of the on-going story the LPD tell– either through whimsical songs about Humpty Dumpty's travails or frightful anecdotes about a society increasingly dependent on technology yet perilously incapable of doing without it. Please take a listen– it may be the most intriguing story you've heard in a very long time– until next time. For the last 25 years, the Legendary Pink Dots have been one of the most consistently innovative and intriguing bands around. Constantly touring on the Continent and in North America, they have produced over 25 records on labels such as Play It Again Sam, Wax Trax, Staalplaat, Caroline, and Soleilmoon USA. Their leader, Edward Ka-Spel, a frequent collaborator with Skinny Puppy, has released albums of his own material and with Tear Garden (members of Skinny Puppy). Their unusual mixture of psychedelic whimsy, industrial gloom, and Alice In Wonderland textural madness has made them a constant presence on the innovative fringes of the cult music scene. Their dedication to the road and their inimitable style has earned them a near universal respect from critics and peers. –Roir
---
Reviews
The Legendary Pink Dots seem unaware or unconcerned about the unwritten record industry rule that discourages artists from releasing multiple albums simultaneously. The proverbial wisdom has it that multiple releases confuse the record-buying public, and the albums tend to cannabilize each other's sales. Multiple albums have ruined a multitude of bands, from the Incredible String Band all the way to Kiss and Guns N' Roses. Well, the Pink Dots have been ignoring that maxim for quite a while now. In fact, Pink Dots albums tend to come it two and threes, often with a few solo albums thrown in for good measure. No exception here, as this month brings three new Pink Dots releases, in addition to a new Ka-Spel solo album.Everything is being released on the eve of their North American tour, which takes them through far more US cities than any other underground British/Dutch post-industrial psychedelic art-goth group could even dream of visiting. The extensive touring may be the secret to the Pink Dots impressive longevity and endurance, as they are frequently one of the most critically ignored bands in the underground scene. The Whispering Wall isn't going to rectify this situation, a typically indigestible concoction of psychedelic whimsy, wildly experimental textures, densely prophetic lyrical themes and skewed songwriting all mixed up together in a gooey prog-rock quagmire. Evaluating its relative quality compared to other albums is almost a moot point, as most hardcore Dots fans will certainly want to own every album regardless, and others stopped caring 30 albums ago.That said, The Whispering Wall does have some brilliant moments, and is very cohesive, easily eclipsing 2002's double feature of All The King's Horses and All The King's Men, albums that had strong points, but would have been better whittled down to a single disc. Those albums saw the band in a transitional period, finding their footing after the departure of Ryan Moore, trying out a more intimate, stripped-down sound that became tiresome after a few listens. This time around, there's been a few more personnel changes — the loss of guitarist/violinist Martijn de Kleer and the addition of guitarist Erik Drost — but the Pink Dots have come out intact and smelling (and sounding) like a bouquet of atomic roses. All the familiar Dots elements are present on The Whispering Wall. There's a good bit of future-scare dystopian proselytizing ("Soft Toy"); a sinister riff on a nursery rhyme ("Dominic"); a slow-cooked instrumental ("The Region Beyond"); the ubiquitous spoken-word EKS narrative against a backdrop of densely layered noise and sound effects ("The Divide"); and just plain demented silliness ("King of a Small World"). The soupy production by Dots mainstay Raymond Steeg is typically heavy-handed (in a good way, lots of sonic detail), and each player is given time to shine: Silverman's expertly-wielded synthesizers and rhythm programming, Niels Van Hoorn's exquisite saxophone blasts and Erik Drost's gutsy swathes of shredding psych guitar are all variously highlighted in the mix. It's an accomplished album by a prolific band who continue to prove that although less is certainly more, more can also be more. – Jonathan Dean, Brainwashed
---
Lyrics
I'll not let them touch you dear, it's a wicked world out there
Crawl inside my pocket, dear, we'll hide behind the chair
Ten floors up, the chain is strong
The phone's unplugged, the TV's on and blasting
If it gets too much, I shall change the channel
Lie back, feel secure, my dear
I'm always right behind you
Should you tremble, should you quake,
These ropes are here to bind you
Hide your eyes, mute your screams,
It isn't real, they're only actors playing out our darkest dreams
Each day's a rerun of the last one, the bad guys never win
Let's order in, let's keep it cozy
Give you anything…
I said anything…
I'm your soft toy.
A discontented winter, an unprecedented fall
Broken spring, she pawned her ring
One steamy summer night in '64
See, he left without a warning
He did not leave a note
We trolled the river, drained the moat
Could not find him
And the neighbor screamed blue murder
Which was such a bitter pill
Still she swallowed it with dignity
And handed us the key to her domain
Such a shame about the garden
And the posse in the hall
We drank her coffee, knocked down walls, finding nothing…
And they sat around her table
Calling voices from beyond
Spectors moaned, a dancing bone murmured "woooooh"…
Let's make an omelette out of Egghead
Beat him hard until he's stiff
Spill the oil and flip him over
Boil him, push him through the sieve
Maybe sit him on the wall…
A sad mistake— we knew he'd fall
All the horses, all the men tried hard, could not repair him
Here inside this egg-world
I take on another shape
A shell that breaks just means a new horizon…
Piece of cake
See me rising in your lava lamp and set upon the hill
The amber nectar, yellow peril
Perched upon your windowsill
Dripping… dozing… humming…
I whistle as I work
Dripping… dripping…
Watch out world— I'm turning nova
Keep the curtains closed
Before the lights turn low
Trust the contents of your plate are perfect
I'll serve it with a smile
Now I'll light a candle
Guide you through the gate with flowers, with style
Every Sunday, I will kneel
I will swear was for the greater good— the bigger picture
I'll reveal your words, your figures
They're engraved upon my heart
Your truth will linger like your…
When your… when your ashes are just dust
You might (???)
Say it again— I need my shot, I need to fly
I'm stretching, but I'm frightened
Say it for me one more time
These arms are here to hold you
These arms are not for sale
These arms are here to fold you, keep you warm
You'll never fly away
These arms are here to hold you
These arms are not for sale
These arms are here to fold you, keep you warm
And never, ever, ever…
I insist you will not buy me, even if you really try
I'm set in stone, decided
We have a pact
Don't turn your back…
"Stand up for yourself," you said
"Don't lose your precious pride."
In sickness, in health
We have a pact
Don't turn your back…
Sad willow lost the will to weep
And bow to dying swan
Touching ninety, midnight, mid-July
We're crouching by the pond
Taking shots at those unwary
Taking shots at piles of cans
Don't you smear my face paint, honey
Keep that shaky hand pressed to your mouth
Out here we're on our own
And yeah, we're probably surrounded
Could call it quits right now
And simply throw the bloody towel in
Heads hung low, hands in the air
I'm sorry… hell, I'm sorry
And when they least expect it
We shall take 'em in a blaze of glory
See the future, see the chalk lines in our last embrace
We'll take you home, we'll light your path…
Make my day
The Region Beyond
Zero 6
Peek-a-Boo
The Divide
Sunken Pleasure / Rising Pleasure / No Walls, No Strings