<< back to the Combined Discography
---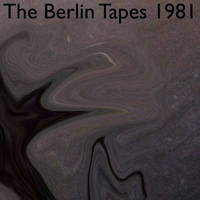 Release date and tracklist
May 20, 2016
NL MP3 self-released on Bandcamp
Sessions 1 & 2
---
Credits
Edward Ka-Spel
---
Notes
This is a release for die-hards only. It's the sound of Edward Ka-Spel lost in the Zone with synthesisers and effects units back in 1981, later developed a little, but never heard by the wider World in it's entirety until now. There have been snatches revealed, on "Kleine Krieg" in particular but the full-on Kosmisch Attack was perhaps considered too indulgent for public consumption during the last 30 years.
Even so the session has a history. It was largely created in Conrad Schnitzler's mighty music room in Berlin. EK stayed with him in 1981, ostensibly to make an interview for a fanzine (which sadly never appeared ) and the great pioneer kindly gave him shelter for almost a week.
One night Conrad had a dinner appointment and invited The Pink Dots' singer to "do whatever he wanted " on the synths and echo chambers scattered around the magical space. It was the equivalent of 15 Christmases arriving at once. He indulged himself and recorded the results for posterity. Bless you Conrad…we all miss you!