EDWARD KA-SPEL
<< back to the Combined Discography
---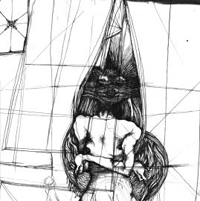 Release date and tracklist
October 31, 2015
US CD BLRR MT290a
title
title
title
US CD BLRR MT290b?
Disc 1
title
title
title
title
title
Disc 2
title
title
title
---
Credits
---
Notes
Deliciously presented cd version of cybersKapes on Beta-Lactam Ring Records with artwork by Jesse Peper.
cybersKapes Special Edition
Two discs in this package- the regular cd and the dual format disc. Included on the extra disc is "The Space Station Chapel parts 1 & 2" on the cd section and "The Extra Mile" on it's vinyl centre.  That extra track will also be made downloadable from this site in a few months time.
---
Lyrics
Mercy me..Sweet nursey please go easy on the opium.
Go tell it in the Odeon, the old dog's biting back.
We are not talking resurrection.
We are citing cold hard facts.
Remove the tubes.
Dismiss the preacher, strike the sack.
I need a cold one…can't hurt now….
So gather round ye predators I bring depressing news..
It's 4am, there are no taxis here ,
I need to be amused.Just pretend you're happy..
Clap your hands…
If you're happy and you know it, clap your hands…
Woke up this morning , read the news..
I refuse to take things lying down