EDWARD KA-SPEL
<< back to the Combined Discography
---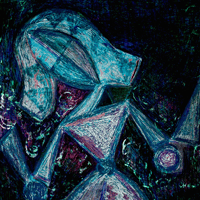 Release date and tracklist
May 17, 2017*
US CD/LP SOL194CD/SOL194 Soleilmoon Recordings
Part 1
OMG 666
The Flick Of A Switch
The Visitors' Lounge
The Leary Cloud
Nowhere To Float To
Part 2
Provisional
Layer Cake
Trespass
Eight Mile Bride
Good Book
Bonus tracks (CD only)
The Leary Cloud (Slight Return)
No-one To Hear You Squeak
September 7, 2017
NL MP3 self-released on Bandcamp
High On Station Yellow Moon Part 1
High On Station Yellow Moon Part 2
The Leary Cloud
No-one To Hear You Squeak
Stuck On My eyes
---
Credits
Edward Ka-Spel- voice, instruments
Amanda Palmer- voice on Leary Cloud and Eight Mile Bride; keyboard on Eight Mile Bride; piano on Leary Cloud (Slight Return)
Thanks to Ray Steeg and Peter Van Vliet for their mastering skills
Cover art by Daria Musienko
---
Notes
LP
Glorious vinyl version on Soleilmoon Records of the doomed scenario high up there with wonderful artwork by Daria Musienko. Do note that this edition features NO bonus tracks.This edition is also available directly from
www.soleilmoon.com
shipping out on or around
May 23, 2017
edition of 500
CD
Two bonus tracks, edition of 199
There is a station where the train never arrives, where the Waiting Room is always occupied, where the conversation is inevitably awkward  and where you're never quite alone, but perpetually ALMOST alone.
Ladies & Gentlemen, welcome to Station Yellow Moon, the final bastion of humanity , the last stuttering blip on the life support system, the domain where Access Is Denied perpetually – but who the Hell would want to go there anyhow?
Well, some pay handsomely for the Great Escape, despite the risks….
"High On Station Yellow Moon" is a new solo album by Edward Ka-spel, of The Legendary Pink Dots and marks the beginning of his collaboration with long term friend and fellow traveller Amanda Palmer, from the Dresden Dolls.  It doesn't get more conceptual than this.
The song displayed here is a BONUS song from the cd edition of "High On Station Yellow Moon" and will also appear on vinyl as part of a hyper limited 10″EP in June- this vinyl release will also include one long exclusive piece ("Stuck On My Eyes"). The vinyl edition of of the main album will not include bonus material due to space limitations.
*There are discrepancies on the release date, with Discogs saying May 10th and other sources saying the 15th and the 19th.
MP3
IMPORTANT NOTICE: All who bought the vinyl or cd version with the previous 1-track"teaser" post are entitled to a free download of the full digital album posted here. Please send a personal message via Bandcamp and in return you will be sent the necessary code.
---
Lyrics
OMG 666
This Year's rock's 5 miles across
and heading for Vienna.
Though it's 10 light years away,
our scientists are clever.
We have the technology so no
cause for alarm.
Could lose a few old monuments,
but now we're fully armed ….
We'll perforate the sunset,and split that comet in
15…
We'll twist it ,turn it ,blow the dust to China.
And all that's in between…
Cameras rolling.Time to show them the appalling 2nd option.
Now Part 96, and nothing lives except
the Doctor. And ,Oh there's us out here
on Station Yellow MOON.
Think I'll make another round….
I will sing this loony tune.
Nah …..What's up doc?
Nah,,,,,nothing much .I'm talking to myself too much
I'm drifting,
THE FLICK OF A SWITCH
Stop me if you have heard this one before. There was a Russian ,an American and a Chinese billionaire who liked adventure holidays. The plan was for 6 months in a space station orbiting the earth.Everything went absolutely smoothly for a 180 days and nights until that fateful moment in May when a massive solar flare provoked the end of the internet on that slowly spinning globe on the screen. The screen that turned blue , then black.A hum that became perceptible only by it's absence. Three gasps in a language they shared then that long awkward silence.That …pause.
In this dayless, nightless environment , the measurement of time seemed imperative to the travellers' sanity , but the digital calendar no longer worked.Time itself had been suspended and the 3 of them just , well, hovered,gesturing to one another.
Let's pause for a moment…. a long moment.let's pause for that moment where probability mutates into a myriad of possibilities. let's pause for that moment when confidence dissolves into improbable hope. let's pause for the moment which hasn't happened yet, when service is resumed as normal.Let's pause for a moment and take comfort in the fact that if you think of any number, you can always add 1.
PROVISIONAL
SOME DAYS I WOULD LACK THE WILL TO REACH UP FOR A CAN..
STACKED HIGH ABOVE FOR RAINY DAYS
I TRUST YOU UNDERSTAND. IT WAS BETTER QUIETLY STARVING THAN JUST THROWING IN MY HAND,,GIVING UP MYSELF TO LADY FATE WHO REALLY IS A MAN.
WHO MAKES THE RULES?
WHO PLAYS A FOOL?
WHO KICKS THE STOOL AWAY?
WHO PULLS..IT TAKES MY BREATH AWAY, MY SOUL AWAY.
A STOWAWAY…I'M STACKED AWAY
A CAN
A CAN
AND I CAN NEVER NEVER NEVER
BALANCED ON A BELT , WITH ALL THE GOODNESS LOCKED INSIDE.
TAKE THAT ROCK AND HIT ME HARD, I'LL TAKE YOU FOR A RIDE.
TO CREEPY LANDS WITH PYRAMIDS ,THE PLACE WHERE
WE ALL HIDE..
INSIDE INSIDE INSIDE INSIDE
A CAN
EIGHT MILE BRIDE
There are moments when I'd swear my toes touch something solid.
I imagine myself beaming from a plinth.A freeze-frame humming bird. Impossibly blurred at the edges but bigger ,slower than anything else in this crate.
It's as if the lights went out and I was there. A masthead for the ship that just goes round and round.Eye candy for the crew.
Untouchable,but if you toss me one of those pills, I'll press a button and play "thank you" in a language of my choice.
By the way they look at me I guess I'm like them and sometimes I swear there's recognition. A name, perhaps.Another place .
But then it's gone and I remember my purpose. So fast,I'm static. No need for a suit,the icing on the Disney mountain.The entertainment for lonely men with fish bowls on their heads.
Untouchable.Your bride to be.
To simply be.