<< back to the Combined Discography
---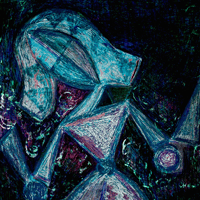 Release date and tracklist
May 17, 2017*
US CD/LP SOL194CD/SOL194 Soleilmoon Recordings
Part 1
OMG 666
The Flick Of A Switch
The Visitors' Lounge
The Leary Cloud
Nowhere To Float To
Part 2
Provisional
Layer Cake
Trespass
Eight Mile Bride
Good Book
Bonus tracks (CD only)
The Leary Cloud (Slight Return)
No-one To Hear You Squeak
---
Credits
Edward Ka-Spel- voice, instruments
Amanda Palmer- voice on Leary Cloud and Eight Mile Bride; keyboard on Eight Mile Bride; piano on Leary Cloud (Slight Return)
Thanks to Ray Steeg and Peter Van Vliet for their mastering skills
Cover art by Daria Musienko
---
Notes
LP
Glorious vinyl version on Soleilmoon Records of the doomed scenario high up there with wonderful artwork by Daria Musienko. Do note that this edition features NO bonus tracks.This edition is also available directly from
www.soleilmoon.com
shipping out on or around
May 23, 2017
edition of 500
CD
Two bonus tracks, edition of 199
There is a station where the train never arrives, where the Waiting Room is always occupied, where the conversation is inevitably awkward  and where you're never quite alone, but perpetually ALMOST alone.
Ladies & Gentlemen, welcome to Station Yellow Moon, the final bastion of humanity , the last stuttering blip on the life support system, the domain where Access Is Denied perpetually – but who the Hell would want to go there anyhow?
Well, some pay handsomely for the Great Escape, despite the risks….
"High On Station Yellow Moon" is a new solo album by Edward Ka-spel, of The Legendary Pink Dots and marks the beginning of his collaboration with long term friend and fellow traveller Amanda Palmer, from the Dresden Dolls.  It doesn't get more conceptual than this.
The song displayed here is a BONUS song from the cd edition of "High On Station Yellow Moon" and will also appear on vinyl as part of a hyper limited 10″EP in June- this vinyl release will also include one long exclusive piece ("Stuck On My Eyes"). The vinyl edition of of the main album will not include bonus material due to space limitations.
*There are discrepancies on the release date, with Discogs saying May 10th and other sources saying the 15th and the 19th.