EDWARD KA-SPEL
<< back to the Combined Discography
---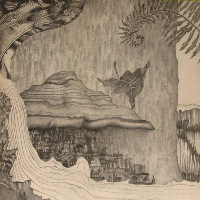 Release date and tracklist
1988
DE LP DOM V77-12 (back cover)
side a
Tick Tock [MP3]
The Shadow Mask
Hotel Rouge [MP3]
Our Lady In Madras
The Shadow Box [MP3]
side b
Another Tango
Dotzsong
Der Khataclimici
***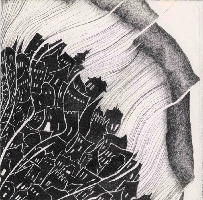 1995
DE CD Streamline 1009
12 November 2012
NL Remastered MP3 self-released on Bandcamp*
Tick Tock [MP3]
The Shadow Mask
Hotel Rouge [MP3]
Our Lady In Madras
The Shadow Box [MP3]
Another Tango
Dotzsong
Der Khataclimici
Tszrnikowskiyarrh, The Baptist
* Dotzsong /Der Khataclimici are combined into 1 track.
---
 Credits
Prophet Qa'Sepel – voice, keyboards, electroni, sephtesmesc
Stret Majest Alarme – guitar, drums, glox
The Silver Man – clangs
Christoph Heemann – cover artwork, remix on "Tszrnikowskiyarrh, the Baptist"
Ramon Creutzer- sound engineer
---
Notes
This is merely part two of the Aaδzhyd trilogy"
LP:
LP edition is limited to around 2000 copies, some on clear vinyl (750 or so) and 1250 on black. 500 copies were numbered by RRRecords without the knowledge of Edward or the label, so there was not an official numbered edition. Includes printed inner sleeve with lyrics.
Much love to Marylou.
CD:
First CD edition was limited to between 800 and 900 copies.
The second CD edition is limited to 800 copies.
"Tszrnikowskiyarrh the Baptist" was recorded in 1994 and serves as a link to the forthcoming (?) third part of the Aaδzhyd trilogy.
TSZRNIKOWSKIYARRH
Bandcamp:
One of the most joyous solo recordings EK can remember.
For sure the actual songs were written and laid down on tape in the small untidy room which EK inhabited in Amsterdam at the end of the 80s. The 8-track tape recorder occupied the centre of the floor , the mixing desk was next to it. Wires were everywhere. No chairs…
Despite all that Barry Gray turned the place into a palace with his simply stately guitar, and the desire to experiment was intense.
Nevertheless, the best part was in the mixing. A REAL studio in Aachen. Christoph Heemann and Achim Flamm from HNAS firing ideas to turn an already psychedelic record into a full-blown peyote ritual in the depths of the jungle.
Remastering has been subtle this time around as the original sounded good.
Thanks to Christoph for his magnificent artwork too.
A physical cd reissue is also planned for the future on the mighty Beta-Lactam Ring label.
---
Review
Subtitled "merely part two of the Aaδzhyd trilogy" (for which there is no third part at this point), 1988's Khataclimici is in fact brighter and much more varied than the album which precedes it. The sound is also fuller, almost to the point that it could be a Pink Dots release. More self-references run amok: "Hotel Rouge" is less melancholy than "Hotel Blanc" and more exciting than LPD's "Hotel Noir" (on The Golden Age). "Our Lady In Madras" is equally as dark as the four LPD "Our Lady" tracks but more percussion-based, and therefore, aggressive. "Another Tango," a dramatic narrative about a woman named Lilly who is trapped in an abusive relationship, should be about Lisa. Finally, the cute ditty called "Dotzsong" is just that, as it's built around the "Sing While You May" motto which appears on all Pink Dots releases. Again, a twenty-minute sound collage is stapled onto the end of the album but it somehow seems more appropriate here, and apparently "Tszrnikowskiyarrh the Baptist" (as it's called) serves as the link to the third part of the trilogy. Khataclimici was reissued by German label Streamline and distributed by Soleilmoon in 1995. – Rex
---
Lyrics
Tick Tock
I'll throw the clock against the wall at nine when it starts ringing –
raining springs and wheels. We'll take cover in the covers; kill some time
and sleep 'til twelve when bells ring in the church across the street. The
metal creatures keep the beat – the way it's been since 1600. Shoot them!
get my gun… They're dead! Get back to bed. Kill time. We'll sleep…
sleep… sleep 'til six, when all the offices unload their bodies; checking
watches made in switzerland. I'll fix them. I'll slip a bullet in a zero
and like a hero i'll crawl back to bed and sleep… sleep…. sleep. 'til
nine (I'll throw the clock against the wall. I never could stand clocks at
all!)
The Shadow Mask
Born and raised on rainy days. No chance. No space. He waits. He plays. He
knows the rules, keeps his disguise – he dips his head to bigger guys.
He'll save his knives for midnight when lights are out and mice play
perfumed statues in the doorways, kissing air and winking good times for a
price. He'll hang out with the smaller guys and pounce… could never stand
a man who's not a man; whose hands aren't strong enough to strangle; legs
aren't hard enough to kick; whose heads are made for flying bricks. He
leaves them dead, his trousers wet, but he keeps his mask in place – it's
the only way to keep respect. To stay alive, to live a lie. Night after
night. Keep your mask in place.
Hotel Rouge
My fingers run through cinders where a fire glowed a day ago. But through
the black and silver still a thousand faces stare. They're all the same.
I'm watching you through crystal crying crystal tears. They tear red
ribbons in my face. One thousand years is much too long to wait, to find
and then be torn away. Now I watch you ride your white horse from my room
high in hotel rouge.
Tikka Tikka Tikka Tikka tick Tandoori. Jury stands and judge condemns >>impurity<<. His head rests in his hands; one finger pointing to the oven. So I covered up my eyes (it's my duty!). And you were on a skewer waiting for the man to light the gas. The fire. The cleansing fire. So goddamn hot, the court retired to an air-conditioned room. They had a party. Cheap wine, cheese, chapatis. I was parched, I was hungry, but I'll stay with you. I'll burn with you this night, my friend. I'll burn with you! We'll burn together … okay? Okay?
The Shadow Box
Someone smashed the lamp, so all the shadows stretched and spun a web as
haircuts took short cuts. Blades sharp for a deep cut… Dropping from the
rust and the ruts just like a guillotine. A blood red rag to mute the
screams – sixteen hands are ripping, stripping… waving shredded flags in
red and in white in the shadow box balconies of eyes are spying unseen in
eiderdowns, dressing gowns, negligees and towels. Unwinding… launching,
grinding… they roll off the couches. The devil crouches in the shadow box!
Another Tango
It's sundown down in lemon town and lilly's looking sad. She's staring at
the mirror counding bruises, bags and sacks to catch the tears. She pulls
the sapphire from her ear; runs a buzzsaw across her wedding ring but cuts
her finger (it stings!). She shrieks, remembers when he branded >>LOVE
YOU<< on her arm and it swelled up like a big balloon. She cried an
afternoon; he watched T.V. 'til he felt the need to take her. And Lilly
always takes him back. She's waiting for the knock; she snaps a comb, she
spreads the make-up thick. She spreads the bed. It's almost ten – she can't
stand another night alone.
DOTZSONG/Der Khataclimici
Sing while you may
thorugh it's hard to sing underwater.
Sing while you may… cos it may not be so very long!
Mountains walk and empires burn and crumble into seas.
We talk about it, read about it… watch it on T.V….
Just sing while you may. Like a fly that's trapped on a window.
Sing while you may
cos there's nothing in the world that you can change.