EDWARD KA-SPEL
<< back to the Combined Discography
---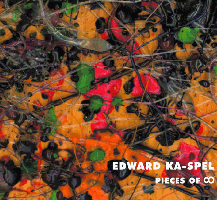 Release date and tracklist
2004
The Writing On The Wall
Here Comes The Night
Comedown
Alms For Lepers
Shanti
8.2
8.3
side a
The Writing On The Wall
Here Comes The Night
side b
Comedown
Alms For Lepers
Shanti
side c
8.2
8.3
side d
Wall of Fire – [MP3]
30 July 2014
NL enhanced redux MP3 self-released on
Bandcamp
Writing on the Wall
Here Comes the Night
Alms for Lepers
Comedown
Shanti
8.3.8.2
Wall of Fire
Much to Old and in the Way
---
Credits
Edward Ka-Spel – all instruments & voice
Raymond Steeg – mastering
---
Notes
MT082b is limited to 333 copies with a signed insert and bonus 4th side of music
MT082b-art is limited to 33 copies and is in plain white sleeves covered in dripped wax.
MT028c is an edition of 75 numbered copies in a silk screened textured tin case with two photo inserts and CD
LAC09 is limited to 5 copies, it was meant to be an acetate but is actually a laquer, and features an alternate mastering to the final release.
***
From Bandcamp: 2004. A cold February…cables winding across the living room floor, the little D16 portastudio working overtime, scraps of paper, scraps of lyrics, scratched lyrics with angry lines."Pieces of Infinity" was born in chaos. Some albums begin well but develop into a battles…strangely ,this one was a battles from the very inception. The result is a collection of songs and scapes that just could have benefited from a little editing.
For this enhanced Redux edition, I was tempted to make those cuts too….but sometimes it's best to leave history alone.  Included here is "Wall of Sound" from the vinyl edition of "Pieces" plus "a heavily abridged "Much Too Old and In The Way" from a release for an art exhibition in 2004. EK
---
Reviews
This album is referred to at times as Pieces of Infinity or Pieces of Eight and it ranks as one of Edward Ka-Spel's best solo efforts. First noticeable is a comeback to the song format (which his previous full-length for Beta-Lactam Ring, O'er a Shalabast'r Tyde Strolt Ay, lacked), thanks to the opening "The Writing on the Wall," a cross between French alternative chanson (read: alternative pop with accordion) and Ka-Spel's very own universe (and is that a touch of Pink Floyd's "Outside the Wall" we hear?). The accordion will be back in "Shanti," a simple and extremely sympathetic sea shanty pastiche. In between, we come to a smorgasbord of mutating pop, from the industrial mood of "Comedown" (definitely retro-Legendary Pink Dots), to the extended "Here Comes the Night," which blends electronic soundscaping and fragile piano melodies. The whole thing has a dark, whimsical feel to it, even in the lighter tunes, but the climate intensifies in the closing "8.2 8.3," a 15-minute collage extravaganza, with bits of Mellotron, Frippian guitar, laughing children, pouncing beats, and moments of troubling discorporeality. No single track here would do justice to the album as a whole (although "8.2 8.3" comes close) and so Pieces of Infinity is a case of album-listening, where one needs to dive in for the long haul in order to experience all facets of the music. A story is clearly being told, although the number of listens required to unlock its actual narrative is still unknown. This album is brilliant, not because of that obscurity, but because it is not felt as such. –François Couture, allmusic.com