EDWARD KA-SPEL
<< back to the Combined Discography
---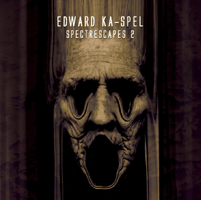 Release date and tracklist
Nov 28, 2015
IT CD Rustblade RBL051
Spectrescape 8
Spectrescape 9
Spectrescape 10 & 11
IT 2xCD Rustblade RBL051BOX
Disc 1
Spectrescape 1
Spectrescape 2
Spectrescape 3
Spectrescape 4
Disc 2
Spectrescape 8
Spectrescape 9
Spectrescape 10 & 11
---
Credits
---
Notes
Spectrescapes Vol. 1 & Vol. 2 LTD edition- 299 copies.
Includes Spectrescapes Vol 1, originally released as the 2nd CD in the Ghost Logik box set from 2012 (RBL035BOX and RBL035BOX2), comes with a postcard, pendant and old stellar map.
This a concept album where Edward Ka Spel (legendary pink dots) pays homage to long pieces and experimental ambient songs . the sound of Edward takes us out of time in the long trip taking us with her ​​warm voice.
Don't gaze into Outer Space in search of a new mystery to solve.
Don't prowl by night trying to catch the figure that walks through the wall.
Don't examine that photograph for blemishes or try to hear voices in the static.
You are already there in the centre of the mystery.
You are the anomaly, the thing that can't be explained and you inhabit a space that is teeming with life.
The microscopic, the herculean, solid,transparent, heaving, dissolving…
The door is always open, but it helps if you can see it.
(Edward Ka-Spel)