RICHTER SCALE (UN FESTIN SAGITAL + THE LEGENDARY PINK DOTS)
<< back to the Combined Discography
---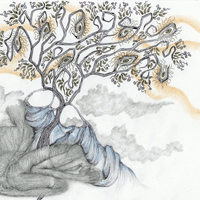 Release date and tracklist
03 January 2014
CL Cassette / MP3 self-released on Un Festin Sagital's Bandcamp page
part I: El Baile mortal de la tierra inclemente
part II
part III
part IV
---
Credits
Edward Ka-Spel: Keyboard and Electronics
The Silverman: Keyboard, Electronics and Hammond
Michel Leroy: Piano, Violin Torture (part 4), Voice and Electronics
Guests:
Constanza Lagos: Flute
Barry Gray: Electric Guitar
Diego Pinto: Drums
Paulo Rojas: Violin (Part I & II)
… and some disturbed ghost from the past also…
Mixed by Michel Leroy
Mastered by Ignacio Ruz (No Brain prod.)
Artwork: Constanza Lagos
---
Notes
Based on an improvised session made on November 2008, recorded in Chile.
The improvisation-base was recorded live in Templo Sagital by Paulo Rojas, Nov 2008, Chile. The overdubs were recorded by Michel Leroy (flute, extra electronics, voice & drums) and Barry Gray (Electric Guitar).
Limited edition cassette- High-bias cassette tape with covers done with handmade artwork (xylography), also the tape have a different mix than the bandcamp version. Only 50 copies.