EDWARD KA-SPEL / AMANDA PALMER / PATRICK Q WRIGHT
<< back to the Combined Discography
---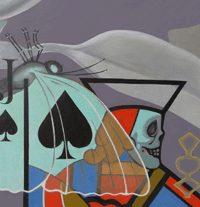 Release date and tracklist
May 5, 2017
UK CD  8FT035CD  Cooking Vinyl
NL/US  MP3 on Bandcamp
Pulp Fiction
Shahla's Missing Page
The Shock Of Kontakt
Beyond The Beach
The Clock At The Back Of The Cage
The Changing Room
The Jack Of Hands
Prithee: Liquidation Day
Rainbow's End
UK 2xLP 8FT035LP  Cooking Vinyl
Side A
Pulp Fiction
Shahla's Missing Page
The Shock Of Kontakt
Side B
Beyond The Beach
The Clock At The Back Of The Cage
The Changing Room
The Jack Of Hands
Side C
Prithee: Liquidation Day
Rainbow's End
Side D
Subway
The Sun Still Shines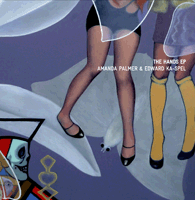 The Hands EP
UK 7″ LP  Cooking Vinyl
The Jack Of Hands (?)
---
Credits
Edward Ka-Spel- Vocals and instruments
Amanda Palmer- Vocals and instruments
Patrick Q Wright- Violins
Alexis Michallek- Singing saw
Mastered by Ray Steeg and Peter Van Vliet
Artwork- Judith Clute
---
Notes
Recorded at Hideaway Studio and Chez Dots, London in Summer 2016
Tracks 10. "Subway" and 11. "The Sun Still Shines" appear on the 12″ vinyl release and do not appear on the CD version of the album. You can stream them on
Bandcamp
, but please note that they're not part of the full album download. This project was made possible by over 9,000 patrons supporting the making of true independent art at
patreon.com/amandapalmer
.
More details at
amandapalmer.net/icanspinarainbow
***
Sometimes it's like the stars line up and grant permission for a magical event to occur only when they are absolutely ready.
We talked about making music together for a long time but, beyond the obvious geographical hurdle things never quite worked out- even in 2015 when we actually started recording and managed a full 3 hours with the machines switched on.
A personal tragedy saw Amanda sadly having to fly home to Boston, yet that session left us with a very raw version of "The Jack Of Hands" and a feeling of "What If…"which nagged at us for a year.
The stars chose their moment at the start of a glorious London summer last year, forming an encouraging upright thumb – like the one you keep seeing in Facebook messages these days – and we merely followed the script.
I felt like we literally poured ourselves into the recording and I can honestly say "I Can Spin A Rainbow" feels like one of my personal finest hours…We're proud of this one…Bless you all…EK