THE TEAR GARDEN
<< back to the Combined Discography
---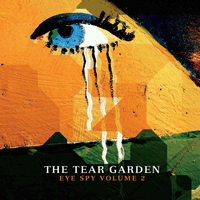 Release date and tracklist
July 7, 2017
US MP3/CD/2xLP Subconscious Records SUB 47, Metropolis Records MET1084
GEORGIE P */**/ GOOD EVENING HOUSTON
GOOD EVENING HOUSTON PART 2
MESSAGE III */**
FORBIDDEN ZONE
NOTHING'S SET IN STONE
GREENER GRASS
DEMONS (THE 3AM MIX) */**
THE THINGS THAT GO BUMP IN THE NIGHT */**
IT'S YOUR KARMA **
TEARS
EMPATHY
---
Credits
cEvin Key
Edward Ka-Spel
Ryan Moore (*)
The Silverman(*)
Martijn de Kleer (*)
Frank Verschuuren (* /**)
Recordings made in Los Angles, Vancouver , London and Nijmegen. ·
Mastered By Brad Vance at Red Mastering. Artwork by Edward Ka-Spel and cEvin Key.
Layout by Simon Paul.
---
Notes
From Metropolis' Bandcamp page– The Tear Garden is a psychedelic/experimental/electronic band, formed by Edward Ka-Spel of The Legendary Pink Dots & cEvin Key of Skinny Puppy. The duo has collaborated on 6 albums, 2 EPs, & the first volume of "Eye Spy With My Little Eye". Like the first volume, "Eye Spy Vol. 2″ is a collection of unreleased tracks, demos & rewritten or original material made over the life of The Tear Garden.
"FORBIDDEN ZONE", GREENER GRASS" ,"TEARS" originate from lost TG pieces dating back to 1987 which were recently finished.
"GOOD EVENING HOUSTON" is a re-interpretation of a rare bonus track which originally appeared on the Russia only compilation ,"For Those Who Walk With The Gods" (1999) Part 3 is taken from this collection and has been remastered. Other songs are remastered, having been collected from various compilations."DEMONS" is an alternative/home-made version of a song from "Crystal Mass".
"NOTHING'S SET IN STONE" is an alternative version of a song from "Have A Nice Trip" (2009).
From LPD's bandcamp page– History resolved.Parts of this bumper anthology have been heard before on hard-to-find compilations. More songs were unearthed from old tapes gathering dust for 30 years, but finished in the last 12 months.And there are pieces that were never heard before. A trip, with a cover to match.
---
Lyrics
TEARS
BEEN TOLD THE ONLY CERTAINTIES OF LIFE ARE DEATH AND TAXES, A SWORD ABOVE OUR HEADS AND THE ACCELERATING YEARS.
PERPETUAL QUESTIONS. WHERE'S THE SENSE IN SLOWLY SWINGING AXES. WERE WE BORN TO DROWN IN ENDLESS OCEANS OF OUR TEARS.
THERE'S ALWAYS TEARS ,FORGET HOW GOOD IT GETS
TEARS….. FLOODING THE KITCHEN
TEARS I ITS RAINS , IT POURS .WE'RE WET
TEARS THATS OUR CONDITION /
TEARS TEARS TEARS
AND ITS NOTHING THAT YOU DID ,RELAX .YOU ARE NOT BEING PUNISHED.
THERES METHOD IN THE MADNESS.JUST BE GLAD THAT YOURE ALIVE.
CONSIDER THIS A TEST – THOSE WHO SUMMON UP SOME COURAGE will .SURVIVE…..
THERES ALWAYS TEARS…