THE TEAR GARDEN
<< back to the Combined Discography
---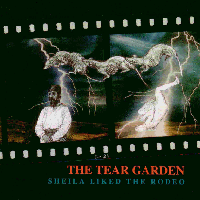 Release date and tracklist
April 27, 1993
CA CD EP Nettwerk W2-6315
21 July 2012
NL Remastered MP3 self-released on Bandcamp
---
Credits
Cevin Key
Dwayne R. Goettel
The Silver Man (Phil Knight)
Ryan Moore
David Ogilvie
Martijn de Kleer
De Green Guy
cover by Christoph Heemann
---
Notes
"suneV dnA sulumoR" is "Romulus and Venus" backwards.
Engineered at Mushroom Studios, Vancouver in August 1991.
From Bandcamp:
A wild mixture of the spontaneous and meticulously finished in the month that spawned "The Last Man to Fly". It's a challenging ride but the spirit of this special time is shouting from the front row.  Still can't help wondering what would have happened if some of these spontaneous improvisations had been developed into songs…nevertheless, you can't have everything!
---
Review
Such an incongruous blend of organic with inorganic noises has most recently been tackled by Grotus, but Tear Garden's spooky industrial dynamic is less cohesive than that of a rhythm-oriented band. Most of Sheila Liked The Rodeo has sweeping soundscapes that would serve equally well as incidental or soundtrack music, bits of which incorporate film dialogue and discordant irregular beats, as well as the occasional use of the denser beats favored by most machine-driven bands. Tear Garden's scattershot approach allows the band to invoke an emotion without committing to it for a full-length outing. Its format, therefore, is based on upsetting the listener, relying on the surprise and innovation of the `songs' rather than any melody or rhythm. On the epic (13:33) "Sunev And Sulumor" (read it backwards) Tear Garden borrows a page from the noise boys (the Anti-Group or John Zorn's buddies), throwing an annoying, sometimes disturbing din at the beginning, which develops into an equally unnerving but more traditional industrial mantra. Dub and heavy basslines, a la Metal Box, on the first track, "Blobbo," stop abruptly to begin in an entirely different vein on "Sybil The Spider Consumes Himself," a warped bedtime story. Tear Garden's latest release is a sort of labyrinth with a surprise at every turn, offering much more than the band's industrial reputation warrants. – Megan McLaughlin, CMJ
---
Lyrics
SYBIL THE SPIDER CONSUMES HIMSELF
"Whose side are you on?"
said the spider to the bird
"Do we creep up on him as he sleeps
And string him up in my web?
Or do we swoop down and blast him
with your black and white slime bomb?
"Problem is, I can't fly
And my seventh leg is there to keep me symetrical."
And the surley bird opened his big beak
And swallowed the spider whole
Seventh leg included.
He was a bird eating spider
In disguise
What a surprise
SHEILA LIKED THE RODEO
Sheila liked the rodeo
Sheila liked the rodeo
She'd take a ring side seat
And murmur "Doobee Doobee Do"
She'd eat
Then one fine day
wild Eliza bolted
And knocked her off her seat
She now sits in my wardrobe
She's discreet
She is perfectly preserved
Sondra liked the circus
She'd bounce around on trampolines
She'd swing between the lampshades
And lunched on lighted kerosene
One fine day she leapt to Rio
And finished in between
She's resting in the bathroom now
Peachy clean
She is perfectly preserved
I get ahead and I keep it above it
And my mouth get ahead and I keep it above it
And my mouth
Krista quoted Castenada
She munched her cactus raw
The mescal worm would turn to mecca
And squirm towards the door
And one day she swilled the pill that pinned her to the floor
She spaced out in the closet
I adore her
She is perfectly preserved
THE STRONG AND WHINING TOAD
Wailings and Ed is sampled saying "Z" looped a couple of times
DO IT YOURSELF FROM A – Z PART I
(sample)I think I was brave enough
Or crazy enough(spoken)
(sample)Closer to life(sung)
DO IT YOURSELF FROM A – Z PART II
Get up
Doubtin time
I'm your fateful
I'm your playboy
I'm your joyboy
I'm the wall stripper
I'm the wall stripper
I'm your (speed kipper)
I'm the (waldorf) ripper
I'm the train to nowhere
I'm the man with no hair
Call me Paul masterpony
Masterphony
Masterceremonies
I'm your master
I'm your master
I'm your master
I can't muster anymore
I can't muster anymore
I can't muster anymore
He's a master of his sore
He's a master of his sore
He's a master of his sore
And the master's on a (beolab)
Must have seen you Abilene
Must have seen you somewhere
Whose stripper
Wall stripper
I drink turpentine five times
Five times a day
It's okay
But my insides twisted
Stack me high with all the others
Stack me way up to the clouds
Stack me so I'm right on top
Stack me neatly in a shroud
Track me down in Santa Barbara
Track me down in Istanbul
Tack me down while crawling up the wall
(May there is?)
Black me out
Black me out
Black me out
Black me out
Black me out
Black me out
Black me out
Black me out
Tack me down
In Santa Barabara
Track me down in Istanbul
Got eyes for me
Got eyes for me
Got eyes for me
Got eyes for me
Mary goes
Mary goes
Mary goes
Mary goes
Mary goes
Mary goes
Mary goes
Mary goes
Mary goes
Mary goes down
Mary goes round
Mary goes high
Mary goes low
Mary goes
Mary goes
Mary goes
Mary goes
Mary goes on her eight days off
Bad
Devil
Share with me the TV
My band of squirrels they go
Share with me (my swiss cheese waldesdon wine and fall)
Die hi mine mine bye bye bye bye die die bye die die
Bye bye bye die die
Bye bye bye
Tie me
SUNEV DNA SULUMOR
dniheb nur dluow I
sesroh etihW
stenroc htiW
uoy rebmemer llits nac I
eht denrut thgin tuB
uoy evres ot tsuj devid I
ngis eht hsalf d'uoY
yawa sraet ym ssik ot deirt uoY
yawa pils d'uoY
niaga lrig a ot ydaL
edahsthgiN
nwod em ekaT
nwod em ekat ot yaD
on saw ereht dneterP
syawla dluow uoy tuB
semit xis lla meht deirt I
sllaF aragaiN
sedalbB
em yneD
em yneD
nuR
KEEP THE BOMB UNDER YOUR COAT
Keep going lets do it thats great[ed]
Shut up[ed]
Why did you destroy it?[lady]
What big what did you say[who?]
Four times down around[ed]
Shut up[ed]
It sounded like you were tearing the whole room apart[lady]
Piano around[ed]
Shut Up[ed]
Shoving Miller behind me[ed]
Keep going lets do it thats great
Keep going lets do it thats great
Shut up
Why did you destroy it?
What big what did you say
Four times down around
Shut up
It sounded like you were tearing the whole room apart
Piano around
Shut up
Shoving Miller behind me
Theres a central sign all going up
Shut up
Why did you destroy it
What big what did you say
Four times down around
Shut up
It sounded like you were tearing the whole room apart
Piano around
Shut up
Shoving Miller behind me
I'm (heraphine)
I'm herasy
I'm kerosene
I'm excstacy
I'm keep the bomb under your coat
I'm (heraphine)
I'm excstacy
I clean
I clean
I'm the flame that takes you down
I'm helloween
I'm gasoline
I grow
I grow
I grow
I ?????
I'm excstacy
I'm purity
I expose
I expose
I grow
I grow
I grow
I close
I close
I close
I can't see
I ??????
I take with me a train
?????? keep your coat clean
I watch the ?????
And the ??????
I watch you watch your TV
The same old crap in T(looped)
*Transcription by Nevermore/Don Poe