THE TEAR GARDEN
<< back to the Combined Discography
---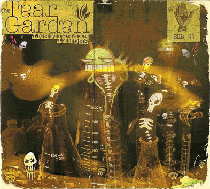 Release date and tracklist
2007
US CD Subconscious SUB033
My Brother's Keeper
The Tragic Carpet
Alexander the Flake
Friendly Fire
The Adventures Of Spiky The Hedgehog
Counting Zeroes
21st Century Box
A Gift Of Knowledge
---
Credits
---
Notes
Recorded at Subconscious CA, Limburgia and The Mermaid's rock.  Mixed at Red.
Limited edition of 1000. Packaged in a Digipak.
cEvin Key writes, "About 6 months ago I was searching through my hard drives for some songs from a session I still haven't found. While searching I stumbled across a session I had made in ProTools that I had forgotten about. It had been ar least a year or more since I had opened the session, and I was very surprised to find 14 or more songs I had written since Crystal Mass, and more or less had put aside and forgotten about while working on Mythmaker. When I listened I immediatly realised that it may be a Tear garden Lp that had mysteriously compiled itself. I sent Edward the ideas, and he worked on them and some of his over the past 6 months. The result is The Secret Experiment. A new album."
A collection of recent recordings exchanged over the past few years between Cevin and Edward among others. Digipak sleeve design by Simon Paul. Released as part of the Subconscious Vault 2 subscription series, in a limited edition of 1,000 unnumbered copies.
More magnificent weirdness from one of industrial music's most inspired team-ups. With members of the Legendary Pink Dots teaming up with Skinny Puppy's cEvin Key, The Tear Garden is one of the most unexpected yet consistently brilliant collaborations ever to hit the dark music scene, as evidenced by their rabid cult following. The lovechild of the Dots' psychedelic eccentricities and Key's dark electro geek stoniness is a whole new kind of weirdness, and the crew's latest opus is as good as any of their previous offerings.
Edward Ka-Spel's vocals are as reedy and distinctive as ever, leading the gentle pianos of "The Tragic Carpet" in ever trippier directions, and his penchant for eerie tale-telling is put to good use as well. "Friendly Fire" comes off as a death's door conversation, with Ka-Spel dreamily responding to muffled, sampled queries, while "A Gift of Knowledge" is an extended monologue of hinted UFO conspiracies and shadowy agencies who have imprisoned the narrator for knowing too much; at first it seems like a desperate plea for contact with the outside world, but as it trails off into effects-laden ranting, Ka-Spel leaves us with the possibility that we may have been listening to the ramblings of a madman.
While Ka-Spel's signature delivery is hard to upstage, some of the best moments on The Secret Experiment are instrumental. "The Adventures of Spiky the Hedgehog" in particular is a surprisingly evocative collection of whirrs, motors, and springy twangs that really does conjure up the image of a small, spiny creature bumbling through his daily business. That playfulness is tempered by the album's darker, occasionally paranoid moments, but can you think of another industrial outfit that could pull off a song about a hedgehog? That mixture of guileless charm and moments of utter lunacy is what sets The Tear Garden apart from the rest. – Matthew Johnson, ReGen Magazine