THE LEGENDARY PINK DOTS
<< back to the Combined Discography
---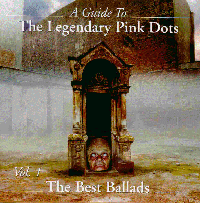 Release date and tracklist
2000
PL CD SPV L-0012
Fate's Faithful Punchline – [MP3]
The More It Changes – [MP3]
Clockwise
I Love You In Your Tragic Beauty – [MP3]
Pennies For Heaven – [MP3]
Belladonna – [MP3]
Sterre – [MP3]
Remember Me This Way – [MP3]
Damien – [MP3]
Cheraderama – [MP3]
Zero Zero
Joey The Canary – [MP3]
The Ocean Cried Blue Murder – [MP3]
Home – [MP3]
---
Credits
The first in a planned series of themed anthologies giving an overview of the band's output. Booklet includes Polish translations of the lyrics.
Track 1 taken from "Nemesis Online".
Track 2 taken from "The Golden Age".
Tracks 3, 8, 9 taken from "From Here You'll Watch The World Go By".
Track 4 taken from "The Crushed Velvet Apocalypse".
Track 5, 6, 10, 13, 14 taken from "The Maria Dimension".
Track 7 taken from "The Hallway Of The Gods".
Track 8 is written as: Remeber Me This Way
Track 11 taken from "Shadow Weaver".
Track 12 taken from "Malachai".
Includes a booklet with Polish translations of the lyrics.