EDWARD KA-SPEL
<< back to the Combined Discography
---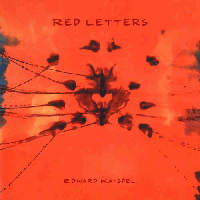 Release date and tracklist
March 21, 2000
US CD Caciocavallo CAD 2
Radio 6 [MP3]
Seeing Red [MP3]
Believe On A Breeze [MP3]
Illumina 3 [MP3]
The Carrier
Grooovy [MP3]
Child King [MP3]
Swamp Thing [MP3]
Simone Is
Red Letters
Katha
28 June 2012
NL Remastered MP3 self-released on Bandcamp
Radio 6
Seeing Red
Believe On A Breeze
Red Rocks
Illumina 3 / The Carrier
Grooovy / Child King
Swamp Thing / Red Letters / Katha
---
Credits
Edward Ka-Spel – vox, keyboards, percussion, attempted violin
Rachel K. – lady voice, flute
Raymond Steeg – mastering
---
Notes
CD: RED LETTERS is the latest solo album from EDWARD KA-SPEL; he hopes you will be sufficiently entertained.
Bandcamp: First Edward Ka-Spel solo of the series to be remastered. recorded in 1999 and bristling with pre-millenium tension. Nienke made the cover…
---
Press Release
RED. Passion. The sight of blood. Anger. Seeing RED. Impaled on the horns of a wounded bull. The bull impaled on a sword. Bleeding hearts. Roses. Car crash. Cover it up with a sheet. Kneel down and scrub it off the sidewalk, the sheets. Welcome to the real world. RED. Stop, or we'll punish you. Stop, or you're dead. RED. Poisoned rivers. A poison pen.
Teacher told me at school NEVER to write a letter in red ink, for the recipient will be utterly insulted. In England, we learn to keep our emotions under wraps in case we embarrass those around us. RED. Forbidden. Do not enter because it's boiling up in here.
---
Review
The various reds of rage, love, apocalyptic prophecy, and taboo inform RED LETTERS, 2000's song-cycle offering from the pen of Legendary Pink Dots frontman and tortured poet Edward Ka-Spel. Bobbing amid the album's sad, sweet, slow-motion synth swells are some of the most forlorn and lonely words Ka-Spel has ever set to music. His familiar lost-in-space whisper seems content enough amid the star-streaked haze of the opening "Radio 6"; but RED LETTERS broadcasts a profound sense of alienation as it unfolds.Ka-Spel trudges with gloomy resolve through pretty but pained chord changes, a despondent song on his lips.
Dominated by candy-tone keyboards, hypnotic loops, and dazed chamber-music arrangements, RED LETTERS' more mirthful moments recall not only the Dots' first four full-lengths (as do most Ka-Spel solo albums), but also the late-'80s solo work of Wire's Colin Newman. The mystical "Illumina 3/ The Carrier," "Grooovy," and the closing medley wind through sample-warped atmospheric fronts, brushing against trippy, dub-circus beats. "Seeing Red" stands out as RED LETTERS' Ka-Spel classic, its obliquely doleful lyrics set to music of aching loveliness–including a memorable coda of psychedelic orchestration. –CDUniverse.com (?)
---
Lyrics

Radio 6
Did the planet cease to spin?
Did the world float before your eyes?
Forget to breathe? Believe what mother says…
It's automatic.
Don't allow your silly head to stray,
it's useless.
You're ok. Keep it in, there will be no shame.
I will make you proud
I'll walk in this world
I'll take you all those slings and arrows
I will make you proud
Thanks for your assistance,
Never thought I'd get so far.
If you'd asked me what would be back then, I would have laughed
And still I keep it in.
Still I keep them in.
They speak out when they are summoned, mother … I win.
They do what they are told…
This world of mine is completely in control.
Seeing Red
Slowed down to watch the accident in all its glory,
sure we hope no casualties are dangling from a tree
Now I promise I will now drive easy,
tuck this hulk behind a truck.
No squeezing into gaps that are not made for me,
please don't worry baby, I'll get you home…
Five miles back the queue was growing to a stop,
it spread like typhoid… Paris, Berlin, Rome, onwards to Bangkok.
The 'copters dropping blankets, flying doctors,
there were sireds, night sky flashing blue and white.
Multilingual "Please stay calm…"
Don't worry baby, I'll get you home.
Armies dropped their weapons, flattened fields,
drove in convoys.
Over hills to dig them out, to cut them out.
Oh happy Christmas, war is over, there are pyramids
of bones along the road that stretches this way, that way…
Don't worry baby.
Please stand up, women children first.
Wave your arms, we'll get you home…
Red Rocks
It's small, but it's noble
All those running rats have names
They don't get close to the table
We stay healthy
We are sane
Each flake that falls gets recycled
There is Harry S. Truman, there is Archangel Michael
It sure isn't art but we're sure that we like them
It's home
I'm aware that you have a place for us
That's double-glazed for us
Up there in the clouds
Let it go to someone that's deserving
We're unswerving
We're home.
Belief on a Breeze
Reborn caesar spins a knife points towards the garden mutters, there we will
seed gethsemane anew, we'll make the moves that were pre-destined, only this
time he'll stay resting, He'll be still. And after all these years we'll be
free… Can you bring yourself to maybe trust in me? Respect these pure
intentions? This is destiny and I am just a player on the board.
Well recommend supervision, strict reclussion, here's a pill to stifle those
delusions.. Be assured that we care, all we want is to see you well!
And reborn Caesar dies in flames, is born again, a slab, the cleaver
swinging in slow motion, but never strikes, cameras zoom in for a slice.
Listen to the hooded man shout "Destiny."
We are merely players on the board.
The Carrier
Charm could be my middle name.
My calling card, my gift.
I claim you now, I reel you in
with tales that spin in wide-eyed wonder, then I sting!
You see, I just can't help myself.
I have to be with people. I wish
you well with roses red, the thorns trimmed from the
stems, but I condemn.
I'll plant them on your grave
my little friend.
I shall kiss your widow, tears
will flow but I will take her too.
I just can't help myself. You see,
I know it and know that nothing lasts forever. I'm ashamed, but
that's the way it is.
Swamp Thing
Swamp things acting restless
He thinks I am his mate
I bathed myself in coconut
and that's his favorite plate
but why is he so reluctant?
Let's get on with my fate.
Just can not stand the tension
was never one to wait
Get me down boy
down boy, down boy,
done!
Now I've achieved nirvana
those swamp things lie in hell,
except for my adversary.
… that smell!
The lord declared him blameless
He watched him from above. Descended, whispered gently:
"What you did you did for love."
"So go forth and multiply."
Child King
How lonely it feels…
I'd forgotten how to skate on my own wheels
Rolling south, down the hill – no destination.
This heart of mine burning in my mouth.
Watch them spring
Watch them fall, to please the king
He gets them all
Watch them spring
Watch them fall
He pulls the strings, he takes them all
The child king, the spoiled king
Changes made, changes missed
Well, I never kissed the limped wrist of he who has control
Humour me, I never sold my soul
It's cheap, still not takers – but I'm trying…
And all the king's horses
and all the king's men couldn't put this
back together.
They never can make amends
Wonder why you never get me on the phone?
I'm here…
Watch them spring
watch them fall
to please the king, he gets them all
Watch them spring
watch them fall
He pulls the strings, he takes them all
The child king, the spoiled king