THE LEGENDARY PINK DOTS
<< back to the Combined Discography
---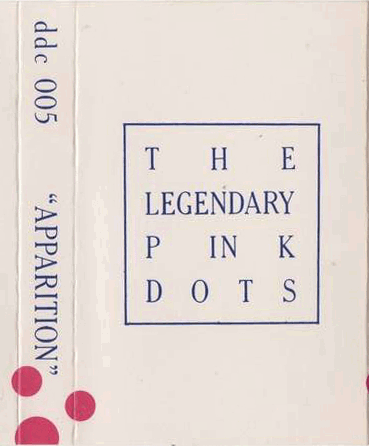 Release date and tracklist
1982
NL C30 Ding Dong Tapes And Records DDC 005
NL C30 Terminal Kaleidoscope TK77/19
Sides A
God Speed
Pay To Be Alone
Spontaneous Human Combustion
The Blessing
I'm In The Drill
Side B
Powder Crowd
Strychnene Chaser
Alive!
Believe!
The Plague
Premonition 3
***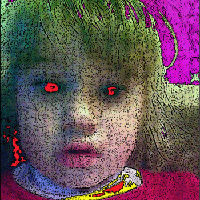 28 July 2013
NL Remastered MP3 self-released on Bandcamp
20 January 2015
NL Remastered CDr self-released on Bandcamp
Apparition part I- 1. God Speed; 2. Pay to be Alone; 3. Spontaneous Human Combustion; 4. The Blessing; 5. I'm in the Drill
Apparition part II– 1. Powder Crowd; 2. Strychnene Chaser; 3. Alive!; 4. Believe!; 5.The Plague; 6. Premonition 3
---
Credits
Edward Ka-Spel- Vocals/Keyboards/Electronics
Rolls Anotherone (Roland Calloway) – Bass/Keyboard
Barry Gray- Guitars
Keith Thompson- Drums/Percussion
Patrick Paganini (Patrick Wright)- Violin/Keyboards
Sally Graves – Extra Effects
---
Notes
All tracks are also available on Traumstadt 1.
Ding Dong edition was limited to 1000 copies.
Terminal Kaleidoscope edition has a different cover.
Notes from Bandcamp:
A drastic remaster from early generation cassette was long overdue for "Apparition" as it was one of the Dots' better sounding tapes from the early 80's but somehow under-represented in subsequent reissues. It first appeared in 1982 on Dutch label Ding Dong Disc.
Even so, the natural ebb and flow of this album betrays tension behind the scenes at Chez Dots. The band fragmented as soon as the tape was finished and matters were not helped by the fact that the Dots' headquarters was most definitely haunted (the story involves a ouija session, a black dog and out of body experiences).
CDr- Remaster, speed corrected and lovingly home made cdr of this early cassette mini-album. Edition of 199
---
Review
This is a strange and engaging album. It was finished just as the Dots' original line-up disintegrated and this is reflected in the music, which sometimes sounds as though it's barely holding itself together. This isn't necessarily a bad thing though, since some of the Dots' early albums have been marred by lack of tonal variation, whereas Apparition is all over the musical junkyard.
It starts with what sounds like marbles and coins being dropped down a drain, intercepted by the echoing of conversation, perhaps from an abandoned arcade or bingo hall (there is the garish bleeping of what I imagine to be a slot machine, but has the potential to be a ZX Spectrum, with the console released in 1982, the year of the album's production). Then a drum machine kicks in alongside the squelch of a synthesizer. The music bristles like an ant colony. It sounds weirdly modern too, almost like an album track by Lady Gaga or Ke$ha, if you ignore Ka-Spel's cryptic lyrics, that are obscured in the mix here. The whole thing feels busy and jittery and a little frightening.
The Dots' Bandcamp page testifies that during the recordings, the band's headquarters were haunted – an experience that involved "a ouija session, a black dog and out of body experiences". As ever, the Dots tend to undercut the sinister atmospherics with droll humour. That's not to say that some of the material isn't genuinely upsetting, though.
'The Blessing' is one of the most troubling songs of the Dots early 80s output, with lyrics from the point-of-view of some sinister presence, lulling an anonymous victim into submitting to an act of sexual predator wrapped up in the guise of spiritual healing. It may simply be that the song feels uncomfortably close to the reality of the Catholic Church sex abuse cases covered in the news in recent years, but it's not an easy listen, nor is it meant to be.
'I'm in the Drill' is ace and rocks a mean bassline. Patrick Wright's violin does a lot of the work here and lends proceedings a distinctly Eastern European ambience. It's a song you can immediately imagine dancing to, which is unusual for the Dots. It will be interest [sic] moving onto to an album like Asylum (1985) which features tracks which are almost sing-alongs, such is the strength of their melodies.  Read more
by Kitty Sneezes