THE LEGENDARY PINK DOTS
<< back to the Combined Discography
---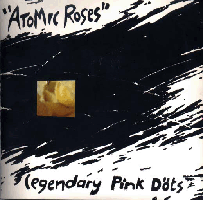 Release date and tracklist
1982
FR C45 Illusion Productions IP 009
August 2011
US LP Beta-lactam Ring MT262
Sides A
Of All The Girls
What's Next
Playschool
Sex
Closet Kings
Spiritus
Side B
Haupftbahnhof
The Wrong Impendence
Passing Thought
Atomic Roses #1
Ideal Home
Atomic Roses #2
***
2013
NL MP3 self-released on Bandcamp
Atomic Roses Part 1: Of All The Girls…, What's Next?, Playschool, Sex, Closet Rings, Spiritus
Atomic Roses Part 2: Hauptbahnhof, The Wrong Impedance, Passing Thought, Atomic Roses #1, Ideal Home, Atomic Roses #2
---
Credits
Roland Callaway- Bass, Acoustic Guitar [Acoustic Guitars]

–

Keith Thompson- Drums

 (3)

Stret Majest Alarme- Guitar

April Iliffe- Keyboards

Phil Harmonix- Keyboards

Michael Marshall- Keyboards, Guitars

  (3)

Edward Ka-Spel- Keyboards, Voice, compiled by

Sally Graves- Voice [Snatch Of Lady Vox], Flute
Artwork by Simone
---
Notes
Cassette version Limited to 600 copies, and packaged in a 7″ single sleeve with a booklet of drawings by Simone of DDAA.
A 10″ edition was planned by Illusion Productions for release in 1988, but never realized.
All tracks are also available on the TRAUMSTADT 1 cassette.
Beta-lactam release- First edition of 300 copies. Comes with numbered insert.
Presented in a hand printed and hand assembled sleeve to mimic the original tape art.
A sub edition of 25 numbered copies comes in a gatefold sleeve to mimic the original gatefold cassette sleeve, hand printed.
Created in 1981. Assembled in a dingy room in Newbury Park, London.  Originally issued in 1982 on Illusion Production (IP 009).
Thanks to Sylvie and all at Illusion Production for the original edition and Chris for its resurrection.
Vinyl mastering at Helmet Room.
Sing While You May
Kaleminazhnyeka