THE LEGENDARY PINK DOTS
<< back to the Combined Discography
---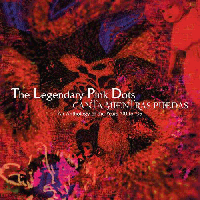 Release date and tracklist
1996
BE CD Play It Again Sam BIAS325
US CD Soleilmoon SOL47
March 9, 2017
NL MP3 self-released on Bandcamp
---
Credits
Edward Ka-Spel – Voice, Keyboards
The Silverman – Keyboards, Electronics
Bob Pistoor
Martijn de Kleer
Ryan Moore
Niels Van Hoorn
cEvin Key
---
Notes
This release is a follow-up of sorts to STONE CIRCLES, collecting various tracks from the band's 1990-95 releases with two tracks (marked "version") slightly remixed/extended.
The title is Spanish for the LPD motto: "Sing While You May".
MEZHKAZH JOIE JOIE O JOIE
Tracks 1, 5 & 6 from "The Maria Dimension"
Tracks 2, 3 & 4 from "The Crushed Velvet Apocalypse"
Track 7 from "Shadow Weaver"
Track 8 from "Chemical Playschool Volume 8+9"
Track 9 from "Malachai"
Tracks 10 & 11 from "9 Lives to Wonder"
Tracks 12 & 13 from "From Here you'll Watch the World Go By"
Bandcamp release:
A welcome rise of interest in The Dots over the last year makes it seem like a good moment to resurrect this well received Anthology – although it documents the band throughout their mid-period in the 90s,stopping in 1995.  The cd version is becoming scarce however. We managed to score 20 copies from the small box of remains!
---
Review
With a title taken from the Spanish version of the band's motto — "sing while you may" — Canta Miedras Puedas is a useful enough single-disc compilation of the Legendary Pink Dots' work in the first half of the '90s. Those who have all the releases in question which were culled for Canta won't need this unless they're a hyper-completist — there are only two relative rarities on the disc, both remixed versions of From Here You'll Watch the World Go By cuts. However, if one is a newcomer to the work of LPD, this is really an excellent place to start. Three of the band's stone-cold classics are on here — the absolutely gorgeous acoustic-guitar led "Belladonna" and "I Love You in Your Tragic Beauty," which makes an amazing one-two punch for the album's start, and the swirling boulevardier swing of "Princess Coldheart" with its memorable keyboard melody and anthemic conclusion. Other cuts from The Maria Dimension and The Crushed Velvet Apocalypse crop up, while Shadow Weaver, Malachai, and Chemical Playschool 8 + 9 are represented by one song each. Two choices from 9 Lives to Wonder round out the release. -Ned Raggett, Allmusic.com