THE LEGENDARY PINK DOTS
<< back to the Combined Discography
---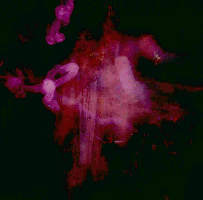 Release date and tracklist
2000
US CD Caciocavallo CAD5
A Crack In Melancholy Time
On Another Shore
Vigil-Anti
Love In A Plain Brown Envelope
9 Shades To The Circle
Demolition 13
Bella D
Needles
Space Captain (Extended)
21 January 2014
NL enhanced MP3 self-released on Bandcamp
A Crack In Melancholy Time / On Another Shore  12:30
Vigil-Anti  05:36
Love In A Plain Brown Envelope  04:33
9 Shades To The Circle / Demolition 13  27:40
Belladonna  03:39
Needles  08:01
Space Captain (Extended)  10:17
---
Credits
The Silverman – keyboards
Ryan Moore – bass, drums
Martijn de Kleer – guitars, drums
Edward Ka-Spel – voice, keyboards
Niels van Hoornblower – horns
Raymond Steeg – sound wizardry
Photography [Cover] – Heather Holland, Mike
Recorded By – Hans Meijer*, Raymond Steeg
A big thank you to `Marylou who made this event happen.
---
Notes
Recorded live at The Melkweg (Dutch for "The Milky Way") in Amsterdam for VPRO Radio in 1994. It was the LPDs last show at the club after playing there each year since 1984, hence the title.
***
from Bandcamp:
A truly superior recording of The Dots in full flight at Amsterdam's Melkweg venue in 1994.  Oddly, despite a sizeable turnout and a lively performance, the night marked the end of The Dots' close relationship with
the club which dated back a whole decade.
In fact it marked the end of The Dots' connection with VPRO Radio too, who recorded and later broadcasted the show.That was also a relationship that stretched back for years.  From the band's point it felt as if their adopted country had literally declared them redundant and had rather cynically dispatched them, and it's fair to say that things were never quite the same in The Netherlands for the Dots again.
This cd was released for The Dots' US tour in 2000 by Soleilmoon Records.
---
Reviews 
A lovely recording of the Dots show from 1994 in Amsterdam's Milky Way Club. Not the best quality, but surely not the worst for it being a live show. There is a nice blend of songs on here – mostly their fav's from their live line up, from "Space Captain" to "A Crack in Melancholy Time." Edward and the band jam together and, even though heard on a stereosystem, bring forth an array of sinister tunes that can truly bring you back to their captivating live performances.
This version of "9 Shades to the Circle," like their current tour's encore, strays lyrically from the Nine Lives to Wonder original, and at this show includes very haunting percussion effects and startling crashes that literally made me jump and rush to turn the volume down. "Premonition 13" gives chills with its bitter edged bite of captivating words and changing melodies. The version of "Belladonna" is acceptable, despite barely being able to hear Edward's voice. The original version of "Needles" appears here as well, and eerily comes and goes, fading into an quiet, awesome and completely awe-inspiring extended version of "Space Captain," which is a definite highlight of the show.
The Milky Way was the first club they played in Holland and this concert was their final show before the club closed its doors. – Daniel McKernan, Brainwashed