THE LEGENDARY PINK DOTS
<< back to the Combined Discography
---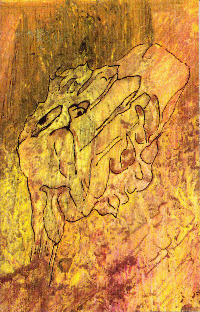 Release date and tracklist
1990
NL CS Mirrordot Tapes
side a
The Day She Left
The Day She Returned
The Day She Thought About Leaving And Fell Into The Duck Pond
City Of Needles
The Day She Lost The Key
Excerpt From The Citadel
side b
Divine Resignation Part 1
Divine Resignation Part 2
(Chinese characters: transl: "I am doing well learning this language.")
East Of Shanghai
***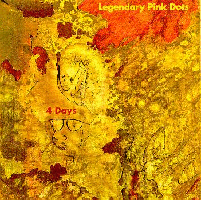 1994
NL CD Terminal Kaleidoscope TEKA999
1996
NL CD Soleilmoon #?
2001
PL CD SPV L-0012 (different cover)
16 June 2012
NL MP3 self-released on Bandcamp*
The Day She Left
The Day She Returned – [MP3]
The Day She Thought About Leaving And Fell Into The Duck Pond – [MP3]
Nadelstadt – [MP3]
The Day She Lost The Key
Excerpt From The Citadel
Divine Resignation Part 1
Divine Resignation Part 2
(Chinese characters: transl: "I am doing well learning this language.")
East Of Shanghai
* The first 2 tracks were combined on Bandcamp to preserve cross-fade.
---
Credits
Cover art- Elke
---
Notes
Cassette:
Numbered edition of 100 copies in colour xerox cover
CD:
This is a slightly remixed re-release.  First pressing (1994) was limited to 1000 copies and distributed mainly through direct mail order from the Dots. In August 1995, 200 extra copies were pressed; a second re-pressing of 500 was made in 1996 mainly for the American market (distributed by Soleilmoon); and there have been several editions since.
"Nadelstadt" was retitled from the original release (where it was called "City of Needles") since it appears in another form as "City of Needles" on SHADOW WEAVER.
from the CD insert:
As the title suggests, "Four days" was a work conceived and recorded in an intense but well starved short period of time in 1988. On the fifth, Elke made the cover for the original tape release, while the results were presented to long term Dots friend, Henk, before the week elapsed. It was to be a limited edition of our copy – a musical 'thank you' for a precious favour. Trouble is, we all liked the music and artwork too much to keep it under a carpet. Consequently, with the blessing of Henk, 'Four Days' was released in an edition of 100 numbered copies on casette only. By the time most people found out about it, 'Four Days' was four years ago – that's why it is re-appearing now, again with Henk's blessing. This time there are 1000 of them… it will not rear its head again. Dedicated, of course, to Henk.
Thank you to PIAS records for their blessing of this release. Klymnyeh – Sing while you may!
written and composed by P. Knight and E. Ka-Spel
from Bandcamp:
1990. Summer. Both EK and The Silverman were hopelessly addicted to vinyl but didn't have the money to feed their habit. A little bird whispered to Phil that another collector in the North of Holland had the 3 (Lard Free) albums he desired the most AND the aforesaid had just discovered the Pink Dots. It was true, but Henk – the owner of those 3 elusive discs already had already amassed a huge collection of Dots' titles.
Consequently we agreed to make a cassette release just for Henk (who is still a dear friend). Yup an edition of just 1, with Edward's partner at the time, Elke, making the cover. It took four days.
However Henk insisted the world should hear it, so another 99 cassettes were made. Later it was 3,000 cds on The Dots' own TEKA label, and then a Polish re-release.  Home-made in every way, but with loving care.
The Day She Left /The Day she Returned– A summer's day. The doors were open , the microphone was on..These 2 tracks comibined under a single code to preserve the cross-fade.
Nadelstadt– Prototype "City of needles". The improvisation that was the seed for the Dots' evergreen..
Your Chinese has Improved– Elke was learning Chinese at the time. The original title was in Chinese characters.
---
Reviews
Four Days is the LPDs' most "industrial" disc, by a long shot. Sweeping violins, church-inspired keyboards, orchestral washes, light acoustic melodies, and the like are totally absent, in favour of churning, clanky, clattering sounds and deep bassy drones. Ka-Spel's voice is featured on two of the pieces, the first being the most interesting, a sort of sing- song chant, the words almost tripping and rolling into each other. Also of interest, for those who have _Shadow Weaver_, is the fourth piece on _Four Days_, "Nadelstadt", the German translation of "City of Needles", and the two are nearly the same track, with a bit of remixing in the different versions. Melody yields to tension on this CD, and it isn't for the meek or faint of heart. Four those in the mood for the some of the most challenging and "difficult- listening" sounds that the LPDs have put out, _Four Days_ comes highly recommended. For those looking for the more melodic sensibilities of _Any Day Now_, _Crushed Velvet Apocalypse_, or _The Maria Dimension_, you have been warned. This disc is for the most ardent of fans, seeking the more abstract side of our beloved Dots. And the LPDs have not made it any easier, either; the disc is a limited edition of only 1000 copies. The liner notes promise that this will be the entire extent of _Four Days_. And yes, I will not part with this voluntarily, either. And if I ever come across the bonus _MD_ three-incher, I'll snatch it right quick… – Don Scheidt (september 28, 1994)
***
In 1988, Edward Ka-Spel and the Silverman recorded an album's worth of material in, as the title suggests, four days, as a way to repay a friend for a favor. The one copy of this material was given to that friend, but the LPDs liked it so much they wanted to release it to their fans, and in 1989, a limited run of 100 cassettes was made available. Much later, in 1994, another limited run of 1000 CDs was issued on Terminal Kaleidoscope and sold via Soleilmoon. The music is of supreme quality for only four days of work, although it is mostly ambient and instrumental. The exceptions are "The Day She Returned," with a frantic, maddening vocal that sounds as if it were recorded in the interior of a storm cloud; "Divine Resignation," with its distorted speech, which acts as a sequel to Asylum's "A Message From Our Sponsor"; and the suspenseful industrial instrumental "Nadelstadt," originally titled "City of Needles" but given a new name after vocals were added to it for the 1992 album Shadow Weaver. – Rex
---
Lyrics
Divine Resignation
In the interest of you all – the living and the temporarily indisposed I retire. You know, I had such ideas… When you are alone, with eternity to play with, to shape, to build – well you can understand the weight of my ambition. But I've created a monster, that was never the intention. The bureaucracy of my vision has now made it impossible to realize the totality of the vision itself. Merely a few friends, as equals. No delusions of grandeur. No pity, narrow winded struggles for "power" I'm sorry, it isn't possible. I can't cope anymore. As I said before, I retire.
The day she returned
you took my soul away snatched it and stole away stashed in a hole with a sack full of gold for a cold rainy day, gonna wash me away. Chasing the tail of a soft spoken whale in a gale in a flood. I got it in my blood. Gonna slice up my brother. I'll slice up my brother. I'll cater you. And nothing makes sense, I'm a hole in a fence and this planet's immense and expensive. I'm broke but I'm broken you push in a token you pull on a whul(?) It's no deal. It's a death. It's no deal wish a death it's no deal.