THE LEGENDARY PINK DOTS
<< back to the Combined Discography
---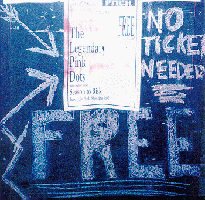 Release date and tracklist
1997
Intro
Casting The Runes
Maniac
Black Zone
The Talent Contest
8 Minutes To Live
Blacklist
Princess Coldheart
Pleasure Palace
Der Schrei
I Dream Of Jeannie
23 February 2014
NL Enhanced MP3 self-released on Bandcamp
Intro / Casting The Runes / Maniac
Black Zone / The Talent Contest / 8 Minutes To Live
Blacklist
Princess Coldheart / Pleasure Palace
Der Schrei
I Dream Of Jeannie
---
Credits
Recorded at Kling-Klang in Wilhelmshaven.
Unlimited release available only via mail order directly from the Dots or from Beta-Lactam Ring Records, with copies burned as needed.
The track markings on the disc don't match with the songs themselves, and vary from copy to copy.
Bootleg copies exist and can be identified by the fact that they have a disc label (the official copies have no label) and covers printed on an inkjet printer (official copies have laser copied covers). In addition, some bootleg copies of this and the LIVE '85-'88 disc are mislabelled as each other.
From Bandcamp:
1989 was a testing year. The unexpected departure of four band members in the Spring of the year before asked a lot of those left behind. Living in a caravan didn't help either, but Niels Van Hoorn really was a saviour when a few shows were planned at the end of '88.
Quite simply he stepped in with his armoury of saxophones and stayed there for the next two decades. It was a seismic change for the Dots (and for Niels ) and in fairness those first shows were shaky..
"Live '89" has all of this uncertainty on show. To my critical ears it sounds like we were maybe even trying TOO hard. However, as will be noted in a forthcoming "Live '89 Part 2" release, this uncertainty gave way to an often beautiful freedom when Bob Pistoor joined the band.
The recordings for Live '89 originated from a German tour, with the wonderful Kling Klang club in Wilhelmshaven being well represented.There is even LPDs' only song with German text included as part of this set- "Der Schrei", a collaborative lyrical composition from EK and Elke.
The original "Live '89" was one of the first three home-made CDR releases from the Dots. They were burned on a prohibitively expensive standalone Marantz cd burner, and the intention was to pay back the cost of the big metal monster inside five years….we just about managed, but technology had advanced somewhat by the time we reached our target.