THE LEGENDARY PINK DOTS
<< back to the Combined Discography
---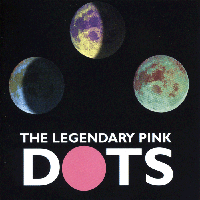 Release date and tracklist
1997
US CD Roir RUS8231
Date unknown
MP3 available through Amoeba or Itunes
---
Credits
April Iliffe
Mick Marshall
Roland Callaway
Patrick Q. Paganini
Stret Majest Alarme
---
Notes
An anthology release featuring most of the PREMONITION cassette release plus tracks from TRAUMSTADT 2, KLEINE KRIEG and CHEMICAL PLAYSCHOOL 1+2.
All tracks recorded in London at Chez Dots between 1980 and 1984. All tracks are exclusive to this CD. All tracks previously released on private edition cassette-only.
From the liner notes:
All pieces recorded between the years 1980-1984, and are exclusive to this CD.
Tracks 1-10 and 19 hail from the cassette-only release, "
Premonition
" (1982)
Track 11 was culled from double-cassette release, "
Chemical Playschool 1/2
" (1981)
Tracks 12 and 18 are from cassette-only release, "
Kleine Krieg
" (1981) *
Tracks 13 – 17 hail from cassette-only release, "
Traumstadt 2
" (1988)
Note that all pieces were recorded on primitive equipment at Chez Dots when it was based in London. Do not expect digital bliss, sensurround; however, brain damage is guaranteed.
SING WHILE YOU MAY
LAZHTOVET PRIMZHKAYA…!
* Track 18 is actually the version from "Traumstadt #5", and is itself an edited version of that found on "Kleine Krieg".
---
Press Release
Formed in 1980 in the UK, and shortly thereafter transplanted to Amsterdam, The Legendary Pink Dots are more together today than ever before. Constantly touring for 16 years on the Continent and USA, they have produced 18 records on labels such as Play It Again Sam, Wax Trax, Staalplaat, Caroline, and recently, on Soleilmoon USA. Their leader, Edward Ka-Spel, a frequent collaborator with Skinny Puppy, has released 4 albums of his own material and with Tear Garden (members of Skinny Puppy) on Nettwerk Capitol USA.
Legions of fanatic fans virtually assure a sellout crowd for the band's gigs. Their unusual mixture of electronic psychedelic whimsy and Alice In Wonderland playful, lush textural madness have kept them constantly on the top of the underground cult musical scene – always a top player but never a commercial winner.
"Under Triple Moons" compiles their very earliest privately recorded tape-only for fans-only cassette tape recordings, commercially released for the very first time! Tracks were selected by Edward Ka-Spel, the band's enigmatic leader and vocalist.
LAZHTOVET PRIMZHKAYA…!
---
Lyrics
As If 
(Instrumental)
Splash
Whisky knees and wine gums, real ones. Brandy on my mind, in my blood, in my liver, like a river. Walking under water, short of breath. My speech is sort of slurred, it's a blur. Much too late for turning back now. I'm drowning, I'm drowning. Clowning with my friends in the station. Party's on the patio with patronizing friends who pat me on the back, say "Have another, you'll recover." Cover up the cracks, blacking out, keep on grinning, spinning. I know I'll never win this bite. I'm drowning, drowning. Clowning with my friends in the station, in the gutter. Stinking rich and sinking pictures full of Slivowitz. It gives me fits and makes me spit in pits of poison. It annoys them, it destroys them. But they let me keep on drowning, drowning. Clowning with my friends in the station, in the gutter. I'm drowning.
Submerged 
(Instrumental, with unintelligible vocoder)
Amphitheatre
Found a hand in the sand, where they covered up the remnants. Not enough to show the Joneses, but should look good on our wall. Not too clean, nicotine. Really never saw a nail file; still two others tried to claim it, but I just swept past them all. And the rain beats down on the amphitheatre. Hear them sing, feel them swing: aren't you trembling with excitement? Can't stop my pulse from racing when I'm faced with scenes like this. Caesar lives, the Empire lives, must be twenty fires burning. If the guard would loose the lions, I would surely die in bliss. And the rain beats down on the amphitheatre. Do you like my cross, as it sparkles in the white light? Cut in solid silver, swinging round my neck. Thousands died on them, millions died for one. Impressive as ……?…… But we can't sling a stake around your neck. No, you can't sling a stake around your neck. Standing here, sipping beer: aren't we being rather tasteless? I'm ravenous with hunger. Can't we simply sneak back home? Harmless fools, gaping ghouls, and they've never seen a car crash. It's raining and it's raining, not a freak's night out in Rome. And the rain beats down on the amphitheatre. Gazing down at the ground, where the flies move around my carcass. Said you had to be a martyr to raise interest from a crowd. But I can fly, I can fly, if I could just see their faces. As I glide between the planets, playing I-Spy from a cloud. And the rain beats down on the amphitheatre.
Digital
I did it all the hours that God grants me. I test myself, I test my friends, it never ends. I bend their minds, I mind the bends. They take it all, don't mind at all. They're digital. They're digital. They did it all the hours that God grants them. They test themselves, they test their friends, it never ends. They bend my mind, they mind the bends. I take it all, don't mind at all. I'm digital.
Dying for the Emperor
(with help from The Red Ninja)
Finger on the button, perspiration on the forehead, splashing puddles on the keyboard. Jerking sideways, upwards, downwards: blisters. Spiders sing a tune, you do. You can't destroy the aliens, can't destroy the aliens. It's painful when you're doing well, but we keep coming back. But still he tries as missiles fly. His lady keeps complaining about the lack of conversation. Session's lasted for a day now. But he won't give up the fight. You gotta destroy those aliens, gotta destroy the aliens. It's painful when he's doing well but they keep coming back. Impatiently they brought him food and forced it down his throat, till he was choking, dribbled gravy, swiveled crazy, spacey glimmer in his eyes. Likes to splatter all the aliens, flatten all the aliens. It's painful when he's doing well yet still they creep on back. Creeping back for more. Still he won't give up, though senators slap him on the back and snap him with their instamatic, automatic, jerkomatic. He's fanatical but ice-cool as he cannons down his aliens, gotta destroy the aliens. It's painful when he's doing well but still they keep on coming back. His score's just topped a million, he's killing them. A winner, though he's getting so much thinner, and beginning to see stars. Starts to mutter, eyelids flutter, on the point of passing out. You gotta destroy the aliens, gotta destroy the aliens. It's painful when he's doing well but still they keep on creeping back. The nation sighed, his mother cried: he just expired, still firing, firing high and wide. He tried to beat them till the end. Tried to beat the aliens, tried to beat the aliens. He failed, a failure. A failure.
Oceans of Emotions
Searching in my drawer, I had to find a photograph of you. Were you really quite like I remember? Cold Decembers on a pier, a can of beer between us. We were dreaming on the railing of sailing on our own into the sunset: an orange one with palm trees, dolphins bouncing round the boat. We'd live on coconuts, I'd build a hut in wood and grass. Strong enough to last us through the storm, keep us warm. Why did our dream have to die? Tell me why. You were out there with me. You felt the breeze past through your hair, held a seashell to your ear, fearless, flying higher in a world built just for us. No visitors, nothing there to hurt us. So why did you run away? No explanation, no communication, not a word. Just a square inch in the paper said you took your life – what a waste. Weren't you just a little hasty? God, what a pitiful waste. Why did our dream have to die? I don't know why. You could have picked a graceful method: died like Cleopatra, where no scars remain. A tube train just does nothing for your figure. My disfigured princess! Do you watch me through the night? Are you watching now? Well, I'd like to join you, but I haven't got the courage. But my dream lives on, will never die, never die. On and on forever.
Sacred Anthem
(Instrumental)
Intruder
It's incorrect, defective, ejected. Leave it with the garbage in the garage. Will you get it out of here? 'Cos it does me in, it's sinful, it stinks, inhuman. Incinerate, exterminate, take it, hide it. It offends me with its grin. That evil grin, it scares me: staring, glaring, I swear its laughing — so darkly. It's dirty, a dud, a dreg, a dreadful mess like that can't be for real. (Unreal, a box of fitting labels?) Start a crossword with a single clue. But will you save me the trouble: go flush the thing away!
Premonition 2
(Instrumental)
Frosty
He always looked behind him, scared somebody would jump him. Put him on the ground so he'd come around to the sound of people laughing. 'Cos the whole world loved to mock him. Sun and moon both pointed at him. Kids would crick their necks to get a better view. Well, it really did his mind in, and we wanted to protect him. So we placed his face in a smash-proof case and placed it in the fridge. They giggled in the corners, whispered lies across the borders. They derided him and chided him 'til he carried out their orders. So he dashed into the limelight, played at Hamlet for a fortnight. Waved his arms and screamed demands for some respect. But they just could not excuse him, it was really too amusing. So he packed his sack and scrambled back to safety in the fridge. And I swear I saw his spirit skim the sky with nothing near it. Piled armour-plated roller skates, white feather train to steer it. Scared somebody would look up, gesticulate and throw up. Send him flitting, flitting scarred behind a cloud. But for him, there's no escaping, no hole big enough to hide in. Best just to stay nicely out the way in safety in the fridge. In the village bells were tolling, in the town the dogs were howling. It was Armageddon, tanks crashed head-on, planet Earth was drowning. Then the Devil sent a shower, Europe died in half an hour. And a demon wind just finished off the rest. But our friend, he took a teabreak, idly munching on a fish-cake. Quite oblivious and ignorant but cozy in the fridge. It's so cold there, in the fridge. It's so icy, frosty.
One for the Pearl Moon
I stood here when this city was a cave. Face contorted, angry eyes aflame, spitting vows I couldn't keep. I'm one for the pearl moon. One for the pearly moon in the sky. I knelt here, caged and weeping in the wind. Cried aloud for those who died for me. Whispered prayers for those who lived. One for the pearl moon. Prayers for the pearl moon. I slept here, as the grass grew around my head. Undisturbed though pilgrims called my name. Unimpressed by children's cries. They cried for the pearl moon! Cried for the pearly moon in the sky. I rose here, stirred by rituals in the night. Stars and circles scratched out in the dust. Double lines and cups of blood – there's blood for the pearl moon. I will leave here. I'll waste your cities, I'll smash your walls. Got no mercy, though you beg me to stop, 'cos I've wasted much too long.
The Whore of Babylon
Mirror tiles, a mirrored ceiling. She preens, adjusts her hair. She pouts, a wink. The perfume stinks, it's lovely, like fresh air. Saints are queuing at the door: their haloes on a chain. They're always after more and more. The whore of Babylon: she turns nobody away. Nobody away. They pay, they play, the …?… fly. It's never straight – it's on the floor, it's in the kitchen. No-one's ever bored, 'cos the whore of Babylon knows how to make a man feel like a man. Can you?
The War of Silence
Something wrong? Now tell me what you're hiding. Deep inside you're boiling, you're ready to explode. Let's avoid it, now fight it, tell me please. Don't scorch me with a look, or torch me in your mind. I see the signs, ask what's the problem. You say nothing – meaning everything. That's my problem: every glance is accusation, every breath a condemnation, isolation, paranoia. Sure I can feel it: three simple words. The war of silence.
Garlands
(Instrumental)
A Lust for Powder
Astrid. Astrid, do you think they know? Spy behind the curtains – see me now! I'm certain that they've seen it all. All the ammunition … watched you planting posters on the wall. They hear us on the phone you know. We're not alone. We're not alone. We can give them all a show when we make love. The tape is running, guns are trained – I wonder when they'll fire? I'm losing hope, I'm feeling scared. You feel it too? I'm sure you do! Let's ignore them – powder our noses. Powder our throats. Today I've got a lust for powder – a tower of powder. (If they shoot me now, I couldn't give a fuck…)
Punishment
Shakespeare's in his cot; he's rather old, but he sucks his thumb and fumbles with a lump of sugar. (He needs a diet.) And Hamlet grins and force-feeds him with tins and tins of cold rice pudding; it dribbles down his chin. And Shakespeare's feeling sick. And Hamlet sticks his gums together. He wants revenge, like all the others. They're queuing for a punch, queuing for a slap, and Shakespeare's on his back. He takes it all. He takes it all.
Down from the Country
Down from the country, oh he had such plans – about making some money, about living, being a man. Packed his belongings in a battered old case. Yes that look of fulfillment, well it stretched across his face. Thought about his new life, maybe he'd find himself a girl; share a flat and a mattress. Sure, they'd build that Brave New World. Take a job in an office, start low but proud. He could work all the hours – hours the clock would allow. And he'd reach new horizons, put some money away. Buy a house in the suburbs, maybe have a son on the way. Yes, down in the country: schemes and dreams stretch high, no limitations, they train you right. You take the whole world on a whim. Down in the station with his foot on his case, well he met some new friends, said they'd show him round the place. And they bought him a burger, and they showed him the sights. And he played Space Invaders. Oh he got stoned by the light. Then down to the nightclubs, bought him all of his drinks. And the sweet-smelling ladies, well, they're looking just at him. Had a glass too many, had nowhere to go. And he tripped on a table, they said: "Time we walked you home." And they each took a shoulder, brought a grin to his face. Gentle limp through the doorway, gently lifted up his case. Short-cut through the alley, stopped a while for a rest. Fingers rifled his pockets … but no success. And they spread his belongings in the dirt and the rain, and of course they found nothing, as he feebly tried to explain. Now down in the country, sort things out with your fists. And he never had a prayer as the switchblade cut his wrists, his chest, his arms. And the neon gods took him, and they showed him the ropes. Now he hops down the alley – a city ghost.
Premonition 1
(Has "City Ghosts" lyrics throughout background)
Transcribed by Nancy Thuleen