THE LEGENDARY PINK DOTS / ATTRITION
<< back to the Combined Discography
---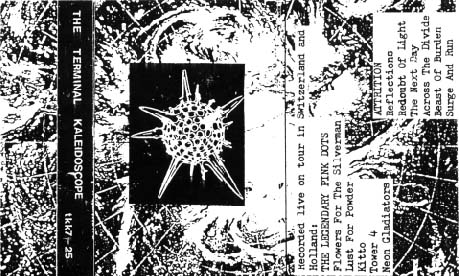 Release date and tracklist
1985
NL C60 Ding Dong Tapes and Records DDC011
NL C60 Terminal Kaleidoscope TKK7/25
***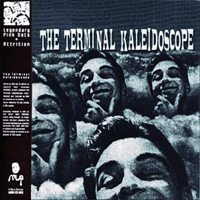 2005
FR CD Mechanique Populaire AMR 003
side a- THE LEGENDARY PINK DOTS
Flowers For The Silverman
City Ghosts
A Lust For Powder
Kitto
Tower #4
Neon Gladiators
side b- ATTRITION
Reflections
Redoubt Of Light
The Next Day
Across The Divide
Beast Of Burden
Surge And Run
April 5, 2015
NL MP3 self-release on Bandcamp
Terminal Side (Live 1984)

58:54
Songs chained together under one code in order to preserve cross-fades.  Songs are: Flowers For the Silverman, City Ghosts, A Lust For Powder, Kitto, Tower 4, Neon Gladiators
---
Credits
The Silverman- keys, electronics
April White- keyboards
EK- voice
Patrick Q.Wright- violin
Roland Callaway- bass
Stret Majest Alarme- guitar
Mixed by Ed Van Kaye and Pat White
Remastered by Martin Bowes (Attrition). Illustrations by Alan Rider. Thanks to Jef Benech who resurrected this old cassette and ushered t into the digital realm.
---
Notes
Recorded live in Holland and Switzerland during 1984 tour.
Ding Dong edition limited to 1000 copies.
The tape releases do not list 'City Ghosts' in the tracklist.
The CD release is limited to 500 copies in deluxe packaging and the first 100 copies came with 3 photographs taken on the tour.
from Bandcamp:
This is The Pink Dots' part of a cassette document released by Ding Dong Disc back in 1985. The tape featured the Dots on one side and old friends, Attrition, on the flip as the two bands had toured together a year earlier. It shows LPDs in anarchic, sometimes furious form with engineer Pat White providing an inspired, psychedelic audio picture from behind the mixing desk.