EDWARD KA-SPEL
<< back to the Combined Discography
---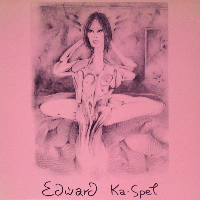 Release date and tracklist
1985
BE LP Scarface FACE13
UK LP Penguin 30005
side a
side b
***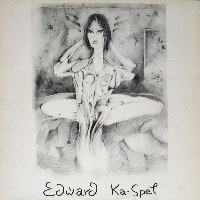 2005
US CD Beta-Lactam Ring MT114
01 April 2014
NL MP3 self-released on Bandcamp*
Mirror Soul
Avengelist
God In A Cupboard
Blowing Bubbles (Part 2)
Six Cats On A Dead Man's Chest
"Joey" – The Video
The Char Char
Intermezzo
Hotel Blanc
Tikko [MP3]
Volicie [MP3]
And the Lord Said "Rise" [MP3]
Blowing Bubbles (Part 1) [MP3]
History Book [MP3]
* track 12 is ….And Smashed Into A Million Pieces, not included on the LP or CD, followed by
13 And the Lord Said "Rise"
14 Blowing Bubbles (Part 1)
15 History Book
---
Credits
Edward Ka-Spel – voice, keyboards, electronics, percussion, glox
Hero Wouters – keyboards, electronics, sephthesmesc
Neel Holst – saxophones ("God in a Cupboard")
Matthieu Keizer – marimba ("Joey the Video")
Lady Sunshine – lady voice
The Angels – angelic insertions
Produced by Hero Wouters
Covered up by Babs Santini
The Silver Man – keyboards ("History Book")
Stret Majest Alarme – guitar ("History Book")
---
Notes
LP:
The first 1000 copies have a white cover and a lyric sheet.
All subsequent copies have a pink cover and no lyric sheet.
from the inner sleeve:
Produced by Hero Wouters at his studio at Brouwersgracht 771, Amsterdam.
Dedicated with purest love to Marylou.
Thanks to fellow Pink Dots (Legendary), Kenny G., Richard Z., George S., Debby J., Patrick B., Alain + Nadine, Nurses, Currents and Organums for their support and encouragement.
Sing while you may!
Kłaubsteht naveeda promneƶh.
These tracks were later included in the 1995 CD release- Down in the City of Heartbreak and Needles.
CD:
This release is subtitled "D'Archangel Rises."
Reissue of the Scarface/P.I.A.S. LP, packaged in a gatefold wallet sleeve with collectible coupon. Coupon reads, "This is coupon number two of five. Each Edward Ka-Spel solo album reissue will contain a coupon. Collect all five to receive a bonus CD of music. The last coupon will contain all information on how to receive the disk."
Tracks 10 to 15 are bonus tracks:
"Tikko", "And The Lord Said 'Rise'", and "Volicie" are from Perhaps We'll Only See A Thin Blue Line.
"….And Smashed Into A Million Pieces" is from Down In The City Of Heartbreak And Needles.
"Blowing Bubbles (Part 1)" and "History Book" are previously unreleased.
Bandcamp:
1985. Down and out in Amsterdam, living in a squat a few blocks from the station…a romantic situation, a romantic year…
"Eyes China Doll" was essentially EK's second solo album but also features massive input from Hero Wouters whose cupboard of curiosities, ingenious insight into the mechanics of music and all-round good vibrations turn up EVERYWHERE on this record.
"Eyes" was recorded in Hero's 8-track studio, and memories of these sessions bring a huge grin to EK's face almost 30 years on.  Basically it was joyous, unending fun.  Sometimes the singer and Hero would challenge each other to see who could come up with the most bizarre idea…..and these duels could result in the most exotic voyages, "Hotel Blanc" for instance.
An album with a smile on it's face despite the sadness of some of the songs.
A big thank you to Marylou who came to almost every session, and to Her's wife Neel who also played a part.
Last but not least, a huge thank you to Steve Stapleton for his marvellous cover drawing. -EK
---
Review
Includes two unreleased tracks. Edward's second solo full length first appeared as the world was still rubbing ITS eyes from new wave fall-out. Synth pop had, by now, been fully co-opted by the populace at large with Wham, Madonna and Chaka Khan topping the US charts and Dead Or Alive and Paul Hardcastle making a splash across the pond. With Eyes Edward proved a couple things: 1) He really DID have a musical voice distinct from his work with LPD and 2) somehow synth pop could still be melodic, challenging, exploratory AND kick ass. On first hearing Avengelist's almost martial sequences bubble up from behind Mirror Soul's pleasantly plaintive analogue drone, I cancelled all the day's plans so I could just sit home and study this odd record until I passed out. Soon the end of the experimental Hotel Blanc suite was triggering emotional responses of longing. Eyes was…IS a unique electronic vision quest that is schizophrenic in all the right places. In those mysterious pre-internet days LPD and Ka Spel still had an almost Jandek or Residents-like sheen. Had…to…find…out…at…all…costs. It was like that beautiful Steven Stapleton cover was beckoning me personally, but also warning that things would always be a little different from then on. 'Why another China Doll?;' 'is Edward part of Nurse With Wound?;' 'who is Lady Sunshine?' Stories were fabricated to fill in the details, all with Eyes chiming CONSTANTLY in the background with its somber synths that were somehow not sad and Edward's bizarre anti-nursery rhyme lyrics. Weird samples from inside the goldmine: the use of sound on Eyes tugged at the ear and the gut. From a song to a…thing, to another song to another…thing, to a noise, to a sequence to a…run, hurry, flip the record, AGAIN! Completely minimal yet subliminally lush. A chirpy waltz to break the din, but then it felt a bit like being at a run down, radioactive circus. Best circus I've been to so far. Omnipresent little additives made for new discoveries with every listen. Edward seemed to exist in a no man's land hidden somewhere betwixt the new wave and Elysium. He's still there and Eyes is still fresh after 20 years, finally reissued properly as a CD, repackaged with its original art in a mini LP sleeve for maximum geek-out effect. Eyes, I feel for you…I think I love you.
---
Lyrics
Mirror Soul
You may be feeling lonely –
but, be assured, you're not alone.
Everywhere, China Doll, there's eyes …
Avengelist
We'll take our blessings from the priest with cups of blood – we'll drink it neat. Or maybe just a hint of soda … We shall walk across the water. Slaughter calves and make a mess, we'll hold a mass. We'll speak in tounges, We'll break the bread. We'll count the crumbs. Yum yum! [we're] Reciting psalms .. We'll testify that we have seen the Christ! We touched his scars. We licked his tears. We felt his anger – pledged we'll raise a spear for a Spear of Destiny. Our destiny's to drown the doubters, cleave the cheats … to burn the sinners in the street. Do you feel that holy fire, brother?
God in a Cupboard
He promised her a planet and he'd planned it. He told her how he'd fly to heaven with just a gesture and a lie. they'd idolise those idol eyes. They'd be pelting him with palm leaves. Believe! He believed and she behaved. She stroked his chin (he hadn't shaved). She said "Sure, honey – it'll be OK!" God's in his cupboard – all's right with His girl
Blowing Bubbles (part two)
Know that I love you. Know that I care. I know that when times are hard, you're there. And sometimes I hide … yes, still I get scared. But, your touch is enough and I'm warm. I swear that I'll be with you always – we'll hold hands in the dark. And when the sun rises, we'll laugh. Yes, we"l laugh. And the whole world will hear us – well maybe … maybe, Marylou
Six Cats on a Dead Man's Chest
Lights were red, the streets deserted. Foot down, head down, hit the Kerb … A cartwheel through the pet shop window. Bells rang, mice ran. Polly sang "Be lucky!" She left a gift and pecked a shoulder smashed in pieces of eight. And [now] there's six cats on a dead man's chest … [fa la la la!] Lovebird laid a nest and spider spun a web. And he spread it across the headlights, and he caught a dozen fireflies. Fireman brought the cloths and sprayed the foam – it filled the shop. And just the fish survived.
"Joey" the Video
Pickled baby's in the jar. Two heads, four eyes – the doctor called him "joey". And he poked him with a stick. The jokes were sick – but "Joey" smiled and turned around. And doctor made a bow, said "Move in closer!" "Joey" posed as cameras rolled. Rear view. Wide angle. "Candlelight or full beam?" … "Joey" made it to the small screen, and he holds a staring role. He plays a doll stashed in a fish tank – and he'd love to thank the public for his Oscar. ["Thank you, folks."]
The Char Char
The metal was corroded. The fuses had exploded. The circuits floated on a pool of oil…They wrenched the flex. It snapped and sparks flew (dark blue clouds and jet black walls!). An apple crumbled. Firemen grumbled – fumbled with a hose. Toes were curling in their white boots. Sweating in their tight asbestos suits (and Asmodeus played the flute!) A table layed a chair and did the cha cha – charred and spitting splinters. Blisters throbbed and sisters sobbes behind the fence. Father burned the incense, blessed the ashes as they flew… Fly away!(2x)Fly away Peter!(3x) Fly away Paul! Wenn Alte Gotter Sterben (When old god dies) Upside down and hanging. Gangreen. Dark green ankles. Rusty chains. And lusting vultures bowling dice – see who gets first bite. Frosbite! lockjaw! MORE! See sores weep, flesh creep. Skin deep beauty lives inside his rotting carcass. Locked away, it drains away. Like a love note in a trashcan, like a sapphire in a sack. And no one's singing hymns to him. No trembling sinners, no respect…We shed our tears, but we just accept – this old God's dying of neglect. This old god's dying of neglect. Neglect.
Hotel Blanc
One more lonely room, and a key with a number, and the guy behind the desk said, "Understand that the first night's free – but then you have to pay!" He nodded thanks. He wondered if he'd travelled all his life … Was he just a number on a hundred scraps of paper, thrown away? He'd never had a wife, and he'd never had a lover. He turned the key. He smelt the damp. He dived between the covers … teardrops in his eyes turned to ice. And he tried to think of better times but the pictures never formed. And just one thought remained that maybe from the day he was born, he'd stay dead inside. After all … And in another town the clock chimed 13 times, the traveller was home. He had a lady by his side, they were driving through the snow. Pure, like the bridal gown she wore. Like the sound she made when she would stroke his hand and say, "You'll never be alone again – just believe it's not a dream. It's not a dream!" They tried to break the door down. They found him face down. He was grinning like a clown. They called his name – he never heard. They felt his pulse but nothing stirred ..A coal black hearse appeared and hauled the corpse away. Another customer who paid at Hotel Blanc …