THE LEGENDARY PINK DOTS
<< back to the Combined Discography
---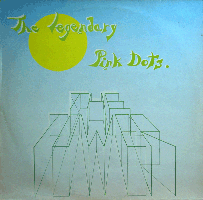 Release date and tracklist
1984
UK LP In Phaze PHA3
1985
NL LP/CD Terminal Kaleidoscope/Play It Again Sam TK003 (different cover)
1996
US CD Soleilmoon SOL41 (different cover)
1998
US LP Soleilmoon SOL41 (picture disc)
2006
PL CD Big Blue 8483412 (different cover)
2011
NL LP Terminal Kaleidoscope (different cover and back)
10 July 2012
NL Remastered MP3 self-released on Bandcamp*
side a
side b
*Astrid / Rope & Glory are combined as track 8 and Tower 4/ Tower 5 are combined as track 10.
---
Credits
Sybil Strange-Cargo – keyboards, occasional vocals
Che Banana – voice, keyboards, electronics
Stret Majest Alarme – guitars
Phil Harmonix – keyboards, electronics, percussion
Patrick Paganini Q – keyboards, violin
Roland Calloway – bass
Lilly Ak – guest voice on "Astrid"
Armin Bliss – guest
Produced & engineered by Pat Bermingham
---
Notes
In Phaze edition of 2500 copies.
PIAS LP version:
includes a lyric sheet. The CD version has the following tracking problems: "Tower Two" is split into track numbers 7 & 8; "Astrid" and "Rope and Glory" are together on track 9; "Tower Three" is split into track numbers 10 & 11; "Tower Four" and "Tower Five" are together on track 12.
Artwork by Stephan Barbery
1998 Soleilmoon edition was initially available as part of Lullabies for the New Dark Ages
Vinyl etching (on PHA 3): Side 1 – GRAEME
The picture disc comes in a generic plastic sleeve. It includes a promo card for the Lullabies For The New Dark Ages box set, released in 1998, which included picture discs of the band's first four LPs. This picture disc was left over from the original run of 512 numbered box sets.
2006 Big Blue edition:
Artwork – Zdzisław Beksiński
2011 Terminal Kaleidoscope LP:
Limited to ~12 copies.
Part of the Teka hand-made series : 'Brighter Now' , 'Faces In The Fire' and 'The Tower'.
A picture disc with a handmade cover by The Silverman and New Orleans artist Alan Jaeger.
The picture disc was left over from the run made for the Lullabies For The New Dark Ages boxset released in 1998, and rediscovered in 2010.
KLENEHHZ LEEBRAKIZH
Dedicated to the deviant… we still stick together, yes?
from Bandcamp:
1984 (how fitting….)
It was probably the sight of Margaret Thatcher talking on the television about her "good friend Mr. Pinochet…" that sparked the idea for The Tower.
At that instant you kind of sensed what this monster really wanted to do with the rioters, anarchists, welfare seekers, travellers, punks…..ah, no need to go on.  Some long to play in stadiums, some prefer to fill them in darker ways.
A lot of us actually longed for a female premier before Thatcher came along. It was a wish for a gentler Britain, a place that only seemed to exist on old radio programmes .You're right….a green and pleasant land.
Thatcher sent out the message that it was somehow ok to be greedy, and look how the idea caught on….. It pervades and perverts to this very day.  It has brought continents to their knees and still there are those
who profit from the situation.
"The Tower" refers to the famous monument in London where many were locked up and many lost their heads over the centuries.  It is now a popular tourist attraction.
Several editions of "The Tower" have emerged over the years with four different covers. We chose Stephan Barbery's fabulous art for the second edition as it's our favourite and fits the music so well.
---
Lyrics
Black Zone
They ripped up all the grass and they cut down all the trees, built a fence – little sign says 'Keep away, if you please…' And it was difficult to argue with the trenches and the guns. 50,000 volts, the wires buzzing – touch it and you're D.O.A. (d.c.) Deceased! Your secret's safe with us. The trucks roll in at midnight – skull and crossbones on the headlights. They carry poison, carry fission for the Black Zone… Hear the test-tubes bubble with disease for enemies (I hope there's not a breeze!) And the villigers line up outside with placards, sing 'Abide with me'. The guards just laugh – smoke rises in the distance… Because the Black Zone's here to stay and it's here to protect us, 'til that black and bitter day when test-tube spills and blows us all away.
Breakday
The slogans turned to secrets. The symbols turned to stains. The face of an 'enemy' was imprinted on our brains. Made us spectres at the shutters, faces covered, taking aim, faking blame. Breakday (The breaks failed – we all broke down together) Drains were painted scarlet. Scars were opened wide. Kids saluted in the basements, whistled hymns and homicide. And though we wanted to change things, the fact remains, we never tried. Breakday (The breaks failed – breaking down together). But YOU had a chance. You had the brains, you had the money – could have bought an aeroplane and skipped this hole for somewhere sunny. You recognised the symptoms, smelt the hatred in the air. But you stayed… You better pray. A nurse hid and shivered as an army axed her door. Linking arms, drinking orders, unrinating on the floor. Spilt the milk, split a hymen – took her wicked, made her sore… Told her it was Breakday.
Tower One
Faces at a window, fingers clutching at the bars. A fly skips from an eyebrow to an elbow, across a scar. And stars are laughing as the wind bites – doesn't leave a mark… because the Tower stands impregnable – a beacon in the dark. And no-one names a crime committed, no-one blames a soul. Their cases heard so long ago – forget about parole. And faculties are failing because they're really rather old. And sick. And tired, much too jaded. How they weep, cos how they hate it. Sky dye on her fingers. The air was turning blue, as captain whispered, 'Blindfold's optional – you wouldn't like the view! She shook her head and shouted back, "I'd like to see this through." Then joined the line of hostages – was 13th in the queue. Rusty chains and armoured pillows stuffed with silver pins. Collecting lives like butterflies, keep them all locked in. Tattoo with a star, write a number on the chin… It's not for turning. Slowly learning. Stomach churns, the fire's burning… No-one has the key to the Tower. And if you listen carefully, you'll hear a baby cry. Torn screaming from her mother's womb – the lady nearly died. But the torment never stops, it's written right across the eyes of George and Jeannie, Charlotte, Renie, Uncle Geoff, Cousin Julie, Audrey, Johnny, Andy, Mandy, Algernon. And Barbarella, Shelly, Napoleon. Winston, April, Philip, Roland, Barry, Sally, Patrick, Me! Me! Mimi…
Vigil-Anti
George had the role of the spokesman. Script prepared – took a week to write… how their house was an eyesore, kid was an outlaw, wife was a whore who bored the neighbours. Fists were raised, pledges made over ten grenades and tins of petrol. George would strike the first match if they put up a fight or pulled down the shutters. Soldiers blue. Shoulders sunburned – see the light dance on their hair, the fair and healthy skin, the shins of metal. Men of mental discipline (their favourite word). It's heard in cries, it's heard in whispers, in the candlelight of ceremonies clandestine where songs are empty, words are anti-this and anti-that. The vigilantes tilt their hats to cleaner sheets, greener valleys. Marble queens sing Halleluiah – spewing out the trash in the name of the Lord.
A Lust For Powder
Astrid. Astrid, do you think they know? Spy behind the curtains – see me now! I'm certain that they've seen it all. All the ammunition… watched you planting posters on the wall. They hear us on the phone you know. We're not alone. We're not alone. We can give them all a show when we make love. The tape is running, guns are trained – I wonder when they'll fire? I'm losing hope, I'm feeling scared. You feel it too? I'm sure you do! Let's ignore them – powder our noses. Powder our throats. Today I've got a lust for powder – a TOWER of powder. (If they shoot me now, I couldn't give a fuck…)
Poppy Day
We'll remember when that wreath is just a crown of thorns to drape around your helmet – hide out anywhere at all. We'll remember when you're no more than a poem on a grave – a sideline for the guy who writes the birthday cards but never signs his name. He's got your number, feels your pain… though you're smiling from the mantel-piece and you've got your rifle trained. It's pointing at the T.V. Shall we tell you when to fire? There's a programme we all hate… it's not a late show so you won't be tired. We remember how you loved the war films, and hid behind the sofa throwing balls of silver paper. We remember. We remember. We've got our poppies on. We hear the clock chime out eleven. We remember, we remember it's Poppy Day. (You shall not grow old!)
Tower Two
Mokey see. Monkey do. Monkey's got no point of view. Captain points and he points too. Clever monkey! Monkey's got to know his place. No future in the 'master race'. Monkey spat in captain's face – they cut his tongue out. Threw it to a doberman named Rover. He can eat a man in 20 seconds flat – prefers a cat. In the courtyard shuffled deviants with gold stars, they're scarred with numbers, as guards raise their cards. It's 6.2, 6.7… Under five and in the corner for a session in the sauna. Naked, being born again – they're sliding down the chute. And the garden's looking fine. There's lots of water, lots of lime and captain spends most of his time in the deckchair. And there's weeping in the queue, and Lady Gwyneth's weeping too – sickened, yet she voted blue. She knows it. And night patrols are doing rounds. Now there's Tower complex, Tower Town. Population's going down, but we're great again…
Astrid
Forgetting all the lies you told about me when my back was turned. Forgetting all the cards I sent that you simply burned. Forgetting all those times you said you'd phone. Forgetting all the others when you said I was the only one. Forgetting all those nights i spent alone… Forgetting you is hard… do you forget so easily?
Rope & Glory
Flags are flying in the wind and all the world can hear us. We can take it on the chin and fight another day. The tower's shining in the sun. Outside the kids are having fun. Soldier lets them stroke his gun and leads the grand parade!
Tower Three
The echo of a thousand marching boots hammers on the air. They're singing anthems, chanting oaths and whistle as Salome lifts her skirt because they're 'real' men and they're healthy, happy… own the place. They raise hell when they're sober, wrestle tigers when they're drunk. In their living rooms a picture of the queen nestles in between Miss August and a placard saying HOME IS WHERE THE HEART IS. (Keep it pure, keep it white. Keep it free of undesirables because freedom is so valuable and getting scarcer.). Fight! So they march. Smashing windows, splashing slogans, pushing petrol bombs through doors 'til a uniform appears. Gently whisper in the ear of the leader. "That's against the law but we'll ignore it this time. Peace Krime's got to be official!" Keep it clean. Keep it quiet. In a lonely moor the digger's working, bigger holes hold more… And the patriots stay in as convoys rattle down the street. No-one hears the weeping, no-one listens for the cracks at dawn. The shovelling goes on and on and on. But the patriots aren't frightened cos they heard it on T.V. that a Golden Age lies 'round the corner. And day now…
Tower Four
The night was warm, the gelignite was hot. The plot was thick. And Jenny's being sick in the bathroom. She's six months gone and will it have a chance or simply wither in the womb… The room was thick with smoke. Photographs of martyrs across the wall. There's brother John shot down at the cenotaph (yes, we'll remember!) Sister Astrid, now corrected – never says a word. The list goes on and on. The bombs, the blood… For every guilty death there's 20 more. The limbs go flying across the floor, and no-one's crying anymore. Just caught up in the crossfire – and Jenny wants her child.
Tower Five
You wanted easy answers. You want a tidy end. Don't you know you've got a lot to answer for? You wanted shining heroes. You wanted sparkling knights. BUT THEY'RE GONE. You chose your grave. Lie there.