THE LEGENDARY PINK DOTS
<< back to the Combined Discography
---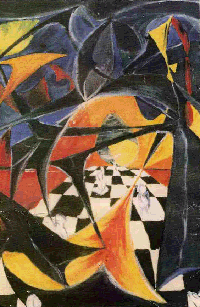 Release date and tracklist
side a
Jungle
Plague 2
Find The Lady
Vigil-Anti
Apocalypse Soon
Love In A Plain Brown Envelope
Suicide Pact
The Whore Of Babylon
The War Of Silence
side b
World War Six
Violence
Prau Naaizh
A Message From Our Sponsor
No Bell No Prize
Garlands
A Lust For Powder (Version Apocalypse)
The Punishment
Visitor To The Machine
***
21 December 2013
NL Enhanced MP3 self-released on Bandcamp
Jungle
Plague 2
Find The Lady
Vigil-Anti
Apocalypse Soon
Love In A Plain Brown Envelope
Suicide Pact
The Whore Of Babylon
The War Of Silence
World War Six
Violence
Praum Naaizh
A Message From Our Sponsor
No Bell No Prize
Garlands
A Lust For Powder (Version Apocalypse) / The Punishment / Visitor To The Machine*
* songs have been combined to preserve cross-fade.
***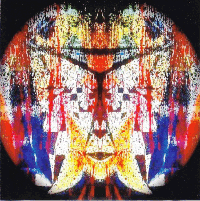 14 Jan 2014
NL CDr self-released on Bandcamp
Disc 1
Jungle
Plague 2
Find The Lady
Vigil-Anti
Apocalypse Soon
Love In A Plain Brown Envelope
Suicide Pact
The Whore Of Babylon
The War Of Silence
World War Six
Violence
Praum Naaizh
A Message From Our Sponsor
No Bell No Prize
Garlands
Disc 2
A Lust For Powder (Version Apocalypse)
The Punishment
Visitor To The Machine
---
Credits
Edward Ka-Spel – voice, keyboards
The Silverman – keyboards
various others…
---
Notes
Cassette:
Comes in A5 plasticbag with an additional postcard.
Numbered and limited edition of 50 copies.
The second cassette in the Traumstadt series, from 1988, was primarily a selection of tracks that had been previously licensed to various artists compilation albums as well as unreleased versions and outtakes. 13 of its 18 tracks were officially released on CD in 1996 and 1997, primarily on Under Triple Moons and Stained Glass Soma Fountains. -postmodernaccident.blogspot.com
From Bandcamp:
Arguably the best of the Traumstadt series, this collection pulls together the cream of LPDs' contributions to various compilation cassettes and records, adding alternative mixes and recordings of tracks on the main records. Enhanced from early generation cassettes and rescued from obscurity for your delectation. -EKS
CDr:
Released in an edition of 199 copies on two generic, printable CDr's.
Released in two identical cardboard sleeves with one insert and one clear plastic sleeve.