EDWARD KA-SPEL
<< back to the Combined Discography
---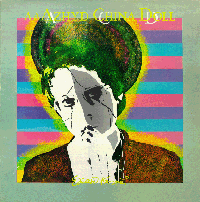 Release date and tracklist
1987
NL LP Torso 33028
GR LP Penguin 30023
side a
AaΔzhyd China Doll
Flesh Parade
The Qa'Spell
The Unfortunate Demise Of The Fabulous Puccino Brothers
side b
Nuts In May
Traitors' Gate
Blowing Bubbles (Part 3)
The Fool
1995
NL 2xCD Staalplaat STCD090- details here
30 June 2013
NL Remastered MP3 self-released on Bandcamp*
AaΔzhyd China Doll
Flesh Parade
The Qa'Spell
The Unfortunate Demise Of The Fabulous Puccino Brothers
Nuts In May
Traitors' Gate
Blowing Bubbles (Part 3)
The Fool
The Witchfinder Suite Parts I-VI
* Traitors' Gate and Blowing Bubbles are combined into one track on the Bandcamp release.
---
Credits
The Prophet Qa'Sepel – voice, keyboards, samples and loops
Majest – guitars, drums
Lady Sunshine – lady vox
Hanz Myer – elektronixx, enhancement
Processed by Qa'Sepel/Majest/Myer
---
Notes
LP:
According to the liner notes, "This is merely part one of the AaΔzhyd trilogy".
There was a CD edition of this album retitled THE RITUAL announced on Megaton Records, but it never took place (possibly a bootleg?).
This album was reissued along with CHYEKK CHINA DOLL as a 2xCD set in 1995.
CD:
The cover of the CD release incorrectly lists two bonus tracks, "When Old Gods Die" and "After the Tower", that do not actually appear on the disc. These tracks were later included on the Lyvv China Doll release as "Wenn Alte Gotter Sterben" and "Tower 8".
LYRIEX ESCRID
from Bandcamp:
Steve Stapleton planted the idea…."You simply have to make ACID China Doll…"
Living in my tiny little room in an Amsterdam squat, living out of the local snack bar on Tuesdays and Thursdays, living on crumbs of human kindness during the rest of the week, the challenge seemed huge. How to live up to a title like that.
I'd spent the last of my money on an 8-track recorder, a mixing desk and an Akai sampler. Getting from the door to the bed by the wall involved climbing very carefully. Engineering was done laying down as there was no room for a chair. Still Barry managed to set up his amp and play some inspired guitar parts on what was meant to become the ultimate album in the China Doll series.
In the end I was proud of the uneven beast that emerged, but not proud enough to call it "Acid China doll". Consequently I changed the spelling.
The record company didn't seem to like it and worse they released it in my absence (I was on tour). One whole channel dropped out on one of the tracks as no-one checked the test pressing.
I broke down in their office, pleading for a re-press. Somebody suggested that they released records by people like Edward Ka-Spel as an act of "charity." This was a relationship that seemed doomed from that moment although they DID put a lot of things right with a cd reissue a few years later- something I still appreciate.
I love "AaΔzhyd China Doll"…just wish I'd made the record that didn't require a change in the spelling. -EKS
---
Lyrics
AaΔzhyd China Doll
AaΔzhyd! It creeps and I fall and I'm peeled from the lips to the hips and my inside's outside. Hide me in your bed God. You can spread me on your bread, God. Or throw me in the cell… You call it "Hell", I call it warm! A fizz. Apokacidilipsmakk. I crack. I crawl. (So get those fucking horsemen off my lawn!).
Flesh Parade
Up before the Flesh Parade… The pretty faces… The bedroom eyes… The pouting lips. The longing thighs say "Come in for a night, you won't regret it – but don't make any plans". She likes a man, but a hand is just as effective. A mutual need. No need to talk. No moonlit walks, no sun-drenched beaches. Just a bed and just an alarm clock, says your time is up. Go find another body (boy, girl) in the Flesh Parade.The line-up never changes. And, sure, nobody's perfect. Just good at Perfect crimes. We have the standard phrases; ask the time. How about the weather? Don't care about the spots. My only interest is your mind.(Got the time for a grind in the Flesh Parade?)
The Qa'Spell
Kissing frogs is fine when you're single, when you've time to spare. You hold the mirror, comb your hair, the manna drops down from heaven. But spare a thought for me; light a candle. Place me in the flame…Handle me with care, I'll maybe melt away. If you do believe in me; yes if you are convinced – I'll be your prince now and forever. No more wincing as you kiss a frog, and no more waiting…
The Unfortunate Demise of the Fabulous Puccino Brothers
The host of heaven welcomed seven ghosts. He gave them coffee, showed them'round but the catastrophe had left them speechless.They'd tried to teach us kids how human beings could be pyramids when Gideon went sliding on a banana skin. The stage caved in. They hit the cellar. Hit the deck. Stone dead and seeing red when gates were golden[….?….] Peter told them how they'd like it there… make tightropes,tiptoe gently through the clouds. And if they fell, just ring a bell. Anet would catch them, stop them dropping headfirst into hell!
Nuts in May
Nuts in May go firing guns while Nuts in June write speeches.They find a box to preach on while the kiddies screech in prams. And mum sucks on a choc-ice, mumbles how the weather's nice. It's like a desert island; the cannibals run twice around the pot and pop you in and pick you out all red and chewy. Then turn you into superglue for kids to sniff on… makes them nuts in May with guns and Nuts in June who write those speeches.
Traitor's Gate
The river's wide, the river's deep. I know I scraped the bottom with
a rock chained to my feet – the fishes feed on my mascara…
You were smiling when you met me… Yes, you promised me the world.
You said that you'd protect me…
You were smiling as they threw me from the viaduct.
Blowing Bubbles (Part III)
Sometimes you criticise me, analyse me, dice me in eight equal slices; I'm cut down to size. It's alright – I love you! It's a long drop, I've been there far too many times. But you always caught me and fed me and warmed me. (I'm flying too high!)
I love you.
The Fool
You call me up. They cool me down. They drown me with a syphon spewing ice-knives, nail me to my shadow, case me in a plaster-cast and cast me down the mine. I'll dig until my fingers shine and blood runs down the wall. They wanted coal but I'll keep scraping until I'm striking gold.It's fool's gold, but I'm just a fool – be sure, it's real enough for me! I'll make a crown. I'll take my princess to the holy ground, we'll waltz around the stones. So fast, we'll twist into another time. Another home! Just you and me; a few well-chosen friends because we need them. It's so lonely caged in eden eating apples only cause we're so damn bored.
A DREAM IS A DREAM, NO MATTER NO MEANING
A DREAM IS A DREAM – BUT IT'S REAL AT THE TIME!