EDWARD KA-SPEL
<< back to the Combined Discography
---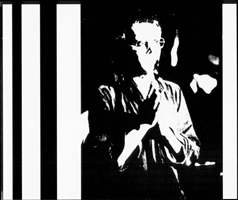 Release date and tracklist
2001
30 May 2014
NL MP3 self-released on Bandcamp
Edward Ka-Spel and Friends – Live at The Paradiso 

39:18

Live At The Melkweg 

10:24
---
Credits
Edward Ka-Spel – vox, keyboards, tapes
Hero Wouters – tapes, Effects, Keyboards
Bianca Wouters – lady Vox
Patrick Paganini- violin (tracks 8-10)
---
Notes
Edition of 250 hand-numbered copies. CD is packaged in a plastic foldover case, with black and white two-sided insert and loose sticker.
Recorded live 16 May 1985 at The Paradiso, Tegentonen Festival in Amsterdam.
"The show was traumatic as I had a high fever and I was lying in bed unable to move an hour before appearing on stage. Add to that my only means of transportation to the concert was by tram (I was living in Amsterdam at the time). But despite this – maybe because of all this the show was a success" – Edward Ka-Spel 10 January 2001.
***
Notes from Bandcamp:
The doctor would have been furious if he'd been consulted. At 3pm on the day of this show EK lay on a bed, burning up with fever as the clock ticked on.  Soundcheck was planned for 4pm- but a weak attempt to get up ended in embarrassing failure. 5 o'clock, 6 o'clock….wet flannels,paracetamol.
Finally the singer took a deep diseased breath and hobbled out of the door with a small keyboard under his arm. The Paradiso was a few stops away on tram number 9. When he arrived, his musical partner in crime, Hero Wouters was also looking a little unwell- it was like a wedding feast had been prepared, but the groom was missing. An important show too – part of the Tegentonen Festival.
Incredibly the show went on and under the lights the fever turned into a waterfall of sweat from the singer. It was like taking a bath.
The results were released on a hyper-limited cdr from Beta-Lactam Ring Records. Here it is once more.
Part 2 of this release is another Amsterdam show-this time from The Melkweg one year later where EK was together with Patrick Q.Wright onstage.
---
Reviews
If this recording of Edward Ka-Spel and Hero Wouters live in concert in Amsterdam's noted/notorious Paradiso Club in May 1985 still sounds weird sixteen years later, just imagine what it must have sounded like then. Under a throbbing, scuttling digital percussion send off in post-Kosmische rhythm loops, surrounded by a whirl of effected keyboards and analogue lo-fi electronics, the contrast to the underground, let alone mainstream vocal synth music emerging at the time is still remarkable.
As Ka-Spel's alternately disturbing and charismatic voice sweeps across the gamut of possibility the keyboard and drum machine offered in the mid-Eighties, several moods are proposed, offered, run through. Light and darkness of human emotions flow from the mournful optimism of "Even Now" to the duet with Bianca Wouters on "Hotel Blanc" where the misery of a lost and lonely man descends into spooked electronic treatments and babies crying. Low fidelity is not only a result of the relatively primitive technology, live sound and casette source, but is somehow redolent of an era at once so far away and seemingly close, when the echoes of Brecht, Dub, Minimalist electronic experiments and Situationism were a little fresher than the historical position in the post-Modern panoply they occupy today.
As a record of how the solo Ka-Spel material was performed live, Angelos Obscuros is a treasure trove of spot sound effects and crazy passages where the carnivalesque electonics and sampled song snippets collide in a manic tango or an immersive whispered existentialist story, roll over and unform themselves into a (sometimes even bouncy) song. There are moments of near Avant-Synth Poppery like "Spontaneous Human Combustion", where the guest violin of Patrick Paganini floats in glory over strange pre-Housey keyboard stabs and in the distant echo-drenched arpeggiations of "Black Zone". This is characteristic of his own material even more than of the Legendary Pink Dots performances at the time (and now) which tend to be relatively more song-oriented.
At the end, before the bizarre string-led observation of techno-prurience of "Love In A Plain Brown Envelope", Edward asks hoarsly "Where have I gone? Ah, there I am", and then proceeds to scream and moan around the tale of sexual dispassion and more-than-a-little-bit-Moroder synth pusles as Paganini strikes down with his bow to accompany fetishes for grannies and the antelopes of Lapland in a track The Dots still play live from time to time. With it's long passages of hallucinatory collage and demented crooning, this session reeks of the atmosphere of how it was to be truly deviant in a Europe gone mad with the influences of free markets and dictatorial leaders; the escape from one cruise missile and privatisation nightmare into a personal paranoia of sound and despair banished by being made audible is almost tangible. -Antron S. Meister-