EDWARD KA-SPEL
<< back to the Combined Discography
---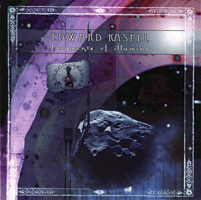 Release date and tracklist
2005
CA CDR Piehead PIE037
16 June 2006
US CD Beta-Lactam Ring MT063a
US 2xLP Beta-Lactam Ring MT063b (alternate cover)
25 May 2014
NL enhanced MP3 self-released on Bandcamp (alternate image)
LP:
side a
My Space – [MP3]
The End Of Everything (Part One) – [MP3]
side b
The End Of Everything (Part Two) – [MP3]
side c
Sticks & Stones – [MP3]
Yet Another Fragment – [MP3]
side d
Apocalypse De Ron
---
Credits
---
Notes
Piehead edition limited to 233 copies (333 was originally planned)
BLRR CD edition limited to 300 copies, some tracks edited.
Recorded in Limburgia March to May 2005.
From Bandcamp: Originally released by Canada's Piehead label in 2005.Just 233 copies were made before the label closed.Happily Beta-Lactam Ring Records stepped in to save this curiosity from becoming obsolete with a quality reissue on cd and vinyl. Both formats now out-of-print , but this enhanced and tightened presentation includes the long bonus piece on the vinyl version's fourth side. E. K-S.
---
Reviews
While not creating strictly-formulated concept albums, the Legendary Pink Dots frontman does tend to take an idea or a mood and run with it throughout a release. This is very much apparent on Fragments of Illumina, which has a sense of wholeness and completeness despite the radically different approaches in its songs. Legendary Pink Dots albums, at their worst, can sound like horrible messes: a cacaphony of ideas, genres and quirks that refuse to harmonize. When Ka-Spel records a solo release, however, it's understood that it will be–at the very least–coherent from the beginning to the end. The highlights are two tracks called "The End Of Everything," the first of which tells a classic Ka-Spel fairytale (life, afterlife, drolly humorous disappointment) and will have Peggy Lee cocking whatever remains of her eyebrows. The second part sounds like a spaceship trying to take off from the BBC roof during the 1970's…but in a good way, for those who like that sort of thing. "Yet Another Fragment" is a gorgeous, delicate, extended moment of flangey ambience, a welcome follow-up to the (surprise!) stuttering head-banging of "Sticks and Stones." The first track on the CD, "My Space," is–sadly–the one sour note for me; a song whose lyrics are jarringly out-of-sync with the rhythm…I skip it, but it's unfortunate that it opens an otherwise exceptional CD. Regardless, it's a testament to Ka-Spel's skill that all these musical styles–effect-heavy ambiance, poetry, analog boopiness, obnoxious guitar sampling–can fit together on one album without sounding discordant, and that all of them are done so well. – Muffy St. Bernard – Brainwashed