EDWARD KA-SPEL
<< back to the Combined Discography
---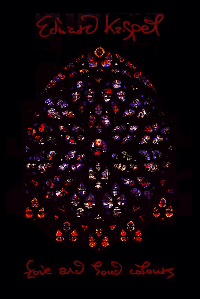 Release date
2002
US book De La Tour Saint Rapunza
This book can be ordered here.
---
Credits
lyrics, stories and fragments- Edward Ka-Spel
compiled and put together by Kirsten Janene-Nelson
transcriptions- Edward Ka-Spel, numerous Dots fans, Cloud Zero lyric archive, maintained by Alan Ezust and Lars Tängmark
artwork- Christopher Ryan Blair and Lana Crooks
illustrations researched by Daniel McKernan
---
Notes
160 pages, printed on high-bulk textured stock, plus black endpages
123 writings (lyrics, stories, and fragments) gleaned from more than 40 different recordings (TABLE OF CONTENTS pdf)
67 black & white illustrations (Medieval and Renaissance etchings, line art, and woodcuts)
Hardback, covered in a fine-quality black cloth cover, with stamping on front and spine
Four-color gloss dustjacket, featuring a stained glass rose window from the Beauvais Cathedral and stylized stained glass saints crafted after Ka-Spel lyric characters: the captain and monkey, the bride, the witch, the soldier, the lonely figure, the nurse, the politician, the lovers, Tanith, and Lisa
Special features include lyrics linked with their art; lyrics linked with their page numbers, etc.
Print run: 2300 copies, the first 834 of which were numbered and wrapped in a silver ribbon (numbered copies are available only through this site). Unnumbered copies are available at North American Legendary Pink Dot shows and at Amoeba Music brick & mortar stores.