THE SILVERMAN
<< back to the Combined Discography
---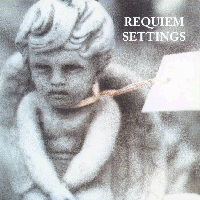 Release date and tracklist
2002
US CD Soleilmoon SOL 119
02 August 2013
NL Remastered MP3 self-released on Bandcamp
Requiem Settings 1
Requiem Settings 2
Requiem Settings 3 – [MP3]
Requiem Settings 4
Requiem Settings 5 – [MP3]
Requiem Settings 6 – [MP3]
---
Credits
The Silver Man (Phil Knight)- all instruments
---
Artist's Statement
While early glitch music experiments were the central feature of "Dream Cell's" stylistic mix, its successor "Silvermandalas" concentrated on drone and trance directions.  By contrast, "Requiem Settings (1-6)" is a more linear work, with a greater emphasis on subjective association. Despite the title, a September 11 Requiem it isn't – at least not by design (the CD was already completed by the time of the attacks in New York and Washington).
Two factors determined the project's theme: my father's death, and the place where I lived at the time these recordings began.  I was renting an apartment amongst the rolling hills of Groesbeek in Holland, and after finding two WW II grenades (one German, one American) in the woods behind the house, I began to discover the significance of the area.  These killing fields marked the battles that began Europe's liberation from the Nazis.   Two metal fragments, possible shrapnel) discovered in this same area revealed a pleasing bell-like quality when struck together.  This bell-tine provides the static association in "Requiem Settings", while the train sounds heard throughout the work represent the aspect of movement – the sense of journeying to another existence.  This sense is never more apparent than in the final setting – the Requiem itself, where the choirs drift in and out of radio static, all the time underpinned by a grandiose musical funeral procession.
The CD's opening meditational settings feature the bell-tone bobbing back and forth like a buoy on an estuary, amongst a landscape of distant foghorns. America is peppered with towns brought into existence only through virtue of crossing rail lines, and the immense foghorn sounds of these huge freight trains dominate these places.  Forget it if you're a travelling musician hoping for a good night's sleep…not even ear plugs help as the very walls shake with each passing train.
"On my trips around America  I became enchanted by the distant sound of these train foghorns reaching my ears in the still night air.  The resonance of these sounds in the vast landscapes of the American continent seem to extract physical characteristics of these huge open spaces, making them audible to the discerning ear.   In a very real sense this acoustic phenomena could be said to be the "Sound of America" – not of it's people or cities, but of the physical landscape itself.
The CD's third setting is similarly born of the American landscape, but this time one of a particular nature.  Long fascinated by one of America's best known historical figures, Chief Joseph, I was given the opportunity to spend time in his former heartland of Wallowa, Oregon.  While staying there, I set about making further recordings.  On a clear full moon night, in a landscape covered in snow, the undertaking took on surreal and magical proportions where nighttime was like day and I wore sunglasses to protect my eyes from the intense sparkle and shimmer of the moon's reflections in the snow.   Strapping microphones to my boots, I embarked on a walk to capture the vivid and sumptuous sound world of pressed fresh snow and cracked ice.
Back home in Holland, I completed the piece using an American instrument invented in Chief Joseph's time – the Appalachian dulcimer.  Using electronics to sound a dulcimer chord in the exact rhythm of my recorded footsteps, I then added played dulcimer melodies to finish the track.  Long after the piece was completed, I learned how Joseph and his people were pursued and hunted by U.S. troops in a 1200 mile flight of exodus from the Wallowa valley.  Unintentionally, my snow walk at Wallowa became a sound metaphor of this exodus.  – Silverman
---
Notes 
Thanks to:
Jozef Vrtiel (centre page photograph), Mark, Melinda, Charles, Dave, Das, Monique, Chris, Edward, Eric, Rachael, Nina, Christoph and Raymond.
***
From Bandcamp: 2002. Sometimes an album is released that you feel will be instantly embraced for it's beauty, for the emotional strings it pulls, for the pictures it paints. Instead, the unthinkable happens- and that precious work simply falls between the cracks.
Perhaps it was the timing of "Requiem Settings" that caused such an oversight. It was The Silverman's aural reaction to the events of 9/11 and The World had it's right ear glued to the news channel.
Time for reappraisal with this remaster- although the enhanced sound only reflects how far technology has developed in recent years as this little pearl ALWAYS sounded great to these ears. -EK 
---
Review
The Silverman is keyboardist Phil Knight, a founding and current member of The Legendary Pink Dots. This is his third solo album following up on 1995's 'Dream Cell' for Terminal Kaleidoscope and 1998's 'Silvermandalas', also for Soleilmoon. Like the latter, this disc is simply comprised of numbered parts, in this case six interconnected tracks ranging from two to nearly 13 minutes in length.
The title is perfect as the album was motivated by the death of his father and the places Knight lived and visited while working upon it. Each setting is unique and incorporates found as well as synthesized sounds. Part one features ghostly metallic bell tones amidst a dense, shifting fog. Two moves into a more electronic territory as a sequence of synth notes, waves and background bass bumps plays out. Three glistens as a dulcimer and subdued electronics dance with an elegant array of winter sounds such as crumpled snow, cracked ice and water. It's really something how it gracefully slips in and out of consciousness. Four and five are brief interludes of mechanical whirrings, swooping tones, more bells, rain (or maybe fire) and birdsong. And six is the requiem itself. Steady synth voices become masked by wind and the sounds of trains, evoking cross country movement as well as sorrow.
Much like David Tibet's homage to his departed father, Current 93's 'Sleep Has His House', The Silverman has respectfully paid tribute to his own father with a very lovely album, his best yet. – Mark Weddle, Brainwashed