EDWARD KA-SPEL
<< back to the Combined Discography
---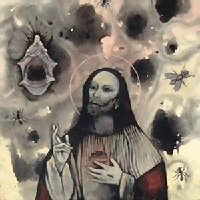 Release date and tracklist
March 2007
US CD  Beta-Lactam Ring MT145
NL MP3  self-released on Bandcamp
Clara Rockmore's Dog
Complex
Meltdown
Stars On Some Days
Burden
Karis In The Spring
The Evidence Of Absence
---
Credits
Track 2 is from the See Beyond The Music Gallery Exhibition 10″.
Track 6 is previously unreleased.
All tracks recorded 2000-2007 in the Netherlands, Luxembourg and Finland.
"Clara Rockmore's Dog" is dedicated to Calyxx, Tristan, Koszja and Tasmyn.
Thank you Chris and Heather for indulging me over the years.
Thank you to Jesse Peper for providing the artwork.