EDWARD KA-SPEL
<< back to the Combined Discography
---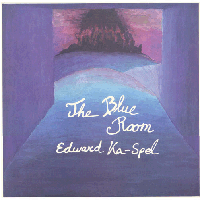 Release date and tracklist
October 27, 1998
side a
side b
Hotel Y [MP3]
Cause And FX [MP3]
Mosquito Munch Fandango [MP3]
side c
Gemini [MP3]
Shall We Share Water, Brother? [MP3]
The Blue Room – [MP3]
side d
They Came, They Saw, They Scarpered (Parts 1-3) [MP3]
***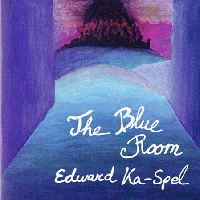 October 27, 1998
US CD Soleilmoon SOL 87
12 November 2012
NL MP3 self-released on Bandcamp
Scarlett Cross 

03:57

Supper at J's 

10:11

A Roman Candle 

04:12

Design Fault 

04:31

Hotel Y 

12:26

Cause & FX / Mosquito Munch Fandango 

08:38

Gemini 

03:12

Shall we Share water , Brother? 

09:49

Blue Room 

03:06

They came, They saw ,They scarpered part 1 

11:22

They Came , They Saw , They Scarpered Part 2 

05:22

They Came , They Saw , They Scarpered Part 3 

02:49

Wounded Knee 

06:49
---
 Credits
Edward Ka-Spel – voice + instruments
Lisa – voice on "The Blue Room"
Raymond Steeg – engineering, mixing, sound wizardry
Frack Verschuuren – engineering on "A Roman Candle"
cover and layout= Rachel K.
words for "The Blue Room"- Lisa
---
Notes
Vinyl edition limited to 1000 copies.
From Bandcamp:
1997. Times were hard, the house was tiny, the Ka-Spellian studio had shrunk to a
what could be fitted onto a tiny table on a platform where the stairs turned. Normally a session meant wearing a coat as heating wasn't so effective but still cost a fortune.
Despite all that "The Blue Room"still feels like a fresh album.  Initially meant as part of a trilogy of colours, but the 3rd part was never finished.
Included in this Redux edition is a previously unheard piece "Wounded Knee" which is from the time. -EKS
Just before the Year 1,000 BC a great civilization collectively decided that there was no future on the planet known as Earth. Within the space of a few short days, scientists designed and technicians created a fleet of spaceships to take them to the furthest reaches of the galaxy. They didn't make it – the entire armada crashed into a lesser moon of the planet they called Zob. All traces of this civilization vanished forever.
Just before the year 0, a mysterious bearded man irritated an unpopular but influential monarch by telling him that a great man was going to be born who would change EVERYTHING. The mysterious bearded man was beheaded. The great man was born, changed EVERYTHING and was executed.
Just before the year 1,000, an entire multitude of people renounced their worldly possession and settled for a life of poverty. Others, fearing the worst, jumped from high towers. Usually the latter action proved fatal. Just before the year 2,000 a few thousand people retreated to their rooms and meditated on "The Blue Room", the latest album by Edward Ka-Spel, singer with The Legendary Pink Dots.
This goes to show that Charles Darwin was right after all.
---
Reviews
In his inimitable style, master mythologer and spinner of eerie Millenial tales for The Legendary Pink Dots here presents some further solo efforts. There's the hissing, steaming clockwork music box of "Supper At J's" with unsettling reflections on the state of virtual 1999, which rises and falls from song into semi-orchestral concrete-samplescapes as the lead-in for an album which includes the disturbingly groovy "Cause and FX", with its misguided protagonist with his "cute Colt .45/splits a mole-hill from a mile" and a penchant for saving the world, whether it wants it or not.
Edward Ka-Spel knows his psychopaths as well as he knows his lyrical dreamers, and The Blue Room features several of each. The arrhythmic drum machine and mocking New Ageisms of "A Roman Candle" combines scathing, sardonic half-believed cynicism with a yearning for human warmth ; "Design Fault" manages the astounding trick of pulling a melody from what sounds like "D'y Ken John Peel?" and, through judicous use of echo, plus one of the more stumbling, minimal drum machine patterns and sample loops of recent years, with the poetic, sub-religiose revolutionary nihilism of the lyrics, makes for the best Ka-Spel track since the awesome Tanith and The Lion Tree album. "Hotel Y" has a shuffling, brushed percussion loop and watery, self-despairing lyrics about the end of a relationship which seem to form a good proportion of Ka-Spel's solo songs, before another extended instrumental suite which moves from upbeat stabs of brassy samples into washes of blanched atmoshpherics and recycled, glitched sample loops which converge into discordant babel.
What refreshes, as ever, is the variety pulled from the keyboards and samplers, the compositional deployment of a distended rattle here, a pulsing loop there and the cunningly peculiar use of vocal and instrumental effects which transform EK's voice from the hushed tones of an existential coward into the demonic giggle of a maniac with the space of a single song Sparking emotion and inventive discordia alike, The Blue Room establishes its own self-contained universe, bearing a passing resemblance to the mundane reality, populated by melancholic lovers and vampire suitors, earnest declarations of re-incarnated eternal love to a soundtrack of mellow Jazz and jet engines at take-off; and the guest vocals of Lisa, who provides the stirring title track with both a different voice, and a reference back through Ka-Spel's past albums and their guests.
There's even "Shall We Share Water Brother?" – which is part Vangelis, and perhaps part Heinlein's Stranger In A Strange Land if the post-Messianic mood connects to the reference in the song title. Strangely familiar as Ka-Spel's alternate world maybe, it's probably best not to live there too long for the sake of sanity- though, compared to the dissapointments of this one, it's an intriguing place to visit. – Freq E-Zine
---
Lyrics
Scarlett Cross
Her vampire lover kept the ritual
sacred every moonless night
she'd cast her clothes in all directions
dance with lanterns, freeze with fright
when his uncanny gaze would catch her
through lacy curtains, locked outside
yet always she would raise the window
always silent, in he'd fly
and on those virgin sheets, she'd spread
herself and call him to her
with those pearly hands
her vampire lover hovered sobbing
but he never chose to land
and come the mourining she would wake
untouched alone
tucked deep inside her bed
she'd see the window
locked from inside
see those virgin sheets were
ruby ruby red
Supper at J's
13 plates, a goblet + we're bleeding from the wrists.
J said 'Go ahead, have one more for the road'-
it came to this.
and one by one we knelt before him,
one by one we kissed him on the mouth.
Our eyes averted as if it was the first time
But hey, it's 1999 + J has lawyers in the fold
+ J's accountain can recite
the greatest story ever told.
There is no need to walk the mean streets
patching wounds and saving souls
Because just like midas everything we touch
is turning gold.
Just like it did the last time.
Type http:/ you're chosen, broke
But closing in on satan with a stun-gun
sweeping demons from the screen.
This is your entrance to the kingdom
use your fingers just for him
+ be quite certain your reward is lying
deep within – just like it did the last time.
And if I kick him hard enough, now will I see him fly?
If I stare hard at that bastard will he shrivel up and die?
And will I walk the waves & carve my name on tablets in the sky?
Will they remember me with reverence until they pull the plug on time.
Now back again and forwards – shift
a bouncing ball – two facing walls.
Now back gain and forwards –
It's just a game, eh, J? (hit delete)
A Roman Candle (transcribed by the Plasma Twins)
Praise the lord and pass the ammo. Firewalks, god damn. Could build a
fortress with this hammer. We'll peel away the night.
So lay me down, lay me down. I need to feel your fire.
We'll line the corridors with lava lamps. Madonna's retro band dig
the weather. Revolving plastic prophets.
aohhhhh. touch me. lay me down, I need your fire. Lay me down, I need
your fire. I need your hands all over.
Dark faces in the headrow, jealous eyes spy from the stars. Down by the
west wall, they were scraping someone's bugged chocolate bars. so will
you die with me? I promise you a fortress with a wall that's ten miles
high.
Lay me down, I need to feel your fire. lay me down, I need that fire.
lay me down, I need your fire. (lay me down) I'm wired up, and your
finger's on my detonator. My detonator's itching.
There's a place for us ( your finger's on my detonator ) A little north
of here, it's made for us. (your finger's on my detonator) I want you
there. I want your hands right here.
Design Jault (transcribed by the Plasma Twins)
filling in the space, only filling in the space. case they catch me
empty-handed. killing time and losing base. got to run now cause those
idle hands are cradling my face. find me drifting into sabotage,
dreaming of escape. now this is heresy against the revolution. i'm
feeling faintly proud cause i don't believe in anything. i said i'm
feeling faintly proud cause i dont believe in anything. anything that's
allowed. this is against the revolution. catch me there before i am
channeling. you better hold me down or chain me up. you can't contain
me. spirit of the universe is drowning me. i feel i am clinging to a
cloud. the rusty courts of my industry are strewn across the ground. i'm
losing touch now. i cut the cord now. this line is grinding to a halt.
this is where the empire falls. this is against the revolution. i'm
losing touch now. i cut the cord now. this line is grinding to a halt
now. this is where the empire falls. (now this is heresy). we are
against the revolution.
Hotel Y (transcribed by the Plasma Twins)
What would you do if i slammed the door, vacated to this perfect space,
made my escape? And you never saw it coming. what, what would you do, if
I told you that it's over now and it never really started? Now, I long
to fly away. Don't worry now, for this is simply make believe. My death
wish- it's a lie. And it never, never, will be uttered. See, I just
can't understand. Can't understand the joy I am feeling now. cause it's
all so undeserved. It's obscured. but, the voices, the voices keep on nagging.
They are eating me alive. They are teasing. I don't know the reason why.
why now? why now? why now? why now?
Cause and Fx
Mincing through the magnets like a ballerina
did you scan my magnum.45?
it splits a molehill from a mile +
no-one gets away alive
So do you read me?
any shadow in my ribcage?
if I flash a card, will you drop your guard
+ say 'sir now, that will do just nicely.
like the suit.'
come on in I have the class of '99
so baby take this hulk to cuba
I got hostages, no humour.
When I count to nine, it's ali akhbar boom
boom boom ba
Be no compromise
up there begins the great solution
read my name in lights
in headlines eight miles high
I got the whole world on my side
it's for the people, only for the people
so how about a "thank you" people –
I do it all for you.
(Lights! Action! Read me, nine miles high)
Mosquito Munch Fandango
(instrumental)
Gemini
When I look into those eyes
I see the sadness of an ancient soul
World weary.
Yet, you're learning from mistakes
Still many, many, many lives to go.
And I'm bound to be there with you
because we're bound up like a double rose,
and sometimes we are choking
but this is the path we chose.
If I had the chance to start over again,
I'd choose the same
I cannot live without these chains…
This is where I shall remain
For all eternity.
This is of my volition
We'll never die.
Shall we share water brother? (instrumental)
The Blue Room (transcribed by the Plasma Twins)
A corner of the blue room will be mine. though you froze me in the shadow,
though you try to turn away, i will stay a statue to remind you of the thing
that was. what once we were, the things we had and held and felt. the knives
you threw. the lies you fed. and all the promises you made. for i hate the
way i am left here in a corner. while the wound still bleeds and my heart
still aches. and i still need to scream over you. and i know you need it
too. for i hate the way you pretend not to see me. how i crumble, how i
rust. the way you claim that you no longer care. but, i can see you just
don't dare to look back at me. and at the crust, the garbage of a good life.
but, this corner will be mine. for in the blue room, there's no time.
there's no future. nothing's passed. for in the blue room, love and hate,
lies forever.