EDWARD KA-SPEL
<< back to the Combined Discography
---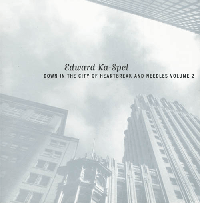 Release date and tracklist
September 1, 1998
US CD Soleilmoon SOL60
Even Now – [MP3]
Lady Sunshine – [MP3]
Find the Lady – [MP3]
Inferno
Illusion
The Man Who Never Was – [MP3]
Paradise Then – [MP3]
Atomic Roses – [MP3]
A Crack In Melancholy Time – [MP3]
The Fool With Spanners
Number Nine Number Nine Number Nine Number Nine
---
Credits
Edward Ka-Spel – voice, keyboards, electronics, percussion
Lily Ak – lady voice
Elke Skelter – voice & synthesizer
The Silverman – keyboards
Christoph Heemann – sonic manipulation
---
Notes
Down in the City of Heartbreak and Needles Volume 2 is a compilation of tracks from rare and out of print albums by Legendary Pink Dots leader and vocalist Edward Ka-Spel, and by its name is a continuation and extension of the first Down in the City CD from 1995. Five tracks are very old, from 1984, three more are from 1993, and the last three are previously unreleased.
Track 1 is from Dance China Doll 12″ EP (1984)
Tracks 2, 3, 7 and 8 are from Laugh China Doll (1984)
Tracks 4 and 5 are from Robot Records 10″ mini album (1993)
Track 6 is A-side from Robot/Anomalous Records 7″ single (1993)
Tracks 9, 10 and 11 are previously unreleased
---
Reviews
Overall impression: very good. Despite Ka-spel's vast array of songs with the Legendary Pink Dots, Edward still has an abundance of leftover odds and ends that he (thankfully) puts out as a solo artist. "Down in … Volume 2″ continues where Vol 1 left off, collecting those odds and ends from the past 14 years onto one beautifully designed digitally mastered disc. Track 1 is from the 1984 Dance China Doll 12″ EP, tracks 2, 3, 7 and 8 are from the 1984 Laugh China Doll LP, tracks 4 and 5 are from the 1993 Robot Records 10″ mini album, track 6 is the a-side from the 1993 Robot/Anomolous Records 7" single and tracks 9, 10 and 11 are previously unreleased (no dates given, but I believe they're all 90's works). As you can see, the cd is split about evenly between old and new. The '84 songs are keyboard and vocal oriented, more structured and "song-like" bizarre pop ditties with the unique Ka-spel lyrical/vocal touch. The 90's songs are generally more experimental, often lengthy ambient/noise pieces ("A Crack.." is a noisier extended re-working of the song from LPD's "9 Lives to Wonder" album). I appreciate the balance here, the older and newer songs counterpoint each other nicely. All in all, a great sampling of Ka-spel's many worlds and yet another must have for the LPD fanatic. – Mark Weddle
***
This collection of odds and ends brings together some highly rare tracks from various singles and EP, and (nearly) completes the CD re-release of the Laugh China Doll LP started by Volume 1. Unfortunately for completists, there are still missing tracks, so it's still going to be necessary to hunt down the originals.
"Even Now" is an all too-brief, simple soaring melody based on a typically arpeggiating keyboard line from the Dance China Doll EP, while "Lady Sunshine" has a similar approach to heartbreak and yearning from the same era (1984). "Find The Lady", "Paradise Then" and "Atomic Roses" are engaging, cyclical ditties which show both how much and how little the essential heart of Ka-Spel's muse has changed over the years – especially in the case of the latter's cheap drum-machine and keyboards arranged into bouncy apocalyptic angst, which Edward continues to re-work live on occasion.
With the chronological order of the songs abandoned and a sprinkling of alternate unreleased versions, City Of Heartbreak 2 is constructed as a work in its own right rather than just a straightforward compilation. "Inferno" and "Illusion" are two early Nineties pieces of lengthy Ambient Concrete layering and reflective mythological worrying placed in between the older material along with "The Man Who Never Was" (now re-released as a 7-inch on Anomalous Records), a downbeat track which could have come from the contemporary Pink Dots release 9 Lives To Wonder. The same applies to "A Crack In Melancholy Time," which is an ominously Ka-Spellian reworking of a piece from the same album showing that what constitues a solo release is more a matter of mixing than the norm with other musicians.
"The Fool With Spanners" and "Number Nine Number Nine Number Nine Number Nine" close the CD with shimmering, vindictive ennui, and that old favourite, a backwards-looped radio abstraction respectively, completing what in any other hands could be a set of detritus and ephemera, but here is testament to the seemingly boundless creative energy of one of the great musical artists of the underground. – Antron S. Meister, Freq E-zine